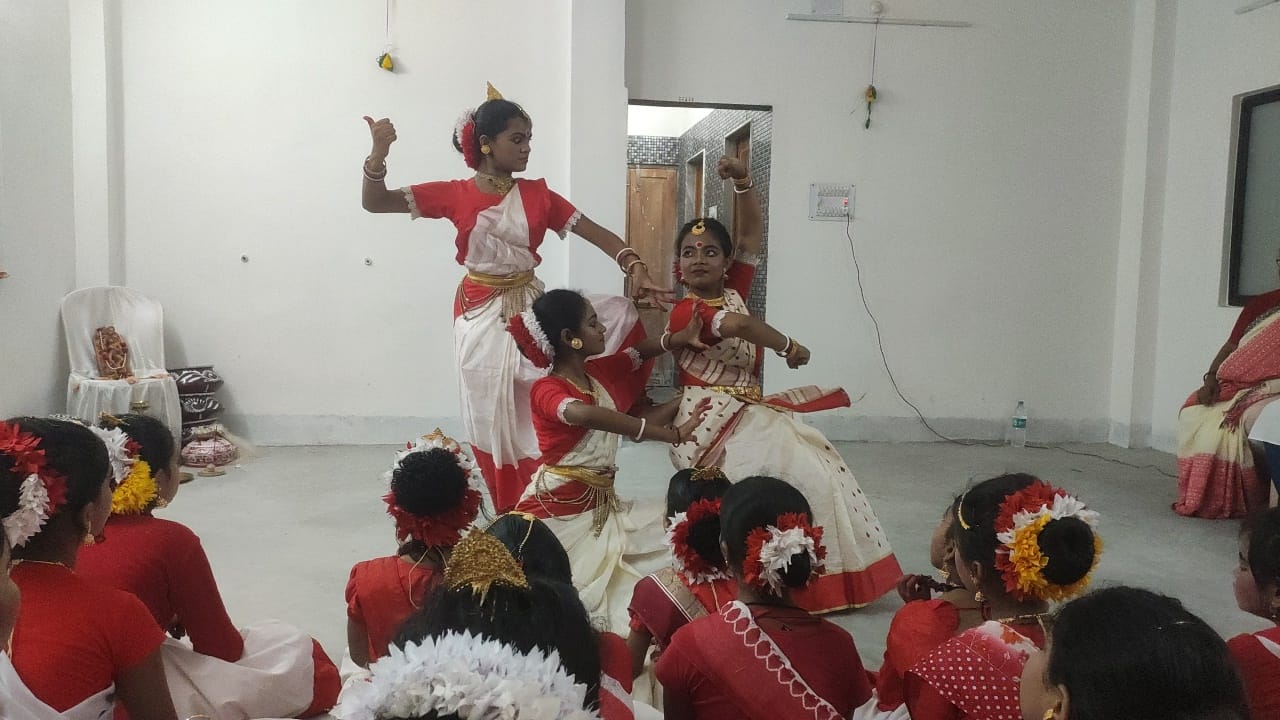 15 June 2023
WORKSHOP ON GAUDIYA NRITYA, MUSIC AND MAKE-UP BY AGNIK NRITYA BHARATI
AGNIK NRITYA BHARATI, Siliguri presented a three days workshop on Gaudiya Nritya, Music and Make-up at Suvendu Bhawan, Rabindra Nagar, Siliguri starting from 9 June 2023.
Prof. Mahua Mukherjee, professor of the Department of Dance and former Dean of Faculty of Fine Arts of Rabindra Bharati University and Pandit Amitava Mukherjee conducted the lecture demonstration workshop on 11 June 2023.
Dr. Mahua Mukherjee, pioneer researcher along with her husband Amitava Mukherjee has been reviving the Indian Classical Dance form Gaudiya Nritya for decades.
 Koushik  Shaw and Dipika Roy participated in the workshop as  coordinators of the programme. Artist Koushik Shaw, co-ordinator conducted the make-up workshop.
"In the workshop students from dance organisations including Agnik Nritya Bharati, Gaudiya Rekha Mandir and Shristi Kala Nritya Bharati participated," says Koushik Balli.
"Gaudiya Nritya, the classical Guru – Shishya parampara based traditional dance form has a lot of disciples and the unique combination of art, music and dance make it popular now. Many young artists , Koyal Ghosh, Aradhya Kunda, Jasmita Mandal, Chumki Dakua, Samriddhi Das, Arushi Talukdar, Surabhi Biswas, Ayushi Das, Arnabi Das, Saheli Sarkar, Uddipta Das, Bhaswati Roy, Sumi Roy, Supriya Pandit, Riya Pandit, Manami Ghosh, Banita Roy, Sneha Debnath, Shraddha Roy,Brsha Roy, Susmita Sarkar, Nupur Roy, Rupsa Roy and Shubham Ghosh have actively participated in the workshop, " he added.
The three days workshop has been organised by Gaudiya Nritya artist Namrata Roy, founder of Agnik Nritya Bharati.