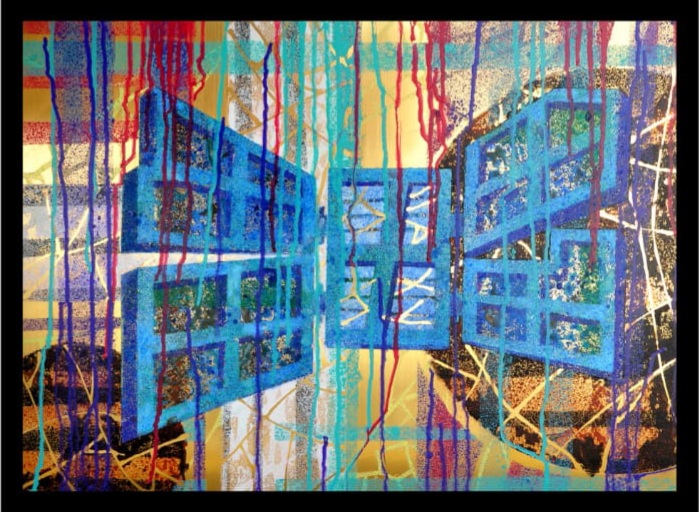 30 June 2023
WEB PATTERNS SOLO SHOW BY H. SHANMUGAM
RETURN OF MATSYA AVATAR – PUBLIC ART LAUNCH
INAUGURATION ON SATURDAY/ 1 JULY 2023 @ 5.00 PM
Renowned artist H. SHANMUGAM from Pondicherry has always been fascinated by the spider webs and cobwebs and his drawings get inspirations from nature .
"It seems like a continuous process no matter what happens. When one wakes up in the morning somewhere, somehow a new web is created irrespective of time, irrespective of man's struggles, and this fascinates me!
In the recent past, due to the pandemic, the lockdown literally paralysed man's regular process of living and routine. But the spiders continued their mission, and this attracted me, recalling its beauty and relation to his existence in recent times. I felt these are adaptable to the current situations where we are tied up in a network, unable to access," says artist Shanmugam who draws inspirations from nature and works on landscapes, installations and on environment related activities as the central theme in his artworks.
"Whether man is hurdled with pressures of society comes to a halt, the spider is at work unaffected by its surroundings!" he added.
The artist is comfortable in the black, transparent and yellow acrylic sheets with colours and textures reminiscent of the web, creating a network of lines. He creates images like the latch and lock, reminiscent of the traditional values of locking up and safeguarding. His son's free hand drawings also resonate with these web patterns and inspire him immensely.
The recent Public Art work 'RETURN OF MATSYA AVATAR' done on the Vaithikuppam beach in Pondicherry  has become a landmark icon towards environmental awareness and stands as an important initiative towards an Eco centric life and to save the ocean.
Artist Shanmugam studied B.F.A (Painting) from Bharathiar Palkalaikoodam, Ariyankupam and M.F.A (Painting) from Government College of Fine Arts, Chennai. He has participated in many exhibitions including National Art Exhibition, Lalit Kala Academy, New Delhi.