8 August 2023 /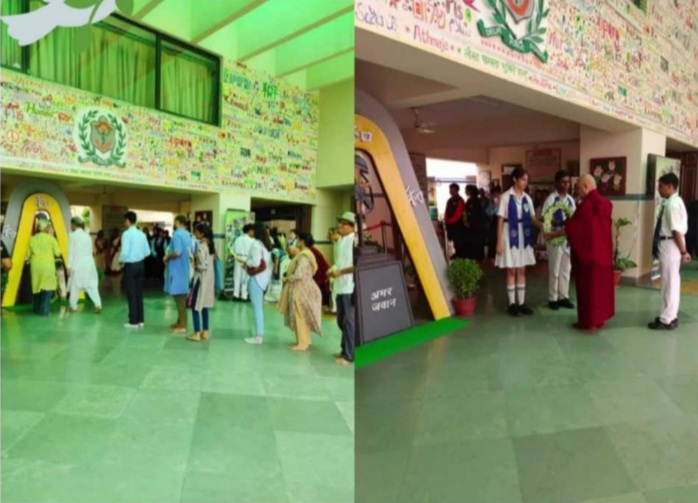 WALL OF PEACE – MURAL PROJECT TO MARK THE HIROSHIMA DAY AT DELHI PUBLIC SCHOOL, VARANASI
"We are writing the word Peace in more than 200 local and foreign languages under a collaborative project to observe Hiroshima Day. We are also using a Sanskrit mantra 'Loka Samastha Sukhino Bhavanthu (may everyone, in the whole world, be happy) in the mural. We are depicting the idea with line, colour, texture, shades and shapes and calligraphy," says renowned artist, Professor Suresh K Nair, Faculty of Visual Arts, Banaras Hindu University, Varanasi who leads a group of School children at the Holy City, Varanasi to mark the Hiroshima Day and promote peace throughout the world.
On 6 August 1945, the United States dropped an atomic bomb – 'Little Boy' on the city of Hiroshima, Japan killing more than 1,40,000 people. Three days later, on 9 August 1945, another city Nagasaki was also bombed, killing 35,000 people on that day. The aerial bombings together killed between 1,29,000 and 2,26,000 people, mostly civilians including innocent children. Devastation continued affecting humanity due to the radiation that killed many more. Even after decades, the whole world is still on a threat of war and conflicts between the nations and now in Varanasi, the students of the prestigious institution, Delhi Public School, says aloud the Sanskrit mantra, 'Loka Samastha Sukhino Bhavanthu', to the nations to refrain from any war and conflicts.
"So far I did Wall of Peace out reach program of wall of peace projects in four different spaces such as Wall of Peace, Government High School Cherppulasseri, Kerala; Harnnamadi Village, Hetrauda, Nepal,; Hyderabad Literary Festival and Delhi Public School, Varanasi to make aware of the importance of spreading peace and art practices in our changing society," Prof. Suresh K. Nair added.
"World Peace begins with the inner peace of every individual. As a school, we at DPS Varanasi firmly believe that peace education is uppermost. As part of our Paean to Peace project the 'WALL OF PEACE' will be an everlasting space to seek inspiration," says Dr. Mukesh Shelat, Principal, Delhi Public School, Varanasi.
Rajath Pande, Nisha Jha, Vedant and Athmaja, all visual art students from Banaras Hindu University (BHU), Varanasi participated in the 'Ten days Calligraphy Mural Project-WALL OF PEACE' along with 20 students of Delhi Public School, Varanasi.
"It was an honour for me to be a part of the 10 days workshop at DPS Varanasi, where we had to create a peace wall for Hiroshima Day. I'm really thankful to our Prof. Suresh K. Nair Sir for making me a part of his team and inspiring all of us to learn something each day. It was a wonderful experience for me and I'm really looking forward to do more such projects with him in future," Nisha Jha, a final year undergraduate student from BHU.
"It took me four years to paint like Raphael, but a lifetime to paint like a child." – Pablo Picasso
"Adding this sentence, I want to share my experience," Rajat Pandey, visual art student, BHU said.
"I learned some of the best lessons of my life these days. Working with children forces you to think out of the box every time. They are so pure and spontaneous that there are no restrictions, rules, or conditions in their world.
I think peace is a very important and urgent issue in today's world. While everyone is trying to establish and prove themselves, there is an urgent need to completely surrender oneself to peace, Rajat Pandey shared his experiences.