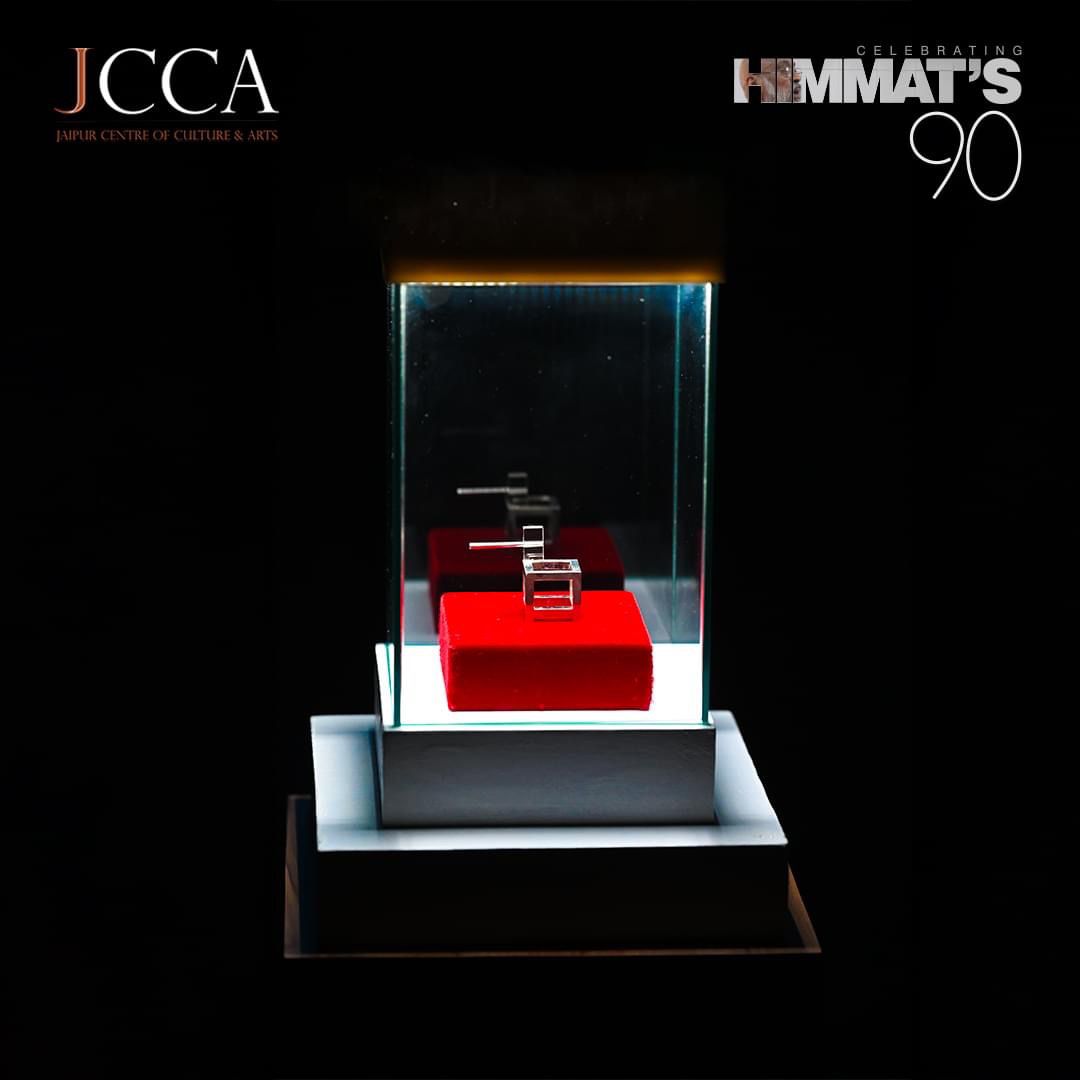 30 July 2023 /
JAIPUR CENTRE OF CULTURE AND ARTS (JCCA) PROUDLY COMMEMORATE THE EXTRAORDINARY LIFE AND WORK OF ONE OF INDIA'S LIVING MASTERS, THE EMINENT ARTIST HIMMAT SHAH.
Under the Mask – a breathtaking collection comprising 338 unique paintings, crafted during the challenging times of the COVID-19 pandemic by the renowned artist Himmat Shah is on show at JCCA Jaipur.
ALSO CELEBRATING
HIMMAT'S 90 – PANDEMIC DRAWINGS BY HIMMAT SHAH Through the lens of RAGHU RAI & UNDER THE MASK
CURATED BY JYOTIRMOY BHATTACHARYA
"Today, we proudly commemorate the extraordinary life and work of one of India's living masters, the illustrious Himmat Shah. This momentous occasion is an exclusive showcase centered around Himmat himself, as we have the honor of presenting his magnum opus, "Under the Mask" – a breathtaking collection comprising 338 unique paintings, crafted during the challenging times of the COVID-19 pandemic," says Smt. Monika Sharda, Director of JCCA.
"When the world was gripped in the relentless clutches of the coronavirus, Himmat Shah's insatiable curiosity and boundless creativity triumphed. In those uncertain times, his novel strokes danced upon paper, each stroke a testament to his inner child, radiating enlightenment.
Having had the privilege of knowing Himmat over the past few months, I have come to admire not only his simplicity, infectious laughter, and profound knowledge across various fields, but also his unwavering courage, visionary outlook on life, and genuine concern for nurturing contemporary art among the younger generation. His delight upon witnessing JCCA, where his vision of fostering a love for contemporary art finds perfect harmony with our own, was truly heartwarming.
Therefore, it is with great pleasure that we present this remarkable exhibition, a celebration of Himmat's 90-year artistic journey – a testament to his indomitable spirit and unparalleled creativity,' said Smt. Monika Sharda, Director of JCCA.
"JCCA, the Jaipur Centre of Culture and Arts, stands as a truly exceptional space in Jaipur, dedicated to the promotion of contemporary and modern art from artists from around the globe. Its primary objective is to nurture the art culture in Rajasthan, elevating it to new heights. Within its gallery walls, artists are provided with an invaluable platform to exhibit and propel their exceptional talents," she added.
"Today, in spite of being ninety years old, he is still found in the form of a free boy intoxicated in creation" – Renowned Curator Jyotirmoy Bhattacharya
"My first acquaintance with Himmat Shah was at Shantiniketan. It was there I took a look at the art of the artist for the first time. The assemblage of scratches and lines in three- dimensional form is like the gathering of many two-dimensional images from each page. Combining bold lines and cubism, he has shown a new horizon of Indian sculpture history," says the renowned Curator Jyotirmoy Bhattacharya.
"Today, in spite of being ninety years old, he is still found in the form of a free boy intoxicated in creation. In our life when everybody was scared and hid themselves in the corner of the house due to the outbreak of the epidemic, the scratch that the artist cut in search of creation in that time is being presented in this exhibition. Leaving aside the so-called watercolor and acrylic medium, he stuck to using ink, brush and pen. For him, the use of ink on paper takes a strange pleasure in changing the surface of the brush from which he finds the joy of creation," he added.
Artist and Sculptor Himmat Shah
The Internationally acclaimed artist Himmat Shah was born in Lothal, Gujarat in 1933 and pursued painting at the Faculty of Fine Arts at M.S. University Baroda from 1956 to 1960.
In 1967, he received a scholarship from the French Government and studied etching at Atelier 17, an art school and studio for teaching and promotion of printmaking in Paris. Shah became a member of Group 1890, a short-lived artist group founded by eminent artist J. Swaminathan and others in 1962.
Throughout his career, he explored various forms and mediums including burnt paper collages, architectural murals, drawings and sculptures. He focused in his preferred medium terracotta and bronze sculptures, and exhibits his abstracted Bronze and terracotta heads which are considered his signature style and inspires all even today at the age of 90. The renowned Painter and Sculptor Himmat Shah has been dreaming of starting his own studio and excited to create massively scaled works of 20 feet height at the age of 90. He inspires all and continues to search his own medium and craft, exhibits his nine decade-long artistic journey at JCCA now.
About the Gallery
The idea of developing a creative space in Jaipur was born in the period of the pandemic when the entire human civilisation was threatened. It was a result of many factors converging into creating such a space.
"One of the major factors was not getting the taste of contemporary artworks that I enjoyed during my decade-long stay abroad. We realised that Jaipur stands on the top in terms of art and creativity in India but something is still missing, probably a large and open creative space for the display of modern and contemporary works. Then came the pandemic period, which rather had made the idea more conducive to develop an open and creative platform to express yourself creatively through art. Of course, losing a job during this period was another factor, which further pushed me to work upon the idea!
The foundation stone of JCCA was laid by my father-in-law, Late Shri Prabhu Dayal Sharda, who also performed Hawan (opening of a building as per Hindu tradition) of JCCA after 20 months of its construction. His inspiring life has been a symbol of fusion of the tradition with contemporary, which was, indeed, another major reason in coming up for the creative space. In fact, he left into space after blessing this space of culture and art in Jaipur," Smt. Monika Sharda, Director of JCCA, added.