12 September 2023/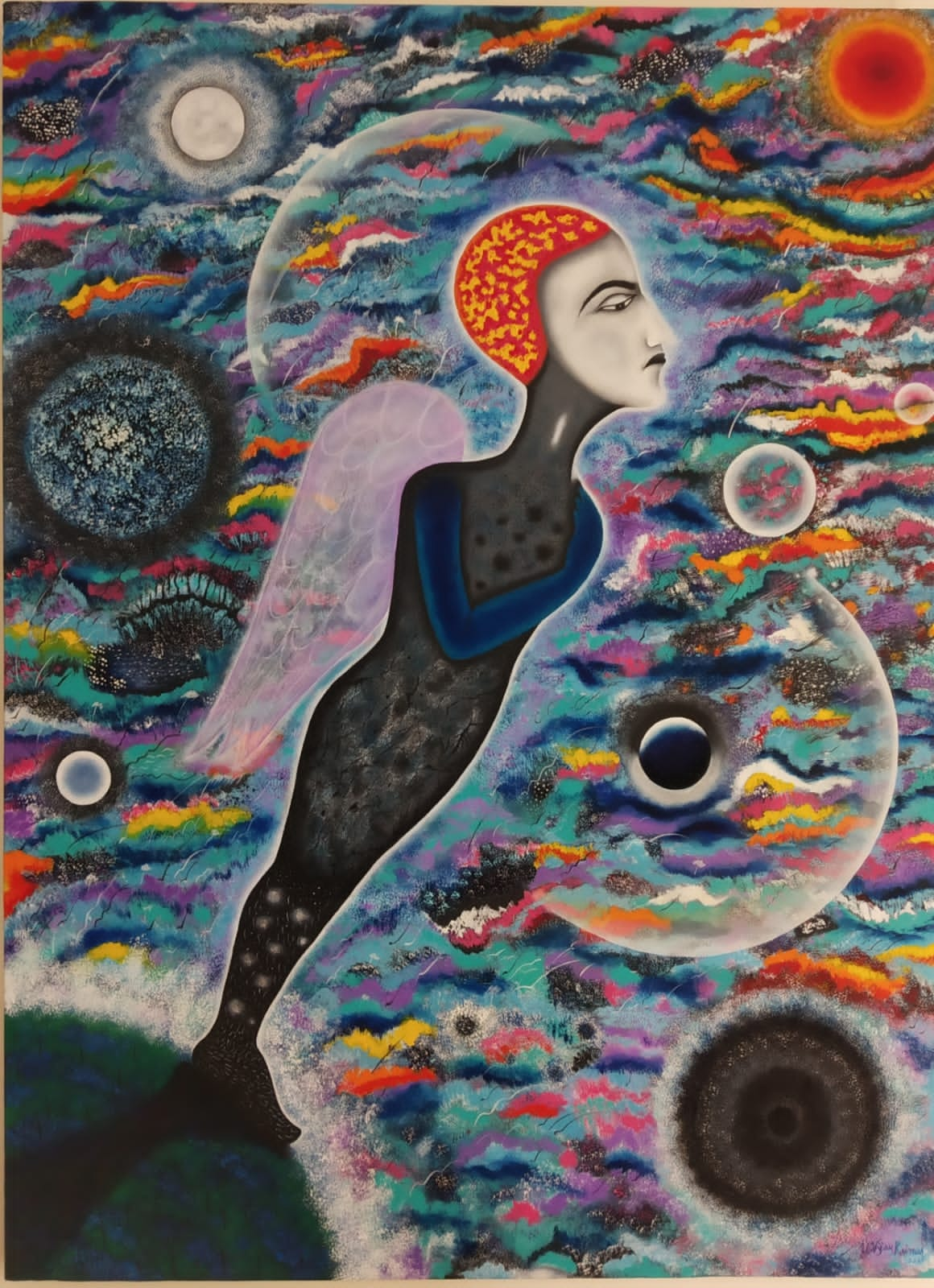 TRANSFORMATION MANIFESTED — SOLO SHOW BY U. VIJAY KUMAR
Gallery 1000A presents 'Transformation Manifested', a solo show by renowned artist U. Vijay Kumar at Gallery 1000A, old M B Road, Lado Sarai, New Delhi. The show will continue till 30 September 2023.
CURATOR OF THE SHOW: KIRAN K. MOHAN
— Art is not what you see, but what you make others see – Edgar Degas
"An Artist's expression is unique. It is a force, an energy that translates into action because it is a personal experience. For the artist Vijay Kumar, each artwork epitomizes a special feeling that he has endured during his life. The palette of colors defines the minute complexity of day to day life. The challenges and struggles are captured in each of his artworks and perhaps if viewed closely they communicate the sensibilities of the audiences. The artworks manifest the eagerness to break free, yet with conviction and belief. The discipline he follows in the choice of colours and the usage of medium accelerates his creative magnitude. His inspiration in his own life, doesn't get influenced by any trends but works around metaphors and concepts to produce tough expressions which becomes his signature seal. While the artist continues to experiment and introduces new techniques of various art forms, Vijay recollects by saying how fortunate I am to have learned a lot of intricacies about art through classes and close association with great teachers such as KG Subramanian, Nasreen Mohammedi, Jerem Patel, and Krishna Chhatpar," says Kiran K. Mohan, curator of the show.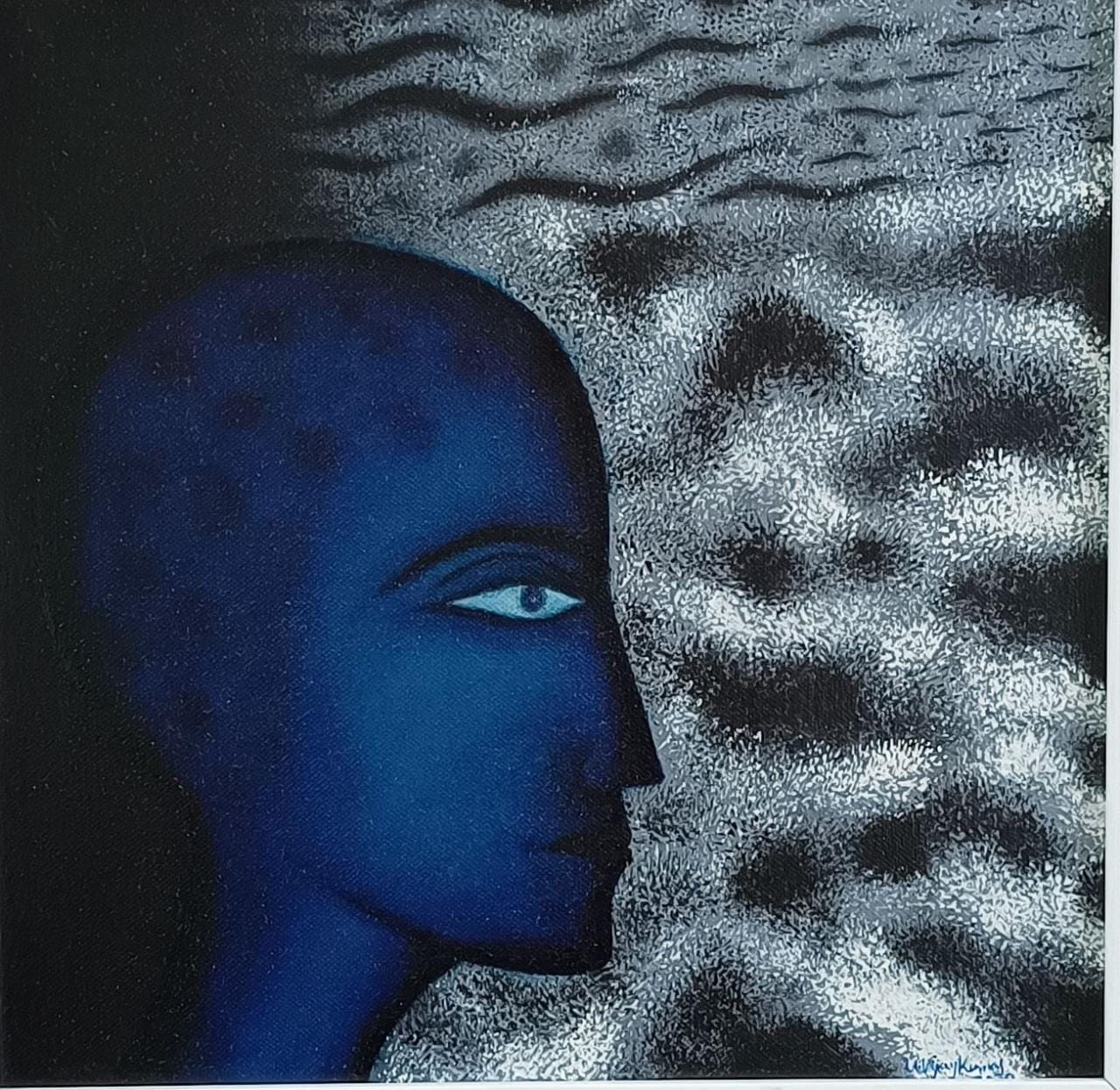 "The showcased artworks are the amalgamation of personal experiences, feeling and emotions which are translated through a visual vocabulary that is coined by the artist himself; the abbreviated minimalistic, symbolic use of human figures, flora and fauna. The transformation he lives along each day with acceptance of the past, gives him a new hope and motivation to embrace his life to the way it comes," curator Kiran K. Mohan added.
"My preoccupation with paintings is to make an attempt to relate my subjective experience in relation to my surroundings and situations. A serious attempt to understand the feeling of the void within me set me thinking about existing reality. A dematerialized human form became the protagonist in the quest of understanding the metaphysical reality around me. The individual figure in my work tries to express the states of mind. A mood of non-involvement is deliberately created so as to offer the viewer the critical distance to watch the mental landscapes contained within, in order to understand the very centre of being," renowned artist U. Vijay Kumar explores the challenging situations and his conflicts in his artistic journey.
Artist U. Vijay Kumar has conducted enumerable exhibitions in India and abroad including the recent exhibitions,  Indo-Taiwan international Contemporary Art Exhibition 2021 and Bridge of Friendship – a group exhibition of Indian and Egyption artists. He studied BFA and MFA from MS University, Baroda.