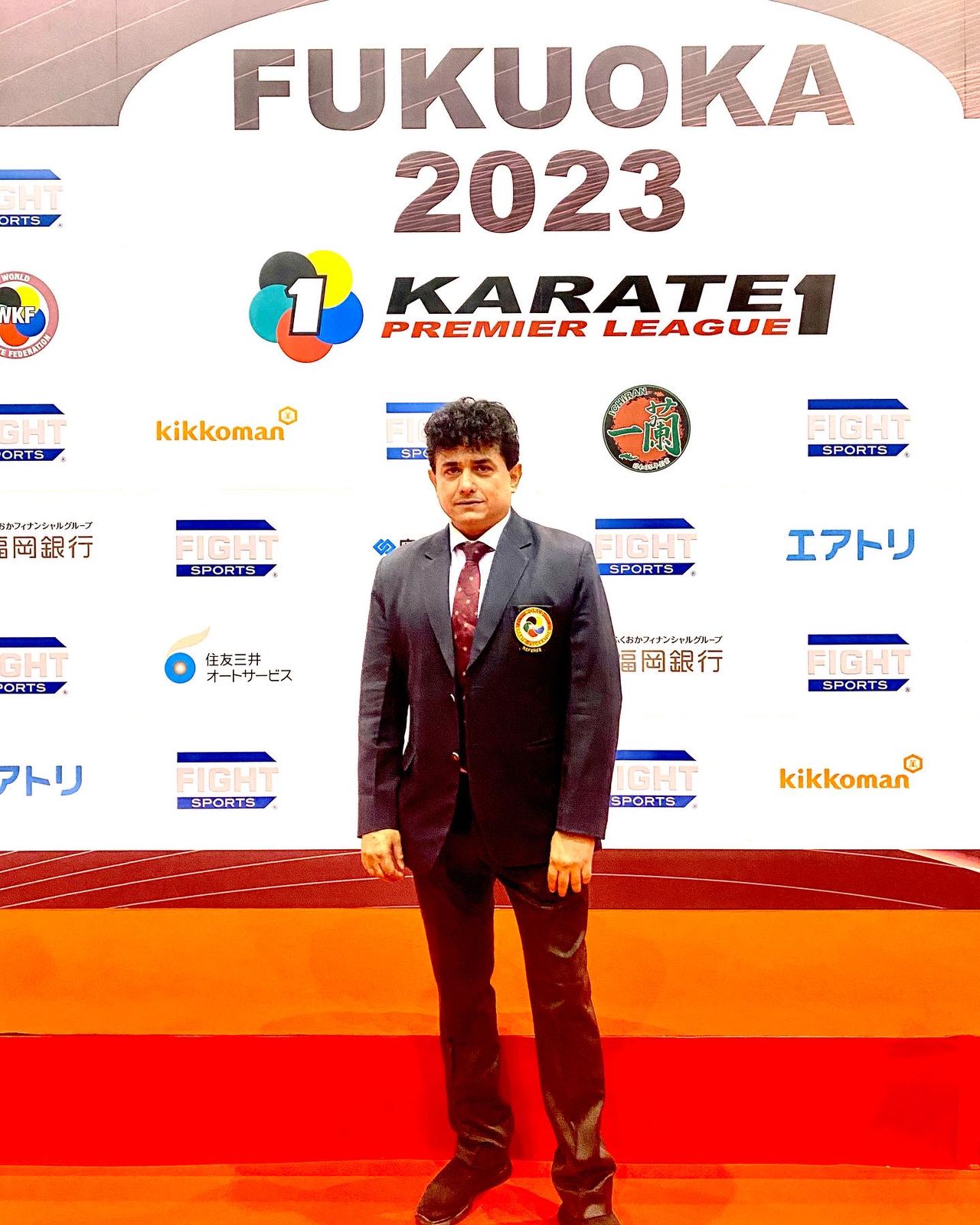 24 June 2023 /
THE PRIDE OF BENGAL AND THE PRESIDENT OF KARATE ASSOCIATION OF BENGAL (KAB) HANSHI PREMJIT SEN  ADDED ANOTHER FEATHER IN HIS CAP AT THE PRESTIGIOUS WKF KARATE-1 PREMIER LEAGUE AT FUKUOKA (JAPAN) HELD IN JUNE 2023
Hanshi Premjit Sen, President of Karate Association of Bengal (KAB) represented India as a WKF Referee & Judge at this prestigious event where the best ranked 300 players from 47 countries with the best world level Referees & Judges took part. Premjit Sen has not only been showcasing his refereeing abilities since more than a decade but has also produced numerous champions at the National and International level that includes championships organised by World, Asian and South Asian Karate Federation.
Players like Nishiyama, Damian Quintero, Ayumi Uekusa, Kiyou Shimizu, Hikari Ono and many more Olympic medallists and world champions took part in this extravaganza.
The event was held at the Fukuoka Kokusai Centre and it brought nostalgia for all the players since the game was conducted at the Tokyo Olympics for the first time in 2021. It was the very first time a Karate-1 Premier League was staged at Fukuoka.
The two days of this enthralling event saw some mind-blowing performances as expected for a WKF level Championship. Players showed their skills at every round in order to better themselves closer to the medal.
"I feel so overwhelmed and proud to be a part of this official event of WKF. Moreover, I feel honoured to share the Tatamai and stand beside the people who once took my Referee & Judges Exam. I am ecstatic to represent my country at this level and be a proud flag-bearer of the tricolour at this world stage," says Hanshi Premjit Sen, the renowned martial artist who serves as Chairman of the referee Commission of Karate India Organisation (KIO) and the President of Karate Association of Bengal (KAB).