6 June 2023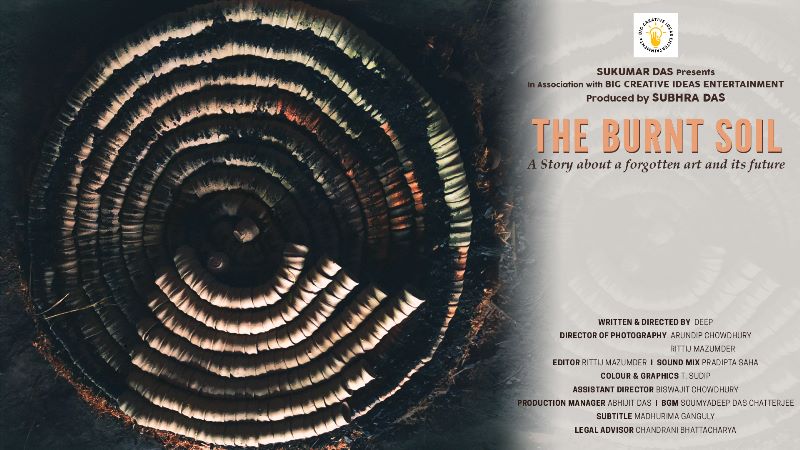 THE BURNT SOIL – A DOCUMENTARY FOR GREEN EARTH
THE BURNT SOIL – A story about a forgotten art and its future
A DOCUMENTARY FILM WRITTEN & DIRECTED BY TALENTED ARTIST DEEP
SUKUMAR DAS in association with the Mumbai based production house, Big Creative Ideas Entertainment launched the documentary teaser at Press Club, Kolkata recently.
"We are thrilled to announce the launch of the official poster for our upcoming documentary film THE BURNT SOIL. This poster represents the culmination of months of hard work, and we're excited to share it with you," says the talented Film Director Deep.
"Surveying various tea stalls in India, I found that the use of clay cups is nearly non-existent, which was used for years. Plastic pollution has the potential to modify ecosystems' capacity to adapt to climate change, altering habitats, natural processes and social and economic well-being for millions of people. We hope to increase the public awareness of soil degradation due to plastic through this documentary," said the filmmaker Deep.
"We seek to increase clay cup production and make awareness to use it for a green earth," added filmmaker Deep, the winner of the best film- Vanish in the Istanbul Film Festival.
The documentary explored more on the environment and green earth, emphasising the activities and the cultural relevance through the most fascinating and influencing artistic media.
"THE BURNT SOIL teaser launched at Press Club, Kolkata recently highlights the message to revive environmentally friendly products like terracotta pots in our daily life," he added.
In the press Meet, 'Purono Kolkatar Galpo', a registered Society founded for the conservation of nature and heritage shared to promote and campaign to revive the terracotta pots in tea shops and in daily life.