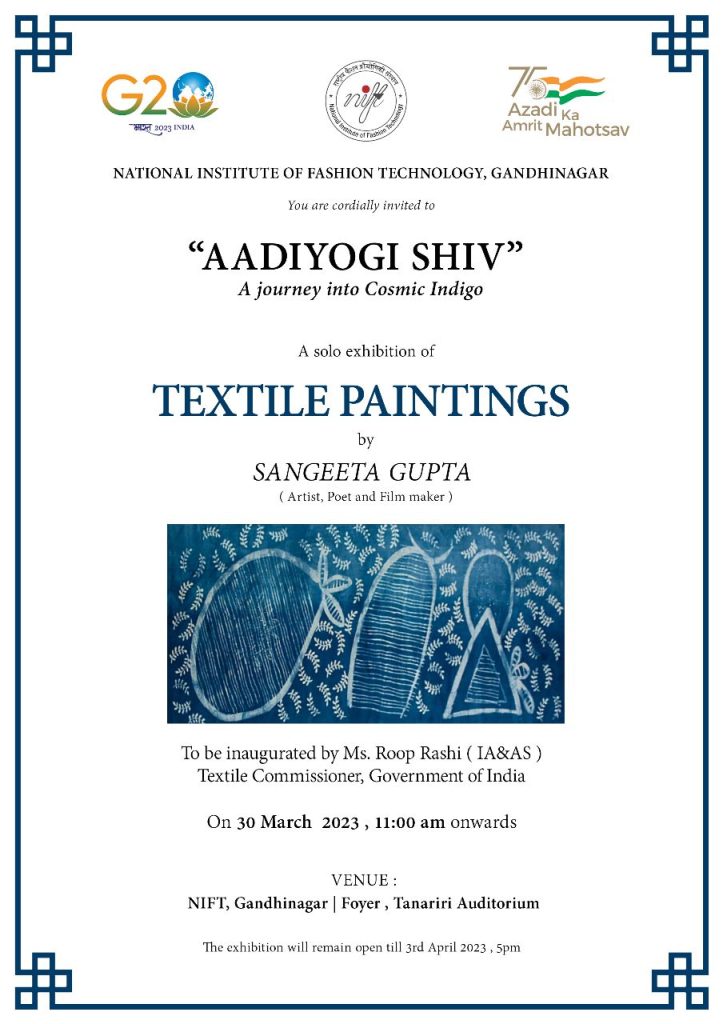 31 March 2023 /
TEXTILE PAINTINGS by SANGEETA GUPTA
NATIONAL INSTITUTE OF FASHION TECHNOLOGY (NIFT) presents AADIYOGI SHIV – A journey into Cosmic Indigo, a solo exhibition of renowned artist SANGEETA GUPTA from 30 March 2023 to 3 April 2023 at Gandhinagar, Gujarat.
The Exhibition – TEXTILE PAINTINGS was inaugurated by Ms. Roop Rashi (IA&AS), Textile Commissioner, Government of India on 30 March 2023.
Sangeeta Gupta is an internationally acclaimed artist, poet, writer and filmmaker.
"It is a pleasure to see the students as well as the faculty take such an active part in the exhibition. I would like to thank all the people who helped this exhibition come into fruition today," says the renowned artist during the Exhibition at NIFT, Gandhinagar.
Sangeeta Gupta is an artist of international acclaim who started her artistic career with intricate abstract drawings. Her first solo exhibition was at the prestigious Birla Academy of Art & Culture, Kolkata in 1995 and later exhibited her art all over India and abroad including in London, Munich, Lahore, Belfast and Thessaloniki. She has held 36 solo exhibitions of paintings, published 25 books and made 30 documentary films. She has participated in more than 200 group shows in India and abroad. Her paintings adorn many museums including in Belgium and Greece.
She has received many awards including  Women Achievers Award from Indian Council for UN relations, Critic's choice award, World University of Design, Longest painting on textile, Limca Book of Records,  Longest painting made on hand spun khaddar, Miracles World Records and Longest painting made with natural indigo colour and dye, India Book of Records.
"We have to return to the basics if we want to survive in peace. Hand spun khaddar is environment friendly and natural colour and dye are handmade too, they are chemical free. Therefore, to promote sustainable living and promote natural indigo I decided to create this painting that is abstract, conceptual, minimalist painting on natural sustainable hand spun khaddar with organic indigo colour and dye," says the renowned artist Sangeeta Gupta.
Known for creating the longest indigo painting on Khaddar textile, Artist Sangeeta Gupta exhibits her textile art using natural dye and demonstrates different techniques at NIFT Campus, Gandhinagar now.