4 August 2023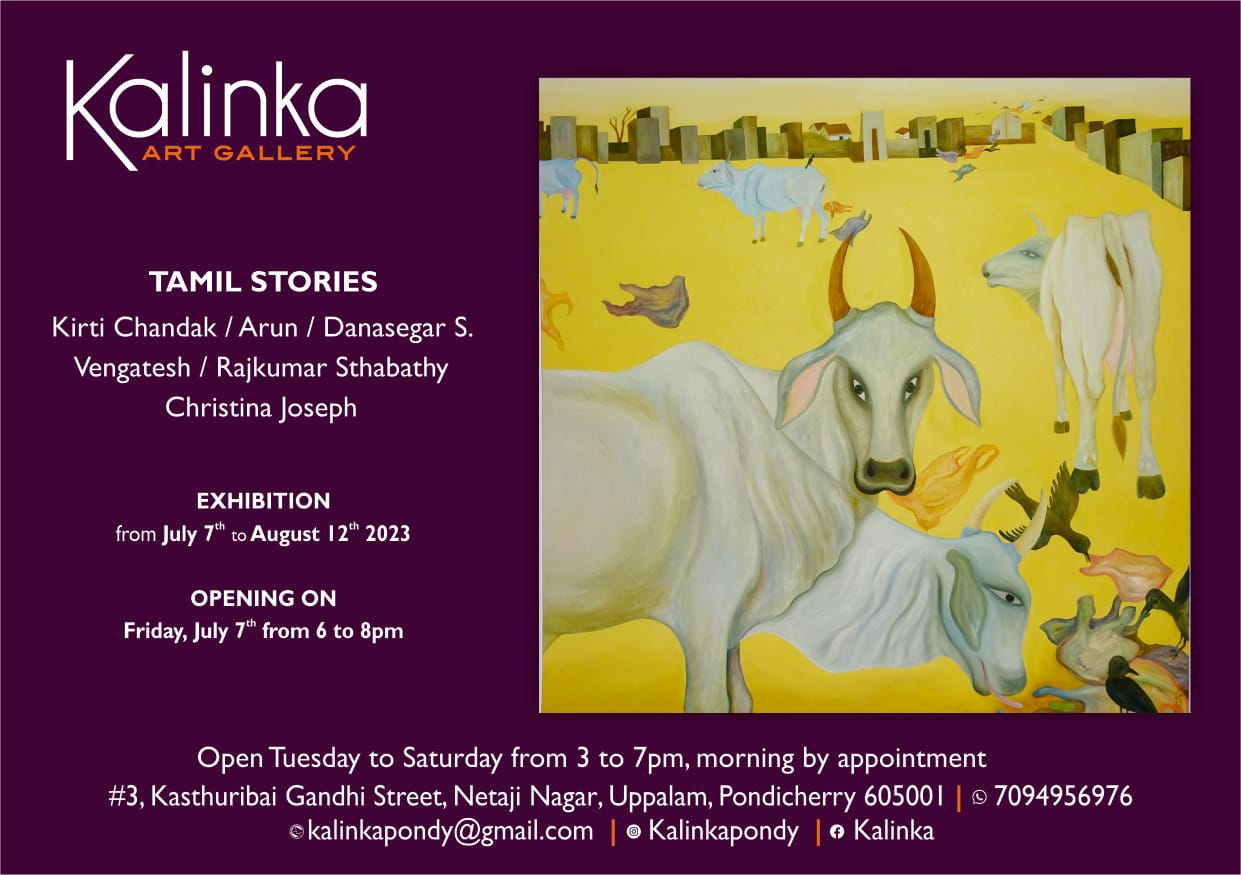 TAMIL STORIES
TAMIL STORIES – Exhibition of artworks of renowned artists Rajkumar Sthabathy, Kirti Chandak, Danasegar S, Christina Joseph, Vengatesh and Black and White print series of Chennai based Photographer Arun is on show at Kalinka Art Gallery, Pondicherry.
'Meet the Artists', an interactive session will be held at Kalinka Art Gallery on Friday, 4 August 2023 at 5.00 PM.
"The current collective exhibition -TAMIL STORIES is on show and displays artworks by 5 well-established painters from Pondicherry like Rajkumar Sthabathy, Kirti Chandak, Danasegar S, Christina Joseph, Vengatesh and photographs of the talented Photographer Arun from Chennai," says Karine, the founder of Kalinka Art Gallery, Pondicherry.
"Stories of local myths and ancient Tamil stories were retold through vivid characters and unique sceneries by the artists on different mediums. Kirti Chandak and Danasegar use oil on canvas; Vengatesh and Christina Joseph work in acrylic," she added.
Rajkumar Sthabathy has been spontaneously spreading and blending the colors in a spectacular way to bring out the feelings and emotions of his own village people around him; their rare body language, costumes and their movements that constantly inspire him for decades.
"Art market and art trends are not my priority. I do what my soul pleases," the renowned artist Rajkumar Stabathi admires people and loves painting them.
The renowned artist Kirti Chandak exhibits her recent work, 'The Red Wave' in the Exhibition. Kirti Chandak works on mixed media and currently she is actively engaged in various social and cultural activities through her Art and Cultural centre, TASMAI, Pondicherry.
Danasegar paints diverse subjects, his paintings reflect a strong sense of integrity and reveal the aesthetics of beauty. He graduated from Bharathiar Palkalaikoodam, Pondicherry.
"My works are from my recent series 'நெய்தல் (Neidhal)' meaning 'coast' inspired from the references to the five landscapes and their nativity in Tamil literature from the Sangam era. The paintings are stylised figuratives inspired by descriptions from Tamil poetry and Indic motifs- vignettes from the life and dynamics of the fisher folk and their interactions with their environment. They're mixed media works," says Christina Joseph, a mathematician and visual artist from Pondicherry.
Photographer Arun has exhibited his black and white print series, 'Repressed Memories', that portrays his intimate childhood memories," says Karine.
ABOUT THE GALLERY
Karine has been passionate about art since childhood. Her mother was an artist and an art teacher. Karine grew up in her studio surrounded by artists and artworks. She had a very different career and later she moved from France to India in 2015 and she opened an art gallery until 2019 on Bazar Saint Laurent street, Pondicherry. The Kalinka Art Gallery now started at the new location at Uppalam, Netaji Nagar in Pondicherry in July 2023.
TAMIL STORIES – Exhibition of artworks of renowned artists of Pondicherry marks the inaugural show of the Kalinga Art Gallery at its new location. The Show will continue till 12 August 2023.