24 July 2023 /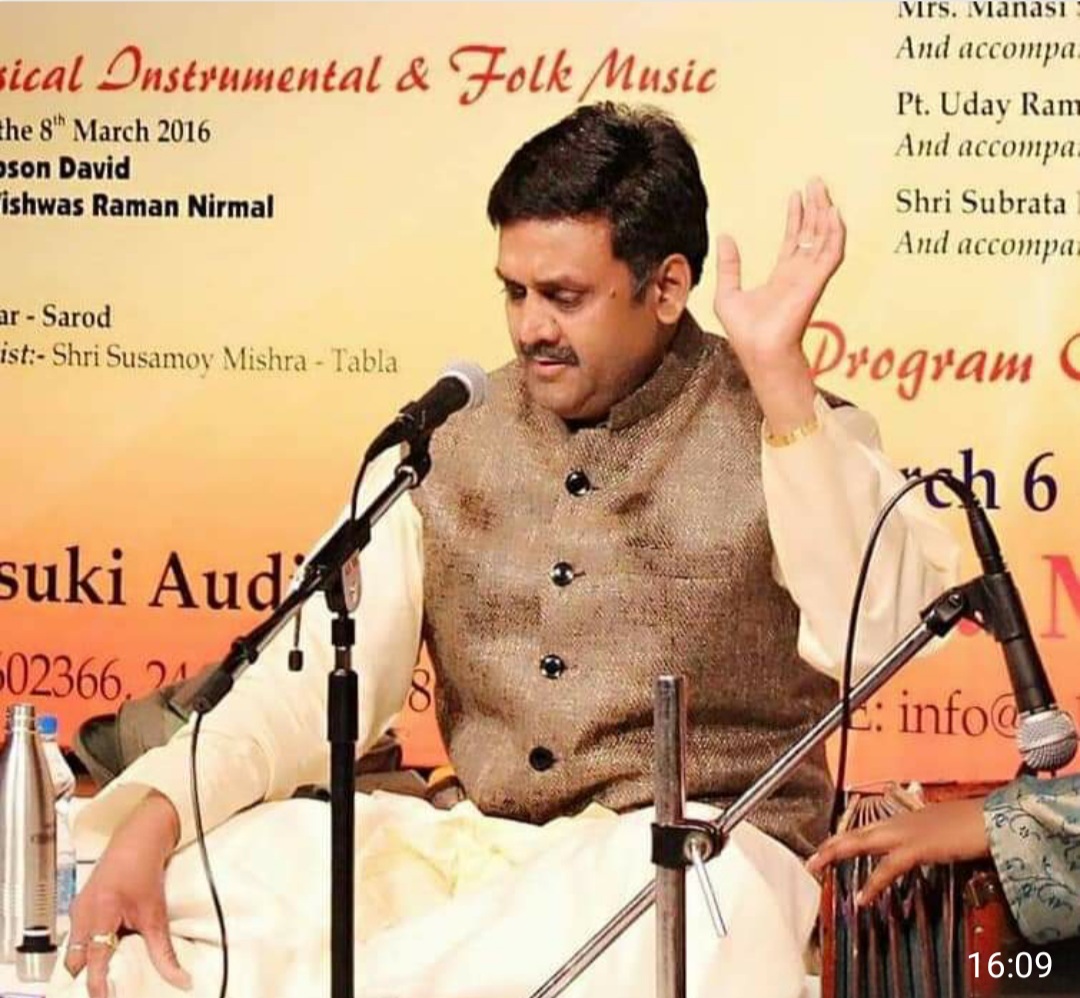 SURESH GANDHARV
HINDUSTANI CLASSICAL VOCALIST FROM INDORE GHARANA
MUSICIAN SURESH GANDHARV  
The eminent musician Suresh Gandharv is a Hindustani Classical vocalist from Indore Gharana.
He has been trained by Prof R.S. Bisht, senior disciple of renowned Ustad Amir Khan. Suresh Gandharv, a renowned musician, 'A' Graded Classical vocalist from AIR Delhi, has been performing in AIR and Doordarshan since 1978.
Suresh Gandharv is the Founder of "Taan Tarang Sangeet Sabha", which organises musical concerts from time to time in Delhi. It showcases both veteran and young artists.
The renowned musician Suresh Gandharv is an artist of established category on the panel of ICCR, Govt. of India.
"I started my musical journey by singing Haryanavi folk music as I belong to a musical family of four generations in Jhajjar, a small town of Haryana. My grandfather Pandit Jugti Ram was a renowned Sarangi player and my father Shri. Chander Bhan Arya was a folk singer as well as an educationist. l received the prestigious scholarship, National Talent Scholarship from Government of India for studying classical music at the age of 11. I have pursued training in Classical music and I could complete MA and M.Phil in Music Vocal from University of Delhi as 'University Topper'.
Until then l had no gayki of any Gharana because my total classical training was through University. After completing my M Phil, l became Gandabandh shadird of Prof. Ravindra Bisht of Indore Gharana. Prof Ravindra Bisht is a senior disciple of Padma Bhushan Ustad Amir Khan Saheb, the Founder of Indore Gharana. I received Taleem of this rich gayki of Indore Gharana for 30 years from my Guru ji," said Suresh Gandharv, renowned Hindustani Classical Vocalist.
"In my early years, l started a government recognised public school for 25 years, but I had to close it to concentrate on my sangeet sadhana. During those days it was difficult for me to continue my pursuit of classical music. Later I restarted my riyaz of classical music at the age of 42. l started performances in concerts and became A Grade AIR artist and also l became the empanelled artist of ICCR. I have composed music for Munshi Permchand's classic short film Gulli Danda," he shared his artistic journey of hardwork and dedication.
Performances and Awards
In the recent times Suresh Gandharv has performed at 141st Shri Baba Harivallabh Sangeet Sammelan, Tansen Sangeet Samaroh 2017, Gwalior, Taj Mahotsav 2019, Raag Ameer 2019 and at the Maha Sabha of Brahmrishi Shree Kumar Swami Ji' and many more.
"Till now l have performed in 35 cities of 10 states of India and also abroad. Some prestigious festivals which l have performed include Harivallabh Sangeet Sammelan Jallandher, Tansen Sangeet Sammelan Gwalior, Rag Amir Festival – Indore, Taj Mahotsav Agra, Varkari Sangeet Sammelan Pune, Akashvani Sangeet Sammelan Dehradun and many other festivals of all over India," he added.
Suresh Gandharv has received many awards including Dr. Radha Krishnan Samman, Sangeet Ratna by SAM and Sangeet Sadhak by NKS, New Delhi; Lifetime Achievement Award from Chandrawati Sangeet Mahavidyalaya; Geet, Nritya, Vadya Samman by Varkari Samuday, Pune.
He is in the judgement panel of 'Association of Indian Universities'.
The renowned musician has founded 'Taan Tarang Sangeet Sabha' in the memory of Ustad Amir Khan Saheb and has been providing a platform for many young and established artists in the country. He imparts training in Indore Gharana Gayki without charging any fees from young artists.