5 July 2023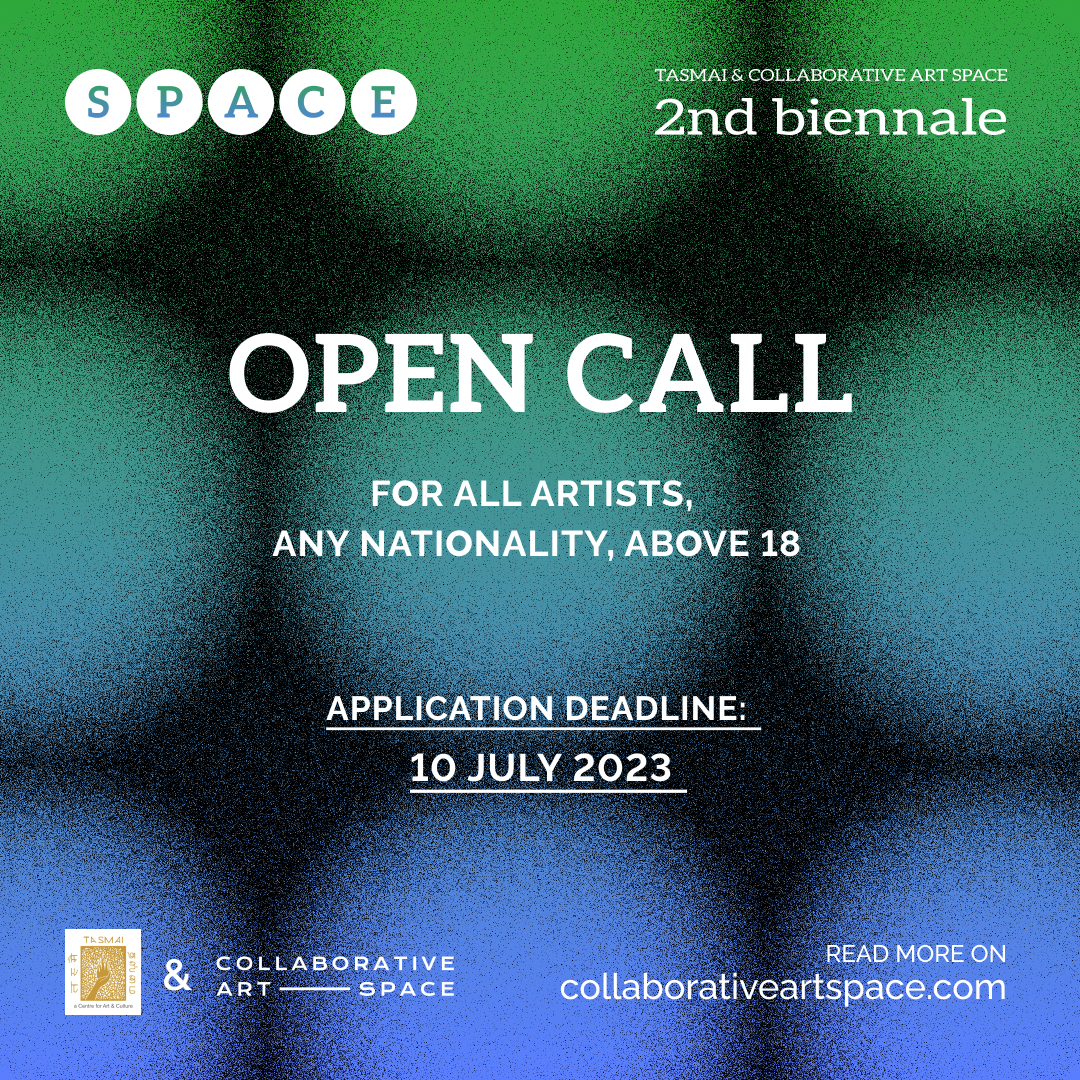 SPACE – SECOND BIENNALE OF COLLABORATIVE ART SPACE
OPEN CALL FOR ARTISTS
COLLABORATIVE ART SPACE presents  Second Biennale – SPACE, in collaboration with TASMAI, a Centre for Art and Culture at Pondicherry
SPACE is an international collaborative art project open to artists of any nationality above the age of 18, where three artists from vastly different backgrounds will come together to create three different physical or digital artworks, in any medium celebrating the spirit of creative collaboration.
Additionally, there will also be an opportunity for artists to collaborate with each other through Public Art in a physical space in Pondicherry through mural, sculpture, installation and performance.
"Our very first International Collaborative Art Project at the end of 2021, saw 33 national and international artists create 66 artworks on the idea of Pandemic Memories – Experiences related to lockdown 2020–2021," says Malavika Mandal, renowned artist from Mumbai.
"There will be an Offline Exhibition at Tasmai, Puducherry and the Online Exhibition at our Collaborative Art Space website. This year we have a Collaborative Art Project in which three artists will work together, for the Public Wall Art Project at Puducherry," she added.
Collaborative Art Space, is the brainchild of the renowned Techspressionist artist Malavika Mandal Andrew, who uses collaboration as a tool to foster artistic growth and creativity, connecting artists to create collaborative artworks in various mediums.
Malavika Mandal Andrew has conducted Projects, 'Two Zero Two One' 'Online/Offline', 'Emotions' and 'New Day, New Year, New Month' to foster skills and ideas by creating collaborative art works among artists around the world during the pandemic period.
Malavika Mandal studied Bachelors of Fine Art in Textile Designing and Masters of Fine Art in Textile and Tapestry from Vishwa Bharati University, Santiniketan. She was awarded the National Scholarship by the Ministry of Human Resources Development, Government of India.She has received "The Pollock Krasner Foundation" Grant under which she worked with Warli artists from Talasari, Maharashtra to create mixed media paintings.
The Collaborative Public Wall Art Project will be conducted at Pondicherry. Details of the First International Collaborative Art Projects are: https://collaborativeartspace.com/two-zero-two-one-pondicherry-exhibition/ & https://collaborativeartspace.com/two-zero-two-one/
Deadline for application : 10 July 2023 
Read more here about SPACE: https://collaborativeartspace.com/space/
Application: