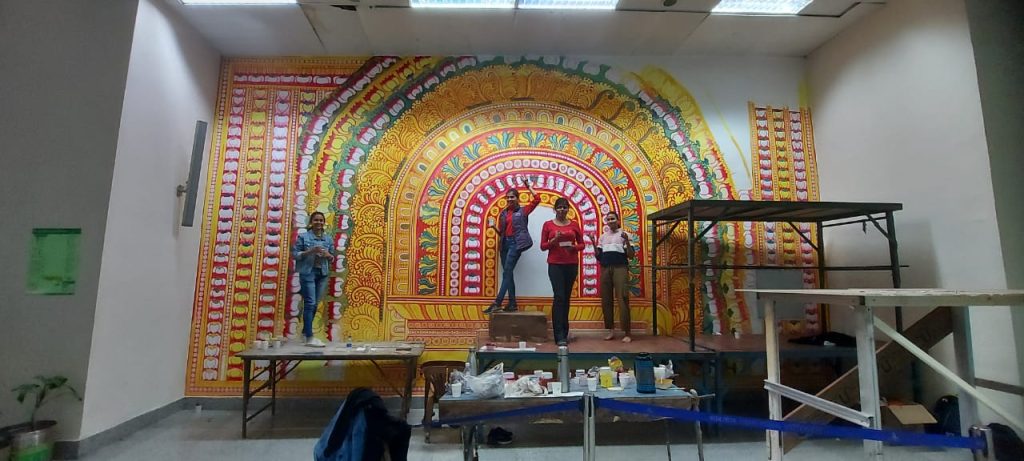 22 February 2023
SHIVALINGA -the visually artistic Mural work adds to the flavour of G20 visitors in a cultural sense at Varanasi
A unique contextual Portrait – Sivalinga is coming up at the Lal Bahadur Shastri International Airport, Varanasi to welcome the International delegates of the upcoming four-day mega event, Conference of the Heads of Nations of G20 Summit 2023.
The biggest Shivalinga in mural work has been designed by eminent artist Suresh K. Nair, Professor of Visual Arts at Banaras Hindu University, owes its resemblance to the renowned South Indian Rameshwaram Temple's Shivalinga which has its strong and ancient linkage to the Holy Kashi.
In the context of current Shivalinga issues in Varanasi… we are making a Shivalinga in a global context at the International Departure at the Varanasi Airport, says Prof. Suresh K. Nair.
"In this Shivalinga, viewers can see their reflection… because we executed a mirror instead of Shivalinga… this is one of the biggest Mural Paintings on Shivalinga in the world…the size of the project is 20 x 30 feet… ," says Prof. Suresh K. Nair.
"The mural has been conceptualised in a unique way where the Lingam in a mirror form gives an idea of the connection of human beings with nature (close to Lord Shiva) in tandem. This visually artistic work will definitely add to the flavour of G20 visitors in a cultural sense. It will be a key takeaway home truly giving an essence of what Kashi stands for – anandavana or the forest of bliss," said Prof. Pradosh Mishra, Ph.D, Fulbright Nehru Fellow and Professor of History of Art and renowned Art Historian at Banaras Hindu University.
Prof. Suresh K. Nair experimented with various Indian and Western Mural traditions like Kerala Mural Painting, Jaipur Fresco, Morahkashi, Ajanta Mural and Italian Fresco. Here he uses the Kerala Mural style and Technique and methods. This is also part of his teaching program. 10 Visual Arts students from Banaras Hindu University are assisting this unique Mural project.
"It's a kind of meditation which calms my mind and help me channelizing my energy in the right direction while painting the rhythmic lines in the mural painting, learned a lot about traditional art techniques and approaches as this mural is made in traditional Kerala Mural Style," Mansi Shah, student, B.F.A in Painting said.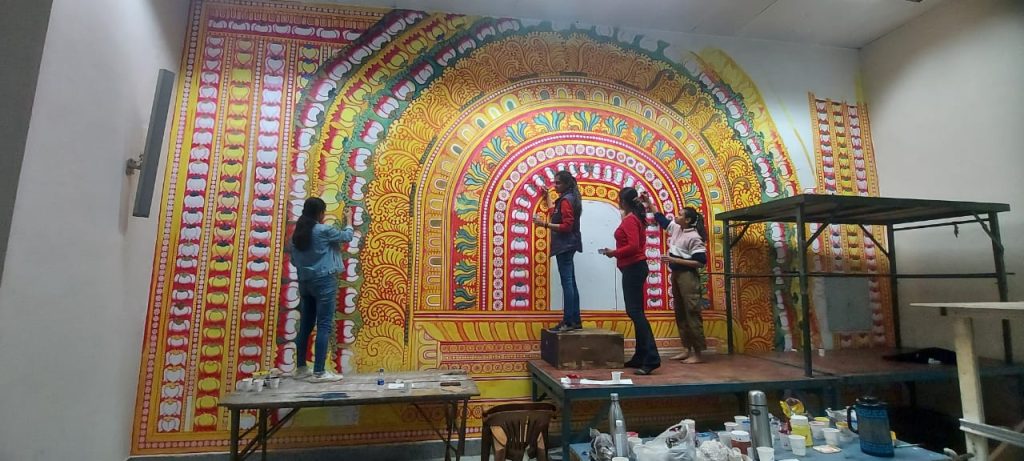 Every year Prof. Suresh K. Nair engages his students in different Mural Projects.
He has done many projects both in India and abroad. He has a monumental Mural project at his native Place which is 700 foot long Mural at Cherpulassery, Kerala called ' Wall of Peace'.
"Working in beyond the scale is always exciting for me. Doing a painting in a canvas always comes with certain types of limitations, but with Suresh K. Nair's mural, he always breaks the limitations. His works push or allow one to think beyond life, in terms of scale and concept both. So, this is my first experience in India as Bangladeshi to work on such a beautiful art work. It's a process of learning, it's a process of knowing about two beautiful lands- Kerala and Varanasi at the same time, it is a blessing," says Pulak K. Sarkar, MFA (Previous) Painting student.
Prof. Suresh K. Nair has also done a big project in India Pakistan border at Wagah depicting the saga of partition.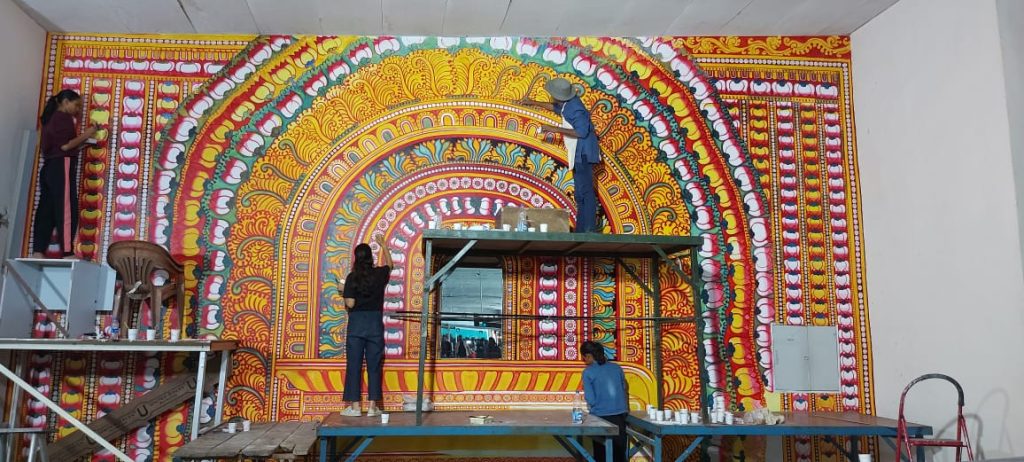 Coincidentally this image have resemblance of Rameswaram Shiva linga, which is a link between Kashi and Rameswaram, a one month project made by Artist Suresh K. Nair, who is a faculty at the Faculty of Visual Arts, Banaras Hindu University, Varanasi and his 10 students after their academic classes every day, 4 pm to 9 pm, without disturbing their daily classes.
" This art is meditation, if we sit for a moment in front of the painting, will get all our worries taken out by Shiva, what I feel about art is – When you see the painting all the Lotus are in reverse position it looks like it's coming from Heaven to worship Shiva, and if you notice our national emblem there is also a reverse lotus known as "Avangmukhi kamal", so I am truly blessed," Saurabh Srivastava, MFA Final year Painting student shares his excitement.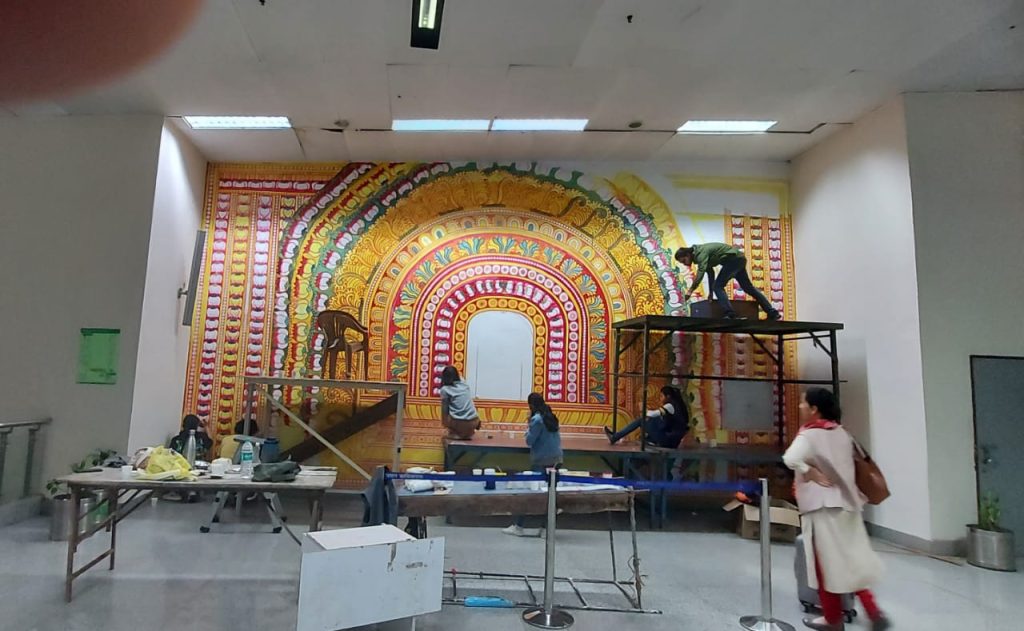 Pulak K.Sarkar, Sourabh Srivastava, Arunima Mondal, Mansi Shah, Kajal Varma, Tenzin Yonten, Norbu Tashi, Tensin Nyidon, Astha Tiwari, Shruti Gupta, K.B. Sandhya and Priya Gupta are the BHU students involved in this Public Art Project.
Many passengers are spending a lot of time working on this project. During the project some visitors and Professors are also started working on it such as Prof. Larissa Noury from Paris, Stacy Guthrie from US and Inger Margrethe Larsen from Denmark are shown interest in this work and they did some works in this project, Says Aryama Sanyal Director of the LBS Airport, Varanasi.
"This is the first time we are doing a collaborative mural work of Shivalinga. The reflection in the Shivalinga mural symbolises that God is omnipresent and well as he is, as well as within ourselves. It's a rare public participatory art work," Airport Director Aryama Sanyal shared on the public art project at the Varanasi Airport.
Astha Tiwari, Mural Second year student is philosophical – "What I see in this work is that…Shiva the God of Gods – Mahadev is in everything. "Kadd Kadd Me Shiv", even in us there is part of him; in every one of us there is a part of Shiva; I feel immense pleasure and blissful for being able to contribute my devotion through my work to Syambhu Mahadev".
"As the bright palette of the universe unfurled itself through washes of colours, I found a divine energy within myself while painting this huge wall, along with our Professor Suresh K. Nair. This project is all about finding what is already within you, worshipping the ultimate God which is a reflection of you. The feeling of satisfaction as the mural is gradually reaching towards completion is like food for the soul, removing all dust from everyday life. I feel very fortunate to be a part of this project as it not only connects me with the public, but also helps me recognise my creative energy," says Arunima Mondal, B.F.A. 4th year student , Faculty of Visual Arts, Banaras Hindu University who is actively participating in the Project.