7 September 2023 /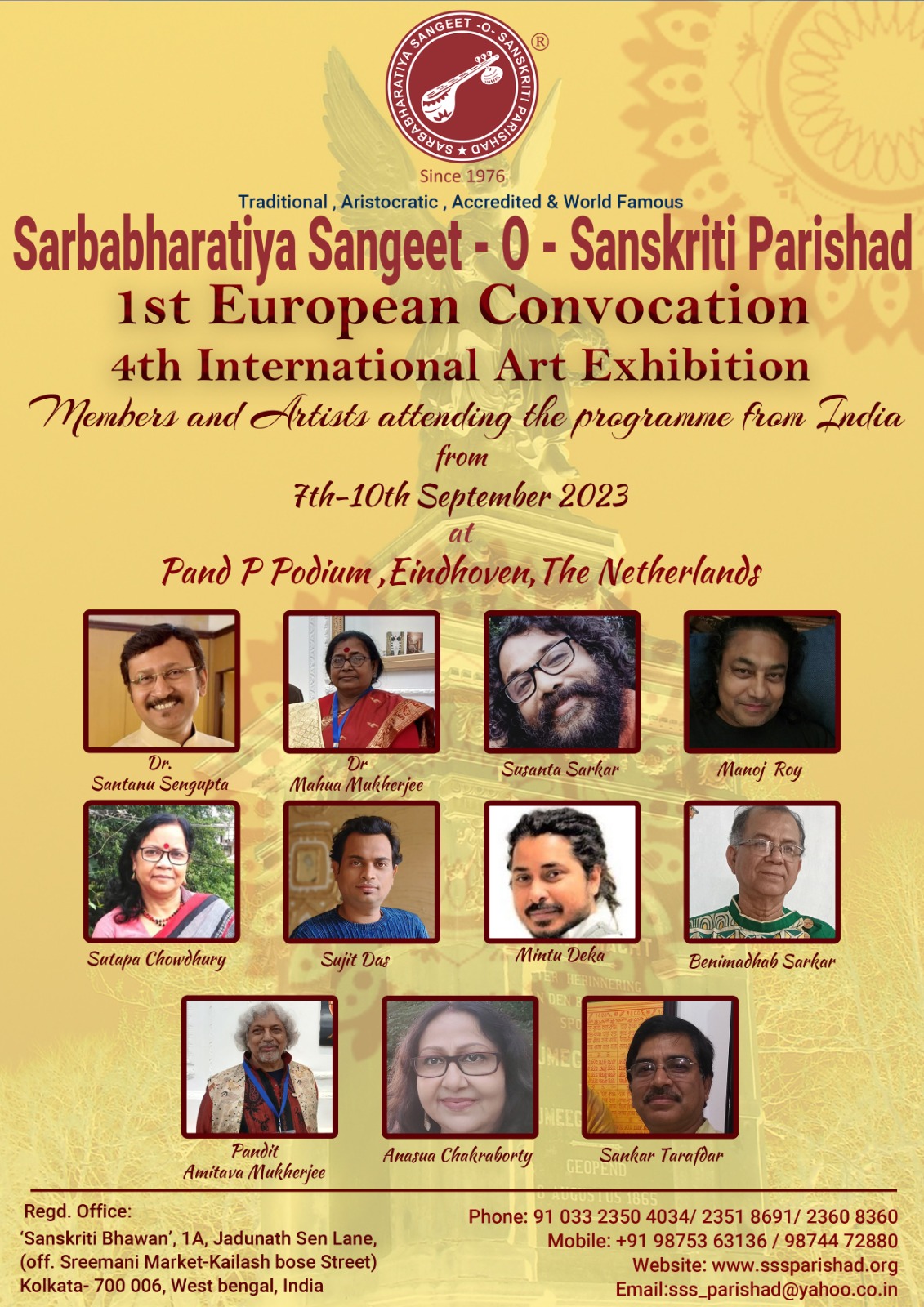 SARBABHARATIYA SANGEET – O – SANSKRITI PARISHAD
CONFLUENCE
1ST EUROPEAN CONVOCATION – CONFLUENCE AND THE 4TH INTERNATIONAL ART EXHIBITION BY JUNIOR ARTISTS
SARBABHARATIYA SANGEET – O – SANSKRITI PARISHAD presents the 1st European Convocation – CONFLUENCE and the 4th International Art Exhibition by Junior Artists at Pand P Podium, Eindhoven, The Netherlands from 7 September 2023 till 10 September 2023.
On 9 September 2023, Mrs. Reenat Sandhu, The Ambassador of India to the Kingdom of The Netherlands will attend the function. MS. TARA PATHAK, First Secretary (PIC) of the Embassy of India to the Netherlands will be the Guest of Honour for the prestigious 1st European Convocation – CONFLUENCE.
The dignitaries and artists from India attending the programmes includes: Dr. Santanu Sengupta, Dr. Mahua Mukherjee, Susanta Sarkar, Manoj Roy, Sutapa Chowdhury, Sujit Das, Mintu Deka, Benimadhab Sarkar, Anasua Chakraborty, Sankar Tarafdar and Pandit Amitava Mukherjee.
On 8 September 2023, a Seminar on the topic, 'Is Traditional Art Losing the Identity under the Influence of Contemporary Art' and a Lecture Demonstration on 'Gaudiya Nritya', a classical dance form of Bengal by renowned scholar and artist Dr. Mahua Mukherjee will be held.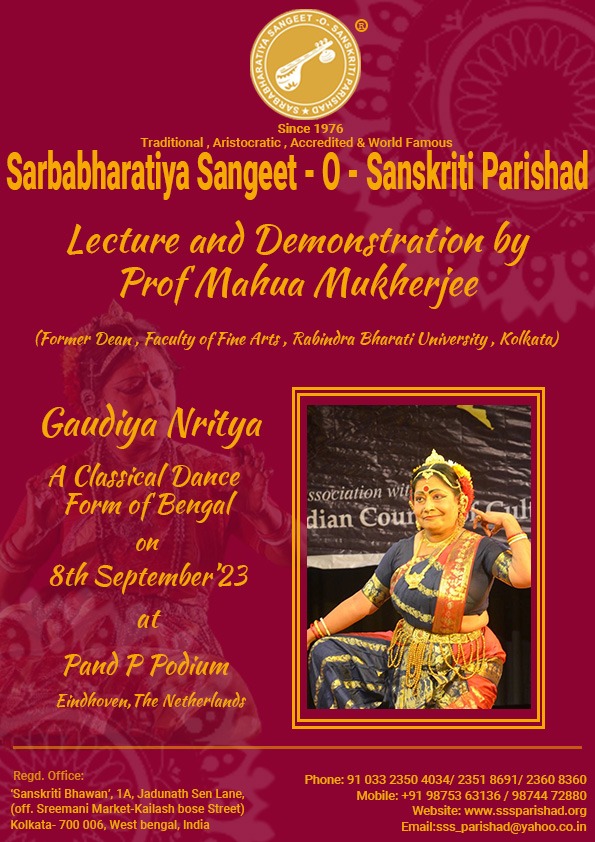 The Inauguration of International Art Exhibition will be held by MS COROLA EIJSENRING on 7 September 2023.
The artists attending the 4th International art Exhibition includes: Abhijit Kumar Sinha, After Ali (Raja), Ananya Mishra, Anasua Chakraborty, Anindita Bhattacharya, Anita Malhotra, Benimadhab sarkar, Benoy Dalui, Bidyut Borah, Debasish Bose, Dona Sarkar, Ehsan-Ur-Roshid, Indrajit Narayan, Jonaki Das Hazra, Joydeep Bhattacharjee, Kanchan Mistry, Krishti Kashyap, Manoj Roy, Meenakshi, Mintu Deka, Nabanita Das, Nivedita Kanjilal, Prajna Bhattacharya, Raju Rabidas, Rakshanda Murtaza, Ramanuj Biswas, Sambita Dutta, Sankar Tarafdar, Srishti Kashyap, Sujata Devi, Sujit Das, Suraj Sunwar, Suroj Roy, Susanta Sarkar, Susmita Pal, Sutapa Chowdhury, Swapan Debnath, Tapan Mahatta and Trishna Sarkar.
"In order to encourage our teachers as well as our students, workshops and seminars are organized with artworks selected by the independent panel of selectors, with an intention to reach to the people in general who find an appropriate space to learn appreciating the art," says Secretary Shree Kajal Sengupta in a message released in connection with the first European Convocation of the Organization.
The Exhibition includes paintings, drawings, photography and graphic design works of 39 artists who deserve to be encouraged and appreciated, he added.
Sarbabharatiya Sangeet-O-Sanskriti Parishad was formed in 1976 to propagate, foster and preserve traditional forms of Indian Art and Culture as it is perceived that the traditional art forms were facing various threats including from the electronic media. The Parishad has since then started affiliating Training Centres and Cultural institutions throughout India and abroad associated with art and culture.