27 April 2023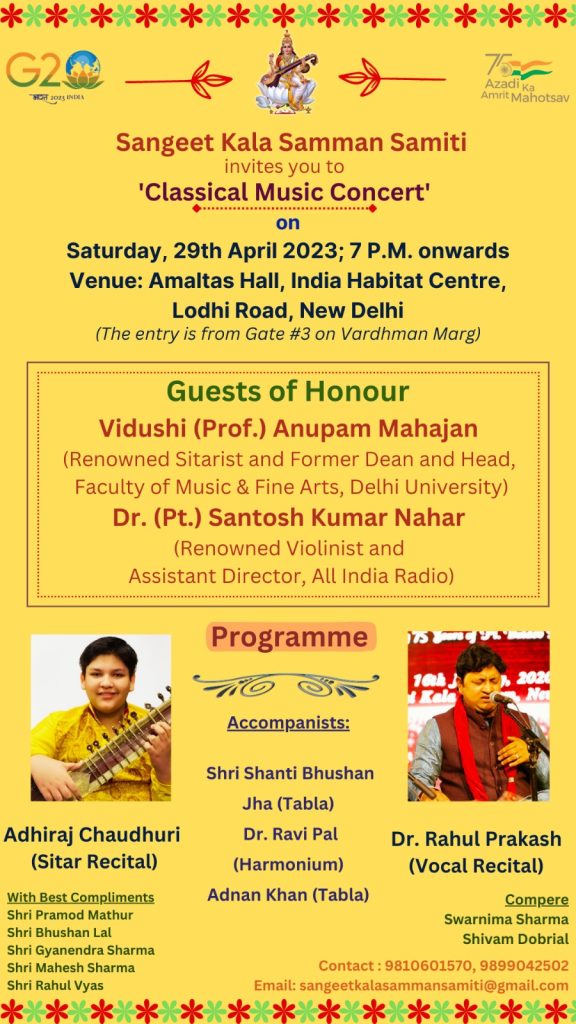 ENCHANTING MUSIC EVENTS FROM INDIA'S MOST PROMISING YOUNG MUSICIANS AT SANGEET KALA SAMMAN SAMITI'S CLASSICAL MUSIC CONCERT
Sangeet Kala Samman Samiti organises Classical Music Concert on Saturday/ 29 April 2023 from 7p.m onwards at AMALTAS HALL, INDIA HABITAT CENTRE, LODHI ROAD, NEW DELHI.
Vidushi Prof Anupam Mahajan,renowned Sitarist and Former Dean and Head of Faculty of Music & Fine Arts Delhi University) and Dr.(Pandit). Santosh Kumar Nahar,renowned Violinist and Assistant Director, All India Radio will grace the function as Guest of Honour.
The programme features some of the most promising musicians in the country.
Experience the enchanting music events from India's most promising young Musicians at SANGEET KALA SAMMAN SAMITI'S CLASSICAL MUSIC CONCERT.
THE PERFORMANCE OF THE EVENING
Adhiraj Chaudhuri, grandson of Guru Padmbhushan Late Pt Debu Choudhuri and son of Late Pandit Prateek Choudhuri, on the sitar, accompanied by renowned musician Adnan Khan on tabla.
"It's a tremendous opportunity for me to perform in this esteemed music event. During my performance, I will present a few compositions with improvisations that I learned from my illustrious Dada (Grandfather)Guru, Padmbhushan Late Pt Debu Choudhuri ji and my father, Late Pandit Prateek Choudhuri. They were both renowned sitar exponents of the Senia Gharana," said renowned musician Adiraj Choudhuri.
THE SECOND PERFORMANCE OF THE EVENING  
will be presented by Dr. Rahul Prakash, vocal recital with Shanti Bhushan on tabla and Dr Ravi Pal on the harmonium.
Dr Rahul is Assistant Professor at Maya Somaiya School of Music and Performing Arts, Somaiya Vidyavihar University Mumbai. He started his classical vocal music under guru shishya parampara from Pandit. Baldev Raj Verma ( A Top – Grade Artist of all India Radio and Doordarshan and Doyen of the Indore Gharana), since 2008. He has been awarded a Ph.D. on 'Hindustani Shastriya Sangeet Mein Ritukaleen Bandishon Ka Sangitik Vishleshan' in 2021.
THE PROGRAM WILL COMPERE BY SWARNIMA SHARMA AND SHIVAM DOBRIAL
"Sangeet kala Samman Samiti has been working relentlessly for the promotion and preservation of Hindustani classical music amongst the masses. India's musical heritage is rich, vast and varied and its transmission amongst the younger generation is extremely important to keep the musical legacy alive.
The society has organised several concerts for more than 20 years and It has been conferred Swar samman and felicitated the senior classical musicians like Vidushi Shanno khurana, Malti Gilani, Pandit.Abhay Narayan Mallick, Pandit.Sunil Mukherjee, Pandit .D.K.Datar and many others," said Padmabhushan Dr Pandit Gokulotsavji Maharaj, the senior-most Indian Classical Virtuoso – Doyen Creator and founder of Sarvang Sampurn Gayaki Shaily. The Samiti is also committed to promoting and propagating rashtra bhasha, Hindi through classical Raga based compositions. The Sangeet kala Samman Samiti has been organising various cultural and music programmes to preserve the heritage of Classical Music and promote young talented and promising musicians of our country.