8 June 2023 /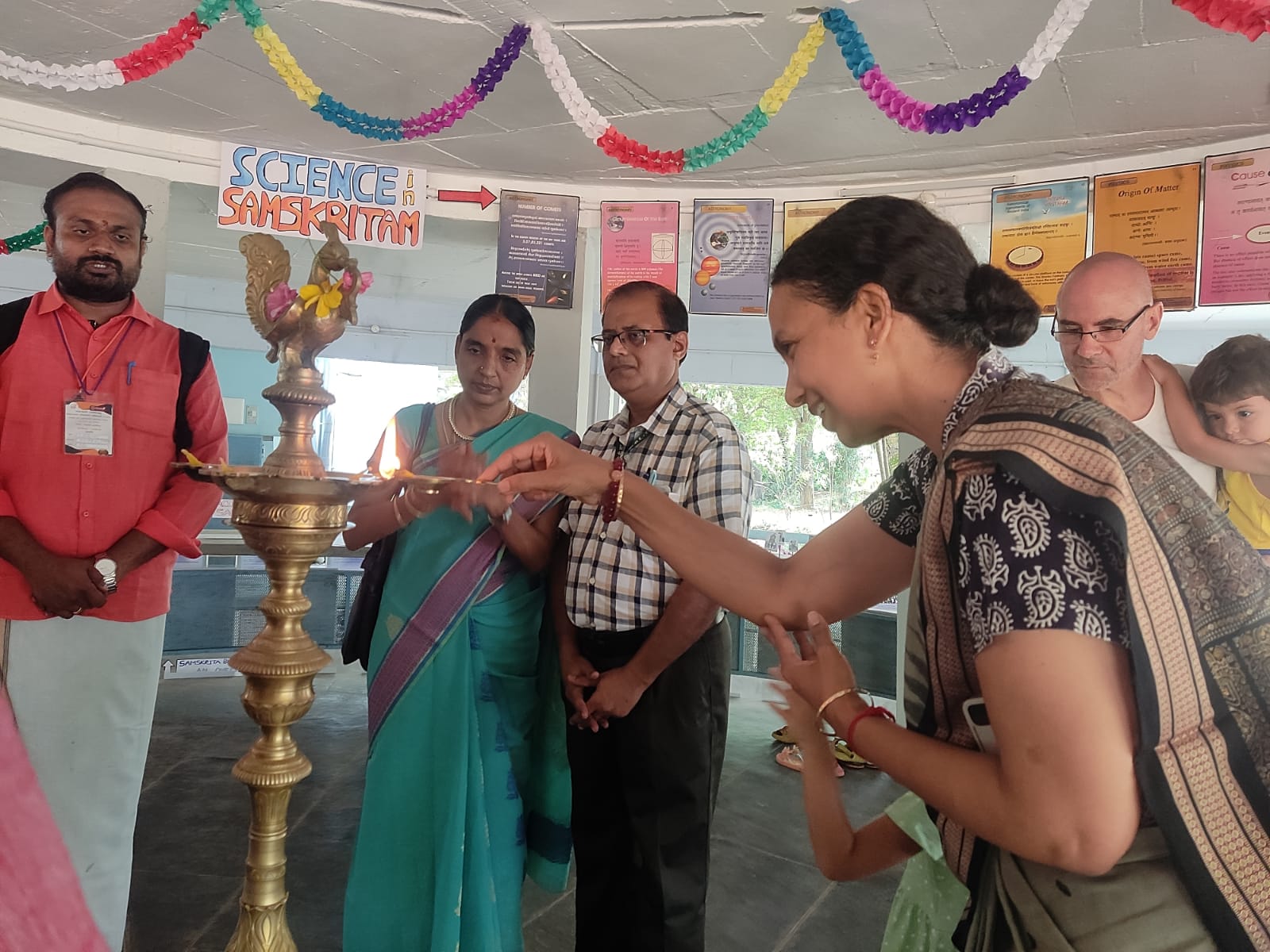 SAMSKRITA PRASIKSHANA SHIBIRAM
SAMSKRITA PRASIKSHANA SHIBIRAM – 'reflected the dream of Shri Aurobindo to nurture Samskritam which truly showcases the heritage and glory of our Matru Bhoomi Bharatam'
SAMSKRITA BHARATI conducted Samskrita Teachers' Residential Training camp at Bharata Nivas centre, Auroville Foundation, Pondicherry. Around 200 people participated in the 12 days residential training camp and all were trained to read, write and speak in Samskritam, the classical sacred language that propagated the philosophy of our rich culture and also marked an everlasting impact on other languages all over the world.
INAUGURATION
The camp was started on 23 May 2023 with Ganapati Homam at 5.30 AM.
Dr. Jayanti S Ravi, IAS, Secretary, Auroville Foundation was the chief guest for the occasion. Dr. Rajyalakshmi, Samskrita Scholar, Shri. Natarajan IPS, Former DIG, Tamilnadu & Former MLA, Tamilnadu, Dr. D. Jayadev, President, Samskrita Bharati, North Tamilnadu and Dr. R. Ramachandran, Academic Coordinator, Southern Region, Samskrita Bharati were the dignitaries on the stage.
EXHIBITION INAUGURATION
A Samskrita Exhibition was inaugurated by Dr. R. Baskaran, Joint Director, Dept. of Defence, R & D, DRDO and Dr. Jayanti S. Ravi on 27 May 2023.
Dr. H. Vishwas, Sahitya Academy Awardee, All Coordinator, Samskrita Bharati; Dr. Upadrashta Ramana Murthy, All India Balakendra Co-Ordinator, Samskrita Bharati and Shri. M. Sriram, All India Asst. Co-Ordinator, Media, Samskrita Bharati graced the function Resource Persons.
VALEDICTORY PROGRAMME
In the early morning, on 3 June 2023, a small beautiful earthen lamp was shining nearby the 'Akhanda Bharatam', a colourful map drawn by and many earthen lamps were lit with 'Omkar' mantra-dhvani, the divine cosmic sound followed by singing patriotic songs and all paid floral tribute to Bharatmata.
Dr. Jayanti S Ravi, IAS, Secretary, Auroville Foundation along with trainers and other dignitaries participated in the Bharata Mata Pooja.
"The shibiram reflected the dream of Shri Aurobindo to nurture Samskritam Language which truly showcases the heritage and glory of our Matru Bhoomi Bharatam," said Dr. Jayanti S Ravi, IAS, Secretary, Auroville Foundation in the valedictory function.
Shri S. Selvaganapathy, Member of Parliament, Rajya Sabha from Pondicherry expressed his views and importance of Samskritam.
Prof. Gurmeet Singh, Vice Chancellor of Pondicherry University and Dr. Gopal Jayaraman, Regional Director, IGNCA shared their rich experiences and encouraged the participants to continue learning in their life.
Shri Dinesh Kamat, All India Organizing Secretary of Samskrita Bharati released the YATI VANI, the Samskrita hand written journal of the participants in the camp. Cultural programmes were also conducted in the camp.
The successful 12 days Samskrita Prasikshana Shibiram which was held in Auroville, Pondicherry is a true indication that the dream of Shri Aurobindo and Shrimata to nurture Samskritam has become a reality.
Samskrita Bharati, a non profit organisation founded in 1981, is dedicated to the mission of popularising Samskritam language as well as literature, tradition and knowledge to all. In Tamil Nadu, more than 1 Lakh persons have been trained to read, write and speak in Samskritam.