8 July 2023 /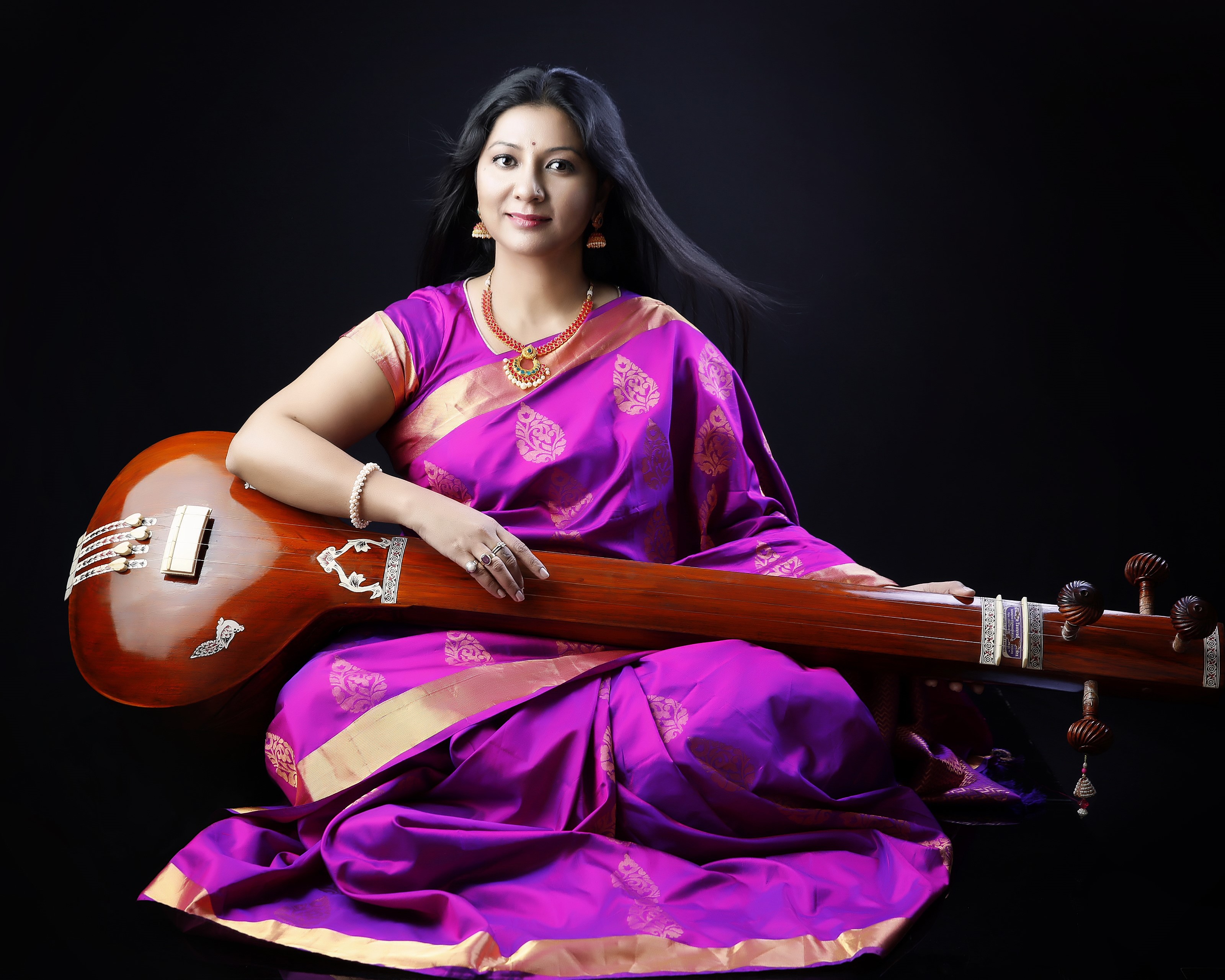 RENOWNED HINDUSTANI CLASSICAL VOCALIST SWARNIMMA GUSAIN
Renowned Musician Swarnimma Gusain is a highly acclaimed Hindustani Classical Vocalist, Composer, Producer and Songwriter who believes music knows no boundaries.
An artist who has both talent and imagination, Swarnimma Gusain offers a bewitching bouquet of varied styles of Hindustani Classical music, embarked on the journey of classical music at the tender age of nine, initiated by Shri Gupta ji, Pandit Vasudev Deshpandey and further groomed by Smt. Shubha Mudgal, Pandit Batuknath Diwanji and Sarangi Samrat Ustad Sabri Khan. She is presently learning from Pandit Arun David, Jaipur-Atrauli exponent.
The most significant turning point came in Swarnimma's musical journey when Jaipur Atrauli gharana's legendary vocalist Gaan Saraswati Smt Kishori Amonkar took Swarnimma under her wings for 11 years. With the blessings of Kishori Tai , Swarnimma also took training from Benaras Gharana exponent Thumri Queen Smt. Girija Devi. Swarnimma Gusain is Girija Deviji's last disciple. With this divine training, Swarnimma Gusain has achieved an authenticity in many aspects of the Jaipur-Atrauli style – a full throated akaar, dazzling taans, a sophisticated use of techniques such as meend and gamak and a clever grasp of the intricacies of layakari. In addition to the mastery of presentation of classical Ragas, Swarnimma's command of semi-classical genres, Thumri, Chaiti, Dadra, Kajri, Ghazal, Bhajan, Abhang accounts for her versatility among Hindustani Classical vocalists.
Renowned vocalist Swarnimma Gusain holds a Master's and M. Phil degree in Classical vocal music from Delhi University, having been a gold medallist throughout her academic career. A recipient of National Scholarship, she has bagged several Awards including the Talent Hunt Award, Maharishi Award conducted by the All India Maharishi Gandharva Ved Vishwa Vidyapeeth, Uttarakhand Nari Shakti samman, Saraswati Sadhana samman.
Born in Uttarakhand, in the foothills of mighty Himalayas in India, Swarnimma Gusain has performed extensively, held workshops in India and abroad including in the USA, Canada, China, Thailand, Mauritius, Dubai, Norway and Bangladesh, also given lecture-cum-demonstrations in India and China. She is an empanelled artist of ICCR.
Swarnimma Gusain's milestone achievement is her participation in the prestigious RAVI SHANKAR'S FESTIVAL OF INDIA-III in the USA and Canada, as a lead female vocalist, where she performed in 33 states at various major auditoriums including Carnegie Hall and Disney Hall.
RECORDING CREDENTIALS
1. Recorded for German International album 'Hesse Projekt', which is based on the poetry of Nobel Prize winner German writer, Herman Hesse – Released from Germany.
2. Sung for Anoushka Shankar's Grammy nominated album 'RISE' – Released from EMI.
3. Recorded for the HMV concert series 'Under the Bodhi tree' in the solo classical music category.
4. Worked with world famous French Saxophonist, Sandro Mariotti for the fusion album 'PURNIMA'. – Released from France.
5. She has lent her voice for a telefilm 'Bilbmangal ki Pratigya' under the music direction of Smt Shubha Mudgal.
6. Released Album , Garh Ramayan, Aviral part-1, singles Shaurya, Dhobiya from all major audio platforms.
A graded artist for classical music, Swarnimma Gusain is a regular performer at All India Radio and other media channels in India.