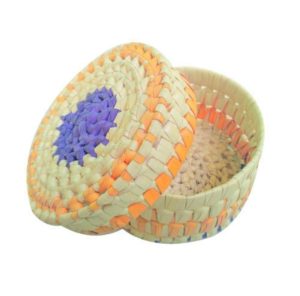 12 June 2023
PALM LEAF WORKSHOP by Marie Theresa
TASMAI / A CENTRE FOR ART & CULTURE/ PONDICHERRY
Tuesday/ 13 June 2023/ 4.00 PM – 5.30 PM
PALMLEAF WORKSHOP INTRODUCES THE BEAUTIFUL ECO-FRIENDLY MEDIUM AND EXPLORES NEW DESIGNS CREATIVELY
Marie Theresa conducts a Workshop on 'Palm Leaf Craft' with varied designs and can make basket, mats, pouches, containers, flowers, trays, files, children's realities and jewelry.
The workshop introduces the basics of palm leaf craft so that this beautiful eco-friendly medium that is found in abundance locally can be crafted into objects of daily life and explored creatively. Those who have learnt the basics can explore more.
Marie Theresa hails from Pondicherry and is a member of the Art and Craft Village, Murungapakkam. She did a one year training course at the District Industry Centre (DIC) and conducts training workshops at her home under the aegis of DIC.
VENUE : TASMAI / CENTRE FOR ART & CULTURE / PONDICHERRY