14 July 2023 /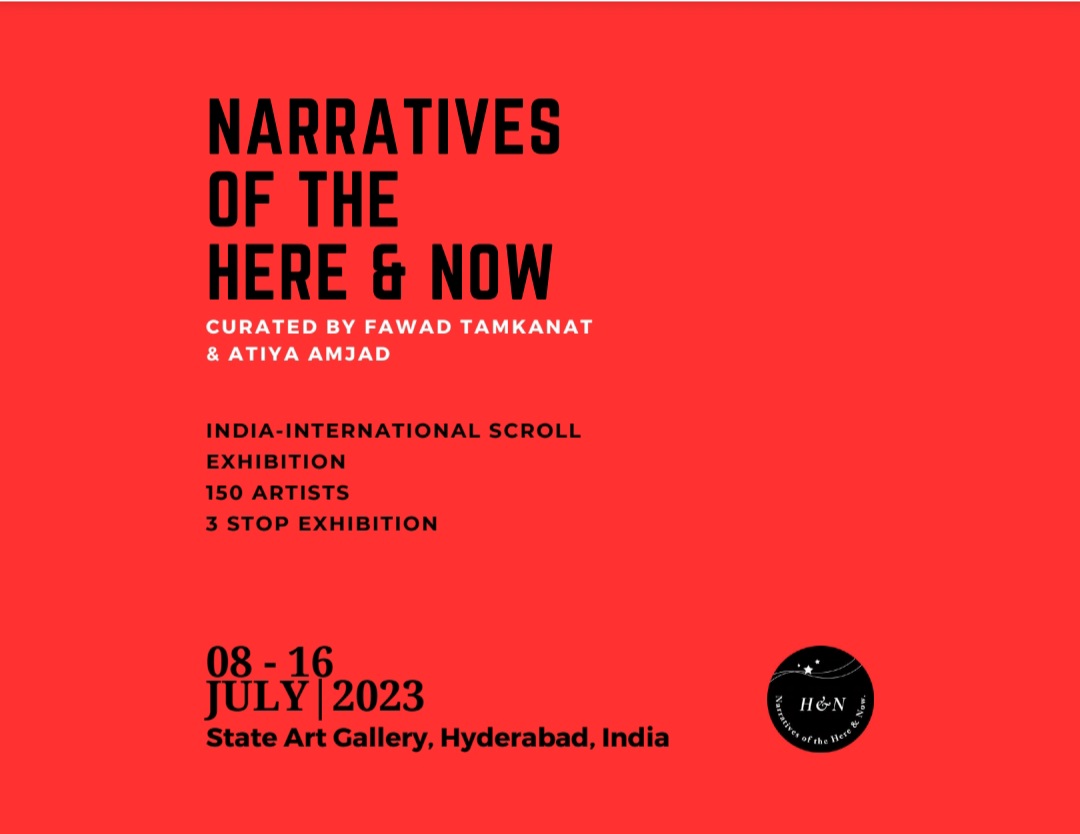 NARRATIVES OF THE HERE & NOW
INDIA-INTERNATIONAL SCROLL EXHIBITION
CURATED BY FAWAD TAMKANAT & ATIYA AMJAD
VENUE: STATE ART GALLERY, HYDERABAD, INDIA.
DATE / 8 – 16 JULY 2023
"Art is neither a profession nor a hobby, it's a way of life. Nothing gives me more pleasure than curating an art auction or exhibition. Art plays a fundamental role in all our lives. We experience it daily because it is universal.
More than 140 artists from India and abroad contributed their best works for 'Narratives of the Here and Now'. I believe artists serve as historians, documenting life on canvas. They help us organise our world. And help us understand our society and culture, and that of others.
Art allows us to juxtapose fantasy and reality, a world an artist successfully creates on their canvas. I am thankful to all the participating artists for coming together and contributing their latest works to this exhibition," says Fawad Tamkanat, renowned Artist and Curator of the show.
"Narratives of the Here and Now is a celebration of dualities, about one's individuality in a diverse world. It is a show about every artist, including the ones who couldn't participate and those that we couldn't accommodate in this moment of Here and Now.
At a primary level, it is about inclusiveness and coexistence: At a deeper level, it is about reaching a point of nothingness that is laden with truth/reality. Every Narrative which is displayed in this exhibition is complete yet incomplete, creating a scope for many more dimensions of perspectives, thoughts and processes. In a nutshell, the agenda is to provide so much more creative space that finally there's nothing more to create and all creation merges into one. Therefore, Narratives of the Here and Now is all about oneness and looking within ourselves," says Atiya Amjad, famous Art writer and Curator.
"Nature has been a constant source of inspiration for me. Living with nature always filled me with joy. I remember being surrounded by greenery, goats, buffaloes and cows walking past my studio. But today, Hyderabad's terrain has seen a massive transformation in the past four years. The changing landscapes, the bond between humans and nature, decreasing wildlife, natural soil and rock formations are under threat due to urbanisation and increasing migration occupies a space in my works." — Artist Chippa Sudhakar
"I spend most of my time alone in the company of nature. My thoughts often hover between life, death, insects, flowers and time. My acquaintance with my work is an opportunity to not just focus on the study of biology, but also with themes based on stylized poetry of morphed personalities. My works project levity and humour, mostly by using different colours to depict human conditions in a humorous manner." –– Artist Danthuri Gayatri
"I am the protagonist and my work is allegorical. Capitalizing on my life which unfolds upon me and I am its audience. Past and ongoing experiences transpire into pictures. The constant probing into the past and the incidents linked; the right or wrong choices made, that happened or what could have happened are constant questions that emerge as a delightful trajectory. Whatever the situation, I celebrate life. I am my own companion to my past, present, future, choices, mistakes, fantasies, dark desires, struggles, duties, experiences, or whatever else." — Artist B Padma Reddy
"I have always been fond of experimenting with the egg tempera medium. I scrape a lot to create interesting shades, patterns and textures. I use this medium to the hilt, for opaque as well as transparent effect. This is the only medium I express myself fully as it compliments my thought process. The present series is a narrative of human relationships. Over a period of time I internalised this aspect so much that it reflects in my work like my soul, but in the human bodies." — Artist Srinivasa Chari K
"My source of inspiration has constantly looked within myself to analyze a personal/ private preoccupation. It is this preoccupation, which has disciplined me and made to become my own critic. I start three or more works simultaneously and then orchestrate the process of thoughts and treatment without stipulating a period that witnesses any kind of completion in any particular work. In fact, an uninterrupted dialogue oscillates between  subjective progress and an objective statement." — Artist Sajid Bin Amar
"I am inspired by small-town India, its natural setting and the exuberant and colourful people living in it. The landscape is another attempt to showcase to the audiences a vibrant colour palette to draw the instant attention of the audience. Multiple media like acrylic on canvas/paper, colour pencils or even watercolors have been used to balance the painting." — Artist Sumanto Chowdhury
NARRATIVES OF THE HERE & NOW – INDIA-INTERNATIONAL SCROLL EXHIBITION IS ON SHOW AT STATE ART GALLERY, HYDERABAD TILL 16 JULY 2023.