10 July 2023 /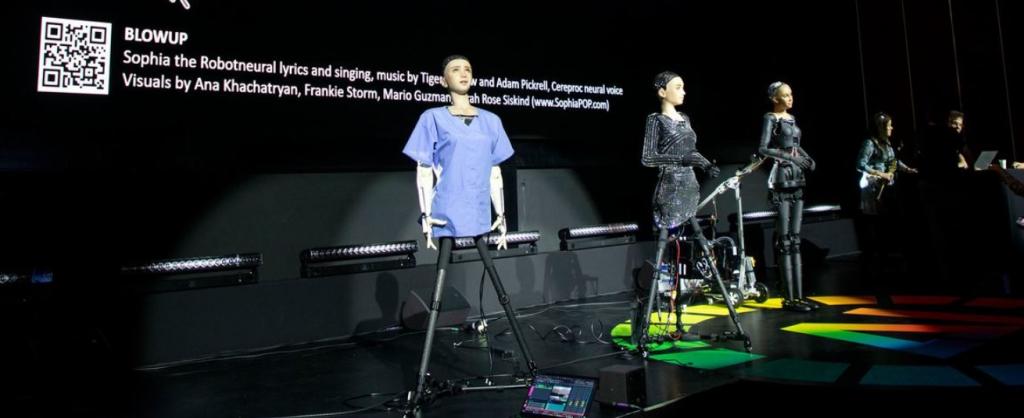 MEET AMECA, GRACE AND SOPHIA AND OTHER ROBOTS AT THE UN – AI FOR GOOD GLOBAL SUMMIT 2023, GENEVA
"The development of Artificial Intelligence, or AI, 'for the good of all' requires guardrails grounded in human rights, transparency and accountability," says UN Secretary-General Antonio Guterres at the AI FOR GOOD GLOBAL SUMMIT 2023 organized by the International Telecommunication Union (ITU), the United Nations specialized agency for information and communication technologies, bringing together governments, civil society, UN agencies, AI innovators and Investors. The Summit explored ways in which AI can be used to help the whole world achieve the Sustainable Development Goals.
"AI must benefit everyone, including the third of humanity who are still offline, and insist on the need to urgently find consensus on what the guiding norms for AI deployment should be," the UN Chief added.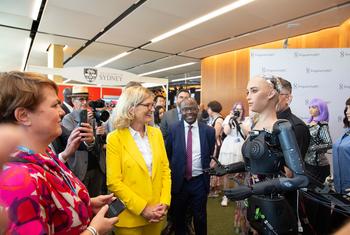 "We would be able to successfully harness AI to find cures for diseases like cancer and Alzheimer's, step up clean energy production and support farmers in boosting crop yields. The future of AI has yet to be written," said ITU Secretary-General Doreen Bogdan-Martin.
"As artificial intelligence (AI) sprouts new, powerful learning abilities, nations are working on strategies to govern it, according to the International Telecommunication Union (ITU) which is hosting the two-day summit to showcase a bevy of new technologies, including a range of robots who can handle everything from healthcare to rock music. We have to engage and ensure a responsible future with AI," explained ITU Secretary-General Doreen Bogdan-Martin," reported UN News.
ROBOTS IN THE SUMMIT
The Global Summit's guest list features 51 innovative robots, including nine humanoid robots, equipped to help people with functions in line with the Sustainable Development Goals.
GRACE
Robots like Grace can support people's health and well-being, provide high-quality educational services, reduce inequalities by helping persons with disabilities, reduce waste, help build resilient infrastructure and broadly enhance social good, according to the UN-International Telecommunication Union.
The world's most advanced humanoid healthcare robot, Grace can recognize emotions, shows perpetual empathy, understands more than 100 languages and it is "the world's foremost nursing assistant robot", made to provide support and care for the elderly. Grace can be used as nursing support in any healthcare or home setting.
SOPHIA
Sophia is the first robot Innovation Ambassador for the United Nations Development Programme (UNDP), a marvellous "human-crafted science fiction character depicting the future of AI and robotics and a platform for advanced robotics and AI research". The famous UNDP Innovation Ambassadors has appeared on many popular television programmes, Tonight Show and Good Morning Britain. She has also spoken at hundreds of conferences around the world, reports UN News.
AMECA
Ameca represents an ideal platform to explore how machines can live with, collaborate, and enrich humanity Integrating AI and AB (artificial body) for advanced, iterative technologies that deliver superior motion and gestures.
Assistive robots are transforming human lives in multiple ways, according to the UN agency. Using machine learning and AI, these robots offer support in mobility, communication, self-care, and other essential daily tasks, giving people who need it renewed confidence and autonomy.
Other robots attended the Global Summit include:
* Nadine, one of the world's most realistic humanoid social robots, created by the University of Geneva
* Geminoid, an ultra-realistic humanoid robot by Hiroshi Ishiguro from Japan
* 4NE-1, the world's most advanced cognitive humanoid robots designed by Neura Robotics
* Ai-Da Robot, the first ultra-realistic robot artist, Desdemona and the "rockstar" robot of the Jam Galaxy Band.
"Aimed at connecting visionaries with an array of UN organizations and investors focused on sustainable development, the UN-driven event provides an unprecedented chance to empower these cutting-edge innovators to tackle global challenges, including the 17 Sustainable Development Goals (SDGs) set out in the 2030 Agenda for Sustainable Development," reports UN News.