4 August 2023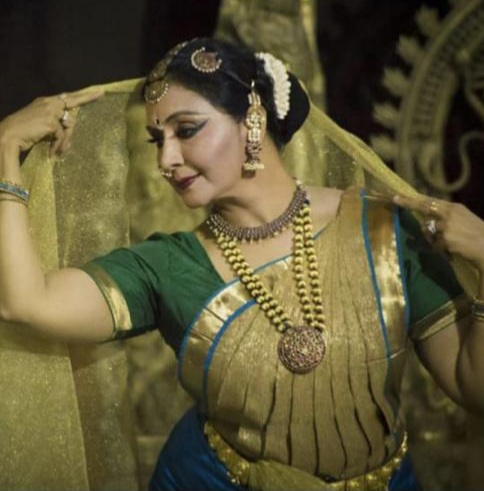 KARNATAKA KALASHREE POORNIMA ASHOK
RENOWNED DANCER, CHOREOGRAPHER AND TEACHER
Poornima Ashok, the renowned dancer, Choreographer and Teacher from Bangalore is a committed artist who has been exploring the rich traditions of Bharatanatyam through innumerable performances and choreographies in India and abroad. Even as a young student she represented Karnataka at various festivals and won accolades.
"Bharatanatyam has always been a spiritual recourse to me. It has always kindled my imagination and creativity in the quest of knowledge and learning process. It has revealed my true self," says the renowned artist Poornima Ashok.
"For me dance is not just a performing art but a celebration of life, that constantly evolved through my choreographies, thoughts and ideas came to life in a manner that created a joyful synergy between lyrics, music, movements and feelings," she added.
Poornima Ashok has been trained by her Guru Smt. Radha Sridhar and further she was trained by the renowned gurus Padma Bhushan Shri Dhananjayans and the legendary dancer and teacher of Indian classical dance, Bharatnatyam, Padma Bhushan Smt. Kalanidhi Narayan. Poornima was the recipient of a Scholarship for advance Training in Bharatnatyam from Government of India. She is an 'A- grade artist of Doordarshan and has performed on the national and regional channels.
"As a bharatanatyam danseuse and guru I was driven by relentless pursuit of artistic excellence strived to advance arts through a comprehensive educational approach that drew inspiration from my vast repertoire," renowned artist Poornima Ashok. shared her experiences as a dancer and teacher.
The renowned artist Poornima Ashok is an empanelled artist of ICCR, Government of India.
Poornima has performed in India and abroad including in Singapore, Malaysia, Sri Lanka, Thailand and UAE. Poornima Ashok and her team has performed at Vladivostok (East Russia) and few other places sponsored by the ICCR in 2017.
Poornima Ashok was honoured with many prestigious awards including Karnataka Natya Ratna; Nartana Nipuna of Nritya Kala Parishath, Bangalore; Natya Kala Vipanchee and Karnataka Kalashree.