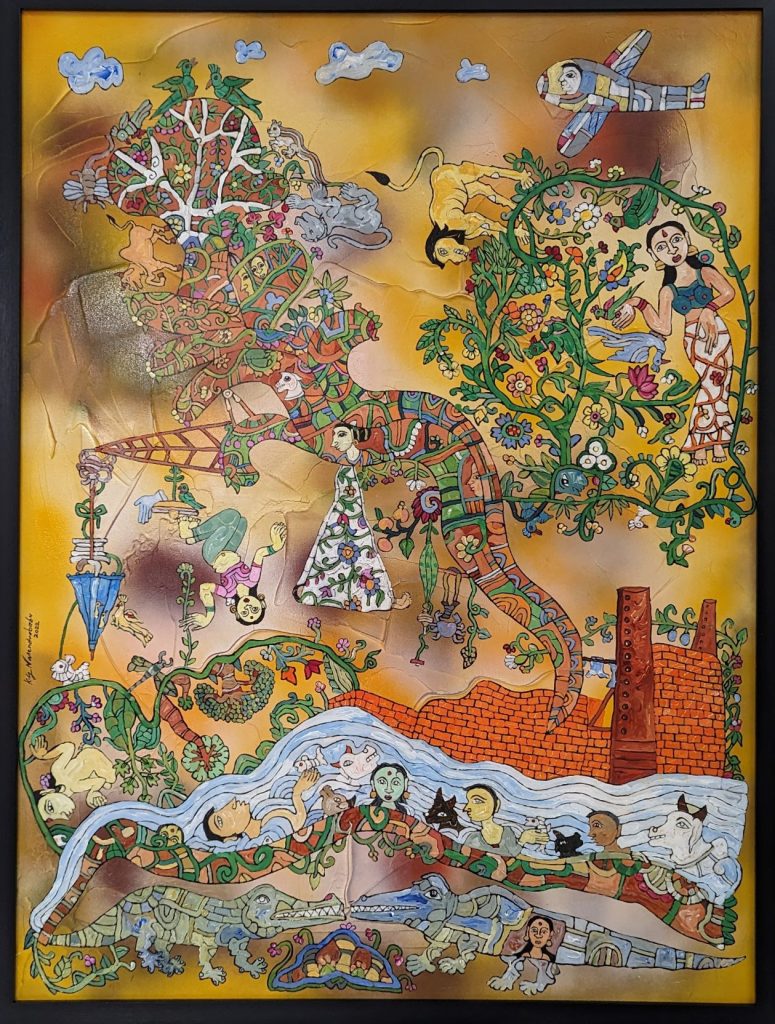 26 February 2023 /
K.G. NARENDRA BABU / ARTIST /
The renowned artist K.G. Narendra Babu has been associated with the Weaver's Centre, Ministry of Textile, Chennai and travelled extensively throughout the country.
"I was always on the lookout for new designs and I found inspiration wherever I went — temple towns, traditional architecture, kalamkari art, colours, landscapes and the hills. Flowering plants and trees, animals and birds both imagined and real, share the canvas with people who seem to be part of a Technicolor dream sequence", says the renowned artist.
He has been portraying vibrant surreal depictions of animals, natural motifs and human figures that bring magical artworks with bright hues. He started his paintings in black and white, later he weaves the stories of village folks, landscapes and many in vivid acrylic colours on canvases.
He has studied Diploma and Post Diploma in Painting from Government College of Arts and Crafts, Chennai.
He has conducted many solo and group exhibitions all over India and abroad including Korea & India Exchange Exhibition – Oct 2019, 2ndInternational Art Exhibition in Chang Kil-Hwan Art Museum (Korea), Korea & India – Come Together in Pyeongchang – Oct 202, Jinbu Culture and Art creation studio and Red Dreams Blue -Ri Ji Art Studio Gangneung – Dec 2022 in Korea. Renowned artist K.G. Narendra Babu is the recipient of many prestigious awards.
Attended many Art camps including All India Painter's Camp Jaipur , Andhra Academy Artists Camp, All India State Designers Camp, Nasik, Workshop on Conservation of Oil Paintings conducted by The National Museum and New Delhi.
Renowned artist K.G. Narendra Babu is the recipient of many prestigious awards such as 48t h National Academy Award, Mumbai – 2005, 5t h All India Drawing Exhibition, Gulbarga, IFS Award, Chandigarh – 1995, Andhra Academy of Fine Arts – 1992, 1s t Prize in Monsoon Art Show, Bombay – 1998, Tamil Nadu Nunkalai Kuzhu Award – 1988, International Airports Authority of India Award – 1987, TIAS all India Art Exhibition – 1987, State Youth Award – 1986, AIFACS Drawing Exhibition – 1986.