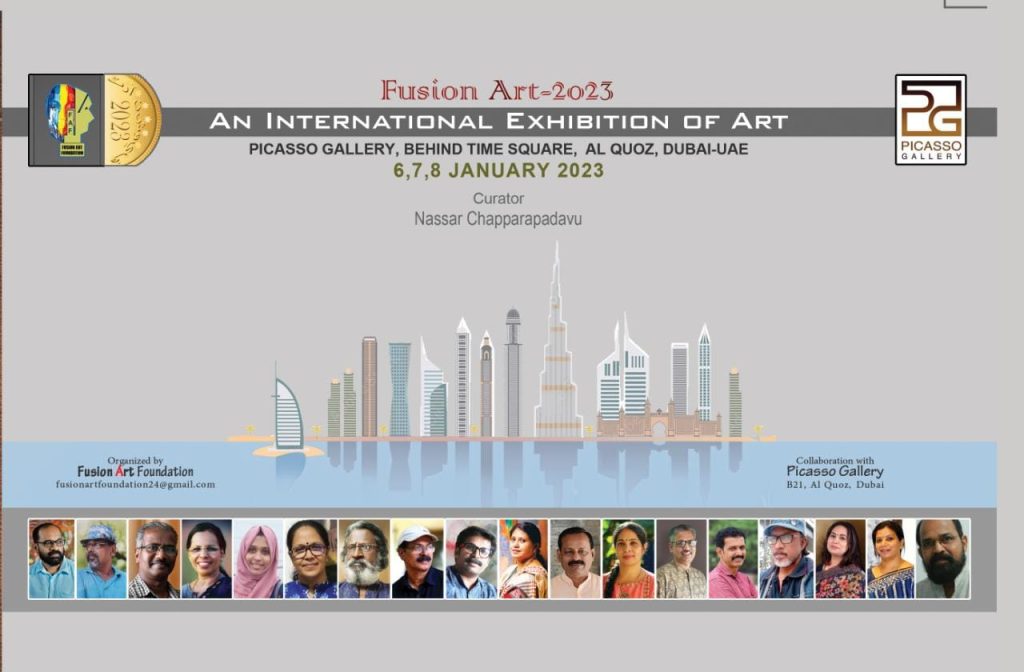 28 January 2023 /
INTERNATIONAL EXHIBITION OF ART AT DUBAI-FUSION ART – 2023 /
FUSION ART FOUNDATION, an organisation for Artists in collaboration with Picasso Gallery, Al Quoz, Dubai has presented an International Exhibition of Art, titled – FUSION ART – 2023 featuring vibrant contemporary artworks of 18 famous artists of Kerala, showcasing their unique paintings at Dubai.
RAMACHANDRA BABU, renowned illustrator and designer inaugurated the exhibition in the gracious presence of eminent Emirati artists Ahmad Al Awadi and Abdul Qader Alraiz as special guests.
Artist Nisar Ibrahim presented the keynote address. Harilal, representative of Sharjah Indian Association and Dr. Shiji Anna Joseph felicitated the function.
NASSER CHAPPARAPADAV, famous artist and President of Fusion Art Foundation curated the show.
Renowned artists Nasser Chapparapadav (curator ), Biju Panapuzha, Sasikumar Kathiroor, Col.VP Suresan, CP Dilip Kumar, Fida Abdul Nasser, KV Jyotilal, M. Damodaran, Prakashan Kuttamath, Priyagopal, Ramesh Nair, Santosh Chunda, Surekha, Nisha Bhaskar, Jolly M. Sudhan, Dr.PK Bhagyalakshmi, Priyagopal, Suma Mahesh and Roshni have displayed their vibrant contemporary artworks in this International art platform at Dubai.
FUSION ART FOUNDATION is an international platform constituted by the organisers of UAE and India to promote and introduce artists from various fields like art, music, folklore to the international arena.
ARTISTS: BIJU PANAPUZHA/ SASIKUMAR KATHIROOR/COL.VP SURESAN/ CP DILIP KUMAR/FIDA ABDUL NASSER/ KV JYOTILAL/ M. DAMODARAN/ PRAKASHAN KUTTAMATH/ PRIYAGOPAL/ RAMESH NAIR/ SANTOSH CHUNDA/ SUREKHA/NISHA BHASKAR/ JOLLY M. SUDHAN/ DR.P K BHAGYALAKSHMI/ PRIYAGOPAL/SUMA MAHESH/ ROSHNI/
VENUE:PICASSO ART GALLERY/ AL QUOZ / DUBAI