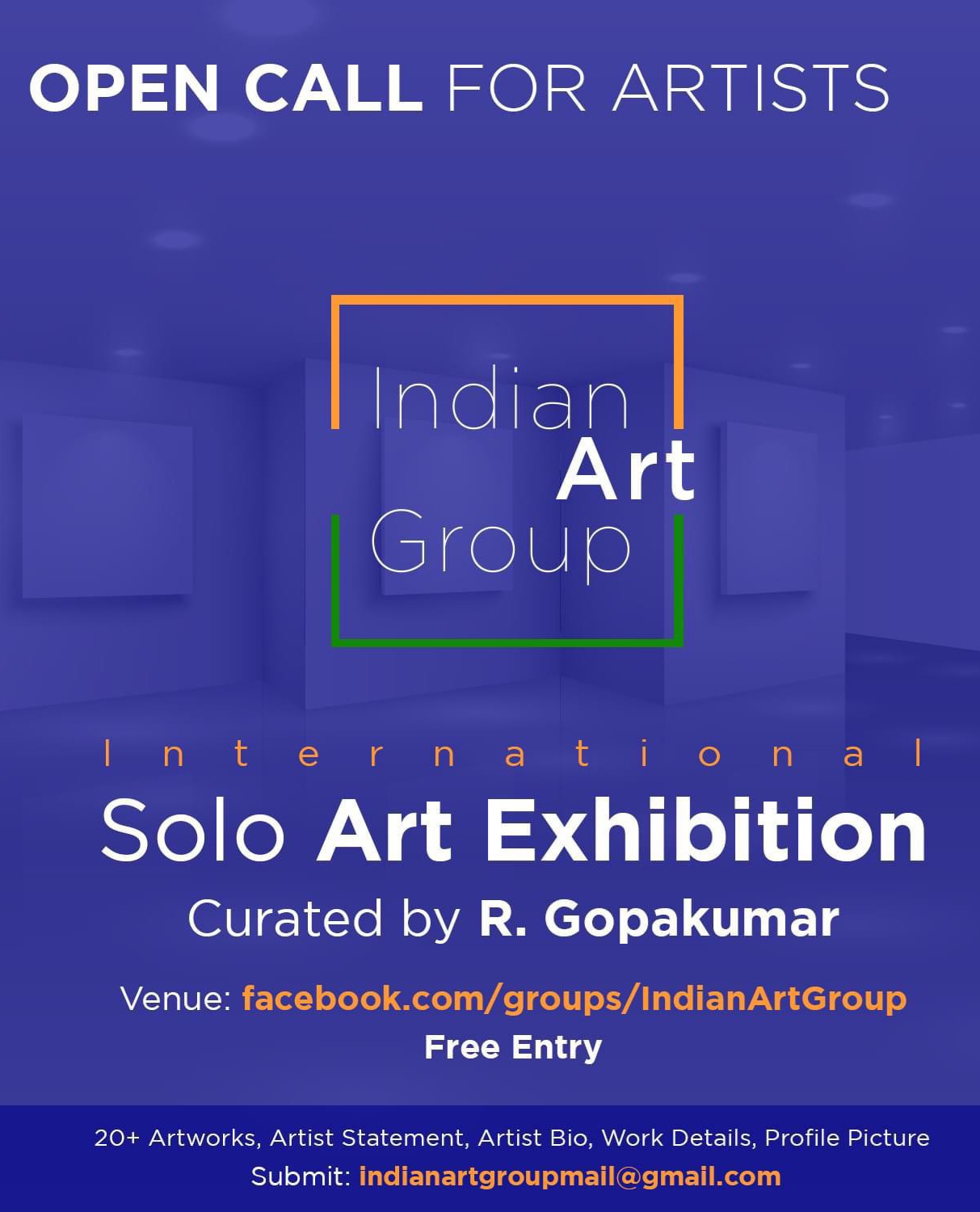 INDIAN ART GROUP
OPEN CALL – INTERNATIONAL CURATED SOLO ART EXHIBITION
CURATOR: R. GOPAKUMAR
VENUE: FB/INDIAN ART GROUP
The Indian Art Group announces an open call for an international curated solo art exhibition showcasing the art works of a single artist from any country in the world.
The exhibition will be curated by R. Gopakumar, a well-respected Indian contemporary multidisciplinary artist, curator and India's first major digital art collector. His work has been exhibited all over the world including at Saatchi Gallery London, UK; Tate Britain, UK; Museum of Modern Art (MoMA); Kochi-Muziris Biennale, Kochi, India (Collaterals); Bahrain Museum, Manama, Bahrain; The Kinsey Institute Art Gallery, USA; National Gallery of Modern Art, New Delhi, India; CADAF Crypto and Digital Art Fair, Paris, France; Visual Artists Association, Art Exhibition, London, UK; V-Art Digital Art Spaceship Exhibition – Ukraine; Objectified CICA Museum, South Korea; Art Rise Savannah's Art Festival, Savannah, Georgia; Sofia Underground – International Performance Art Festival, Sofia, Bulgaria; The Power of Art, Tune Bibliotek, Sarpsborg, Norway; Peace & Solidarity Årjängs Bibliotek, Galleri Passagen, Sweden and Art Meets Lawrence Ferlinghetti's Poetry Exhibition – Arte Città Amica, Torino, Italy.
The exhibition will be open to all artists, regardless of their medium or style. However, the curator is particularly interested in works that explore the following themes:
· Identity and culture
· The environment
· Social justice
· The human condition
The exhibition will be held online and will be open to the public for free.
Please forward submissions: indianartgroupmail@gmail.com