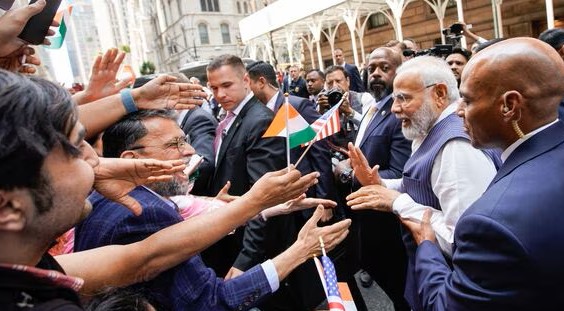 21 June 2023 /
INDIA DESERVES A MUCH HIGHER, DEEPER AND WIDER PROFILE AND ROLE
PRIME MINISTER NARENDRA MODI VISITS U.S
"Landed in New York City. Looking forward to the programmes here including interaction with thought leaders and the Yoga Day programmed tomorrow, 21 June." Prime Minister Narendra Modi  tweeted after reaching New York.
Prime Minister Narendra Modi arrived in New York on his first state visit and he was received by Taranjit Singh Sandhu, India's ambassador to the U.S and Ruchira Kamboj, India's Permanent Representative to the United Nations.
"India deserves a much higher, deeper and wider profile and role".
"We have a core belief in respecting sovereignty and territorial integrity, observing the rule of law and peaceful resolution of differences and disputes. At the same time, India is fully prepared and committed to protect its sovereignty and dignity," Prime Minister Narendra Modi said ahead of his first state visit to the U.S.
"India deserves a much higher, deeper and wider profile and role. Some people say, we are neutral. But we are not neutral. We are on the side of peace," Prime Minister said on the conflict of war in Ukraine.
"All countries should respect international law and sovereignty of countries. Disputes should be resolved with diplomacy and dialogue, not war. India will do whatever it can and support all genuine efforts to bring an end to the conflict and ensure enduring peace and stability," Prime Minister added.
The Prime Minister said that the International Institutions like the UN must change.
"Look at the membership of key institutions, does it truly represent the voice of democratic values? A place like Africa, does it have a voice? India has such a huge population and is a bright spot in the global economy, but is it represent?"
He reflected his desire to be part of the UN Security Council, despite India's role as a major contributor of troops to the peace keeping operations of the UN around the world.
"The world today is more interconnected and interdependent than ever before. To create resilience, there should be more diversification in supply chains".
The Prime Minister said that his visit to the U.S will reinforce shared democratic values and there is an unprecedented trust between the two nations. He will meet U.S President Joe Biden, U.S leaders, C.E.O of various Companies and members of the Indian-American Community during his three days visit.
Prime Minister Narendra Modi will lead a unique yoga session to commemorate the 9th International Day of Yoga at the UN Headquarters today.