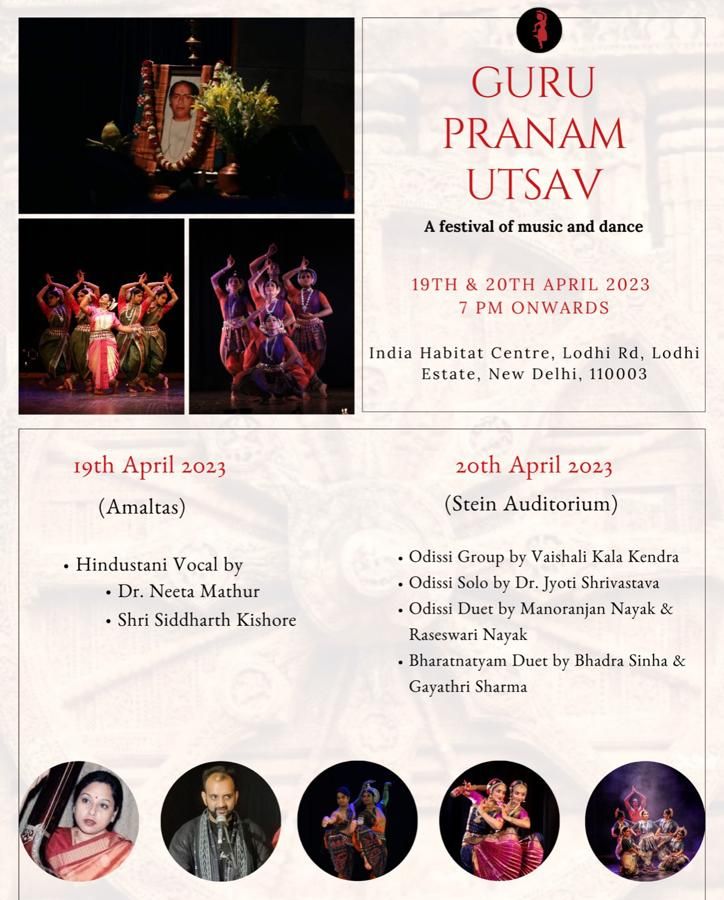 19 April 2023
GURU PRANAM UTSAV – A FESTIVAL OF MUSIC AND DANCE
Vaishali Kala Kendra celebrates 35th year of Guru Pranam Utsav – a Festival of music and dance on 19th and 20th of April 2023 from 7pm onwards at India Habitat Centre, Lodi Road, Lodi estate, New Delhi, 110003.
On 19th April 2023 the program will be at Amaltas Hall and on 20th April 2023 at Stein auditorium.
Day 1 is dedicated to Music and is called Dhwani and features Khayal Gayaki by Dr. Neeta Mathur, a renowned singer and Associate Professor in Delhi University. The next presentation would be by Siddharth Kishore, a devoted singer, who has been trained in three different styles – Hindustani classical, Odissi and devotional music and will be presenting Raag Madhumanti.
Day 2 is dedicated to dance and includes Odissi dance presentations by Dr. Jyoti Shrivastava and disciples of Vaishali Kala Kendra who will be presenting Manglacharan, an ode to lord Krishna followed by Oriya Geet Muha Muhi Kishor, Kedar Koumodi pallavi and Ashtashambhu. Other famous artists of the evening include Manoranjan Nayak and Raseswari Nayak.
The Highlight of the festival would be the 'Ramayan' presentation which is our initiative to make today's generation aware that Ramayana is not just a story but has a lot of life lessons that can be learnt and applied in our life.
The artistic Direction of the event will be done by Dr. Jyoti Shrivastava.
Vaishali Kala Kendra is one of the leading dance institutions founded for promoting Odissi dance/ vocal music in India and Kala Kendra organises 'Guru Pranam Utsav' in the memory and honor of late Guru Shrinath Raut who dedicated his life proliferating the importance of Odissi as a cultural dance form in the country.