22 July 2023 /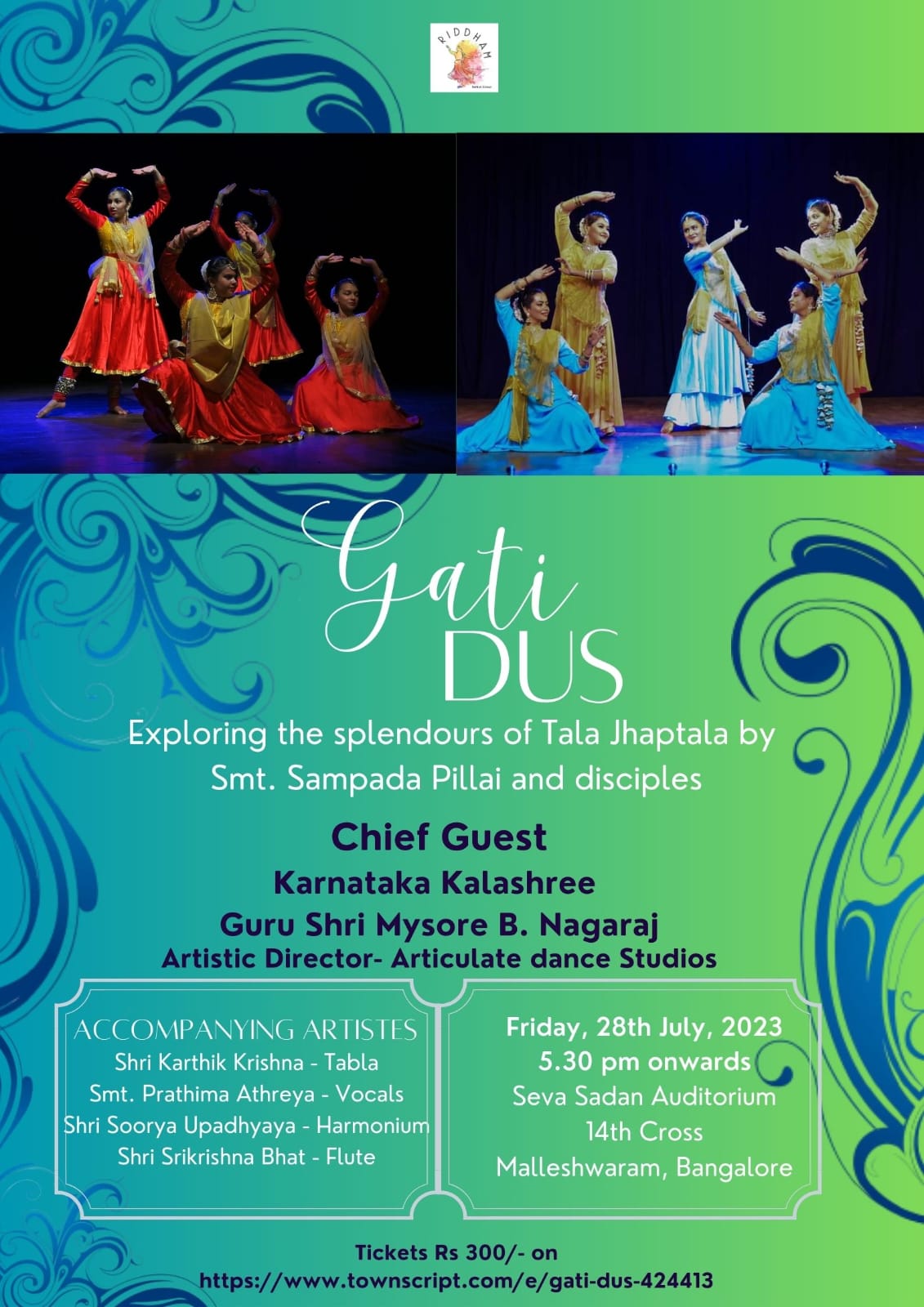 GATI DUS – Exploring the splendours of Tala Jhaptala by renowned artist Sampada Pillai
Friday/ 28 July 2023 / 5.30 PM onwards
VENUE: SEVA SADAN AUDITORIUM, 14TH CROSS, MALLESHWARAM, BANGALORE
CHIEF GUEST: KARNATAKA KALASHREE GURU SHRI MYSORE B. NAGARAJ
GATI DUS – a splendid Kathak presentation by renowned dancer Smt. Sampada Pillai and her disciples will be held on 28 July 2023 at Bangalore.
"Gati dus, a Kathak presentation explores the splendours of Tala Jhaptala, a time cycle of 10 beats. Commencing with a Ardhanarishwar Stotra followed by the Tala in its simplicity as well as complexity bringing forth simple rhythmic compositions as well complex pieces in teeshra jaati and teeshra chatushra jaatis moving slowing from vilambit laya to madhya and then druta. The bhava is being expressed through a melodious bhajan composed by the Kathak legend late Pandit Bindadin Maharaj in which he has sung the praises of Lord Krishna. A few more interesting compositions in Jhaptala such as the famous bhajan in Raga Bhairavi – Bhavani Dayani are also being performed," says renowned artist Smt. Sampada Pillai, founder Riddham Kathak School, Bangalore.
"My Guru Late Dr. Rohini Bhate ji always encouraged us to create and experiment after getting to know the tradition soundly. Gati Dus is yet another attempt on these thoughts by Guru Rohini ji. I have connected the Tala Jhaptala a time cycle of ten beats with the ten years completion of my Kathak school- Riddham. As per tradition Indian classical dances are meant to be presented with live music accompaniment and we are revisiting this with talented artistes from Bangalore. In Gati Dus we explore simple as well as complex content along with bhava. Our final piece Raga Durbari is a composition by Pune based musician Shri Uday Ramdas and choreographed by myself. It expresses the joy of dancing together. The bright and enthusiastic musical notes in the piece brings out a positive state of mind and body which is excited to explore space, movement and expression by dancing together, taking a brief but strong moment to thank God for these simple pleasures in life," she added.
GATI DUS – Explores the splendours of Tala Jhaptala by the renowned dancer Sampada Pillai accompanied by talented artists Shri Karthik Krishna (Tabla), Shri. Soorya Upadhyaya (Harmonium), Smt. Prathima Athreya (Vocals) and Shri. Srikrishna Bhat (Flute).
Karnataka Kalashree Guru Shri. Mysore B. Nagaraj (Artistic Director and Kathak Guru, Articulate Dance Studios, Bangalore) will preside as Chief Guest.
Riddham Kathak School, a prominent institution dedicated for imparting traditional Kathak training was founded by the renowned Kathak artist Sampada Pillai in Bangalore. Riddham is also dedicated to nurturing other performing arts and the fine arts as well. Regular courses, workshops and lec-demonstrations in different forms of dance, painting and history of art are organized at the Riddham in Bangalore. Riddham Kathak School celebrated its 10th anniversary on 12 December 2022, organising dance festivals – Adhiyatt, in memory of the legendary Kathak artist Dr. Rohini Bhate and 'The Elemental Solo' on the International Dance Day, 21 April 2023.