6 September 2023 /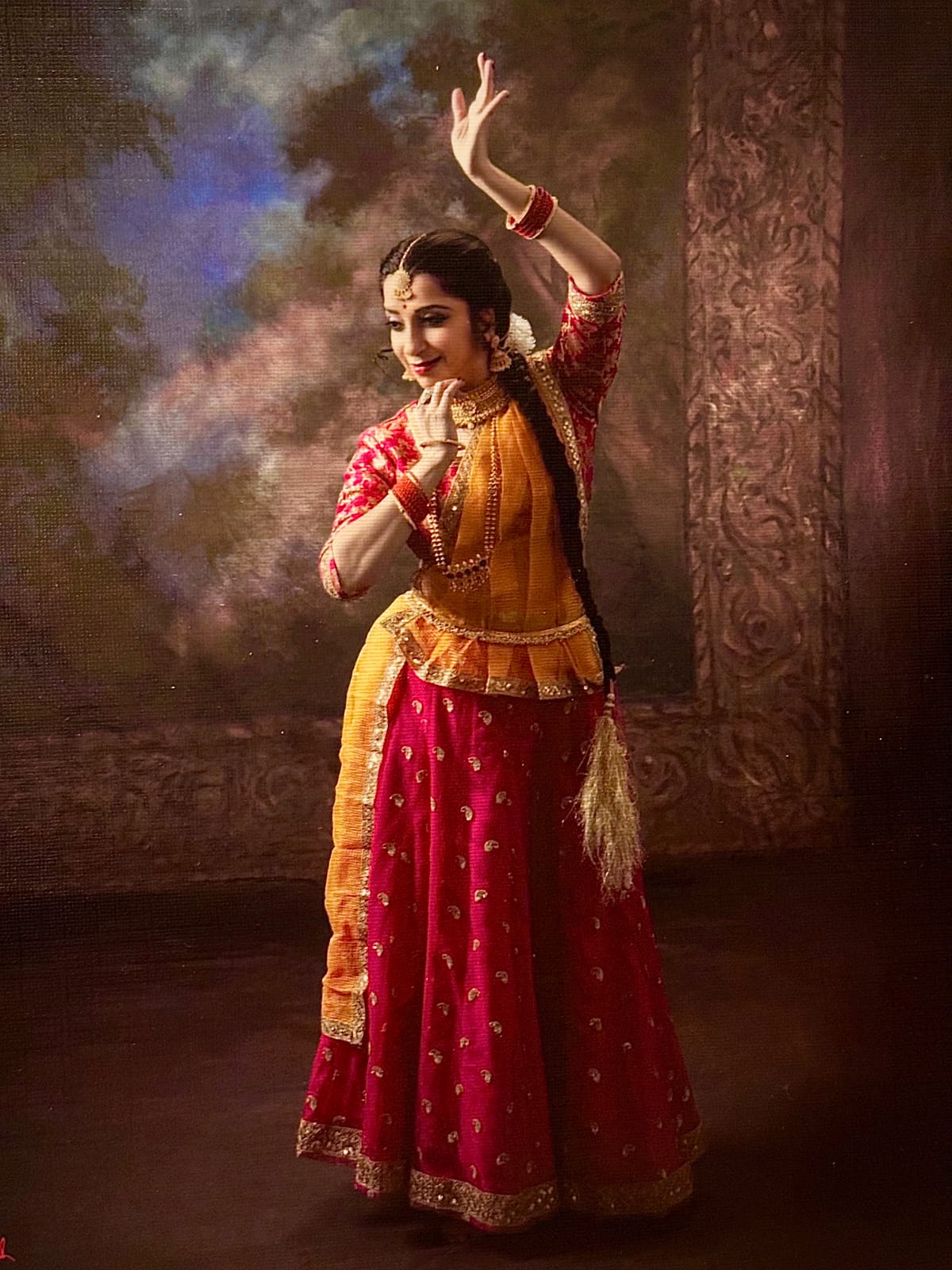 KATHAK ARTIST AND GURU PALLAVI DEGWEKAR SHAIKH
"Dance is the rhythm and joy of my life!  When on stage, I feel its magic in my feet and bliss in my soul! 
"Dance is the rhythm and joy of my life! When on stage, I feel its magic in my feet and bliss in my soul! Dedicated to a lifetime of passion, hardwork and creativity to Kathak with more than 25 years of performance and 20 years of teaching, I strive to bring grace, strength and confidence to students of all ages," says renowned Kathak artist and Guru Pallavi Degwekar.
"A ten-year-old's world typically revolves around toys, playmates and studies. For me, it was at this age that my world changed when Guru Asha Joglekar accepted me as her student in Kathak, one of the eight classical dance forms from India. The sound of bells, understanding the language of dance and playing with rhythm became the parallel world that I dwelled in. Hours of dance education would be supplemented with hours of practice (riyaz) leading to a Bachelor's Degree (Visharad) and then a Master's Degree (Alankar) from the prestigious Akhil Bharatiya Gandharva Mahavidayala Mandal (ABGMM), India. Additional training in dance intricacies from the Kathak Maestro, Pandit Birju Maharaj ji and in rhythm intricacies from the Tabla Maestro, Pandit Suresh Talwakar ji further chiseled my dance knowledge. Their blessings and the disciple cultivated in me became the bedrock for a gamut that helped me scale new heights," Pallavi Degwekar shares her artistic journey of more than two decades.
"I advanced from dance teacher to assistant choreographer and Vice-Principal at my guru's school, Archana Nrityalaya in India, and later at the New Jersey, USA branch," she added.
At present Pallavi Degwekar is the Founder-Artistic Director of Nrityavali Gurukul, aka Pallavi Kathak, striving forward for promoting and preserving the rich heritage of Indian Classical music and dance. 
"The pride of my artistic being, Nrityavali Gurukul, is the most important milestone in the journey of my vision as a Kathak dancer and Guru. Also I am an individual member of the International Dance Council CID (Conseil International de la Danse) which is an official partner of UNESCO, my students can also strive for additional certification, an achievement that encourages intensive dance education and practice," renowned Kathak dancer Pallavi Degwekar explains on her association with the International artistic arena.
PERFORMANCES & AWARDS
Renowned Kathak artist and Guru Pallavi Degwekar has performed many programmes including Consulate General of India, NY – June 2022; Guest performance at the Distinguished Indologist Award Conferment Ceremony; Sangeet Nrityanjali, NJ – May 2022; New York Kathak Festival Pop-Up Concert, NY – December 2021; New York Kathak Festival – 2019 and 2020; Artists United Live Music Festival – Facebook live performance; The 13th and 14th Performing Arts Educators Invitational –Ensemble performances at Lincoln Center and Carnegie Hall, New York; RAW Brooklyn Bazaar, Brooklyn, NY; Natya Festival, North Carolina; Mudra dance festival, Philadelphia, PA; Om Kriya Yog's live show on TV Asia on World Hindu Day; MET Museum, New York, NY for Asian Women in Business; 35th India Day Parade at Madison Square, New York, NY; Guru Poornima and Annual Day performances at Archana Nrityalaya, Mumbai, India; Sangeet Natak Akademi Festival, New Delhi, India; Johnson & Johnson, Mumbai, India; Pt. Birju Maharaj's Sadhna Festival, New Delhi, India; Cultural Center's Youth Festival for Dance and Music, Mumbai and Nrityangana at Sydenham College, Mumbai, India.
Kathak artist Pallavi Degwekar has received enumerable awards including a Certificate of Commitment, 2021 – The World Book of Records, London validated her commitment for promoting safety during the Covid-19 pandemic; Best Teacher Award, 2021 – Natraj Music and Dance Academy; Nakshatra Samman, 2021; Abdul Kalam Bharat Puraskar, 2021 – Award in the art category; 3iii (International Indian Idol) – International jury member in the dance category in 2019 and 2021; Individual Artist Fellowship, 2020 – Awarded by the NJ State Council on the Arts; Akhil Bharatiya Pratibha Puraskar, 2020-21 – The only female and dance artist to receive the award that year; Rays of Hope Award, 2020 – Awarded by The Dance India magazine on International Women's Day; Indian Raga Fellowship, 2019 – The only Kathak artist from USA to have received this fellowship that year; "Singar Mani" – A title conferred upon by Sur Singar Samsad in 2005 and Nrityangana, 1999 – Award of promising dancer.