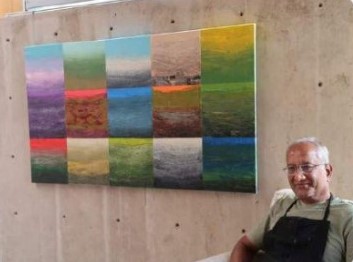 23 March 2023
WORKSHOP by ARTIST V. HARIRAAM –
COLORS WITHOUT CONFINES
TASMAI, Pondicherry conducts a Workshop by renowned artist V. HARIRAAM on 23 March 2023 at Pondicherry.
Artist Hariraam is naturally an expressionist whose works reflect his deeply inscribed philosophy, introspection and "experiences a spectacular vision and soon enough wakes up to a sensibility of 'stellar memories', that he expresses and narrates through his works."
The renowned artist V. Hariraam studied Fine Arts from Kalamandir School of Art, Bangalore and specialized in printmaking.
He has conducted many exhibitions in India and abroad including New York, UK, Japan, Spain, France and Romania.
His works adorn many galleries including National Gallery of Modern Art, New Delhi; National Museum, Botswana; Museums in Turkey; Lalit Kala Akademi in Bangalore, Chennai and New Delhi.
Many prestigious awards including 3rd international Triennial Print Exhibition, Arad, Romania in 2005 are in his credit.
He lives and works in Bangalore.