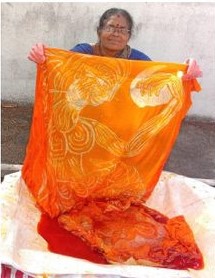 28 January 2023
BATIK WORKSHOP AT TASMAI, PONDICHERRY by M.GOWRI ON 29 JANUARY 2023
Sunday/ 29 January 2023/ 3.00 PM – 6.00 PM/
TASMAI, Pondicherry conducts Batik Workshop by M. Gowri who has been doing batik for the last 22 years.
Batik is an ancient fabric wax-resist dyeing process of Indonesia, which has to undergo a delicate and repeated process of waxing, dyeing and boiling. The process in batik is very labor-intensive and this workshop will teach all aspects of Batik technique in detail.
UNESCO has officially recognized this ancient art form as a masterpiece of oral and intangible heritage of humanity from Indonesia.
M. Gowri learnt the art from Ashram, Pondicherry and apart from her daily chores, she creates artifacts in Batik and sells.
She hopes to share her knowledge of the Batik to all.