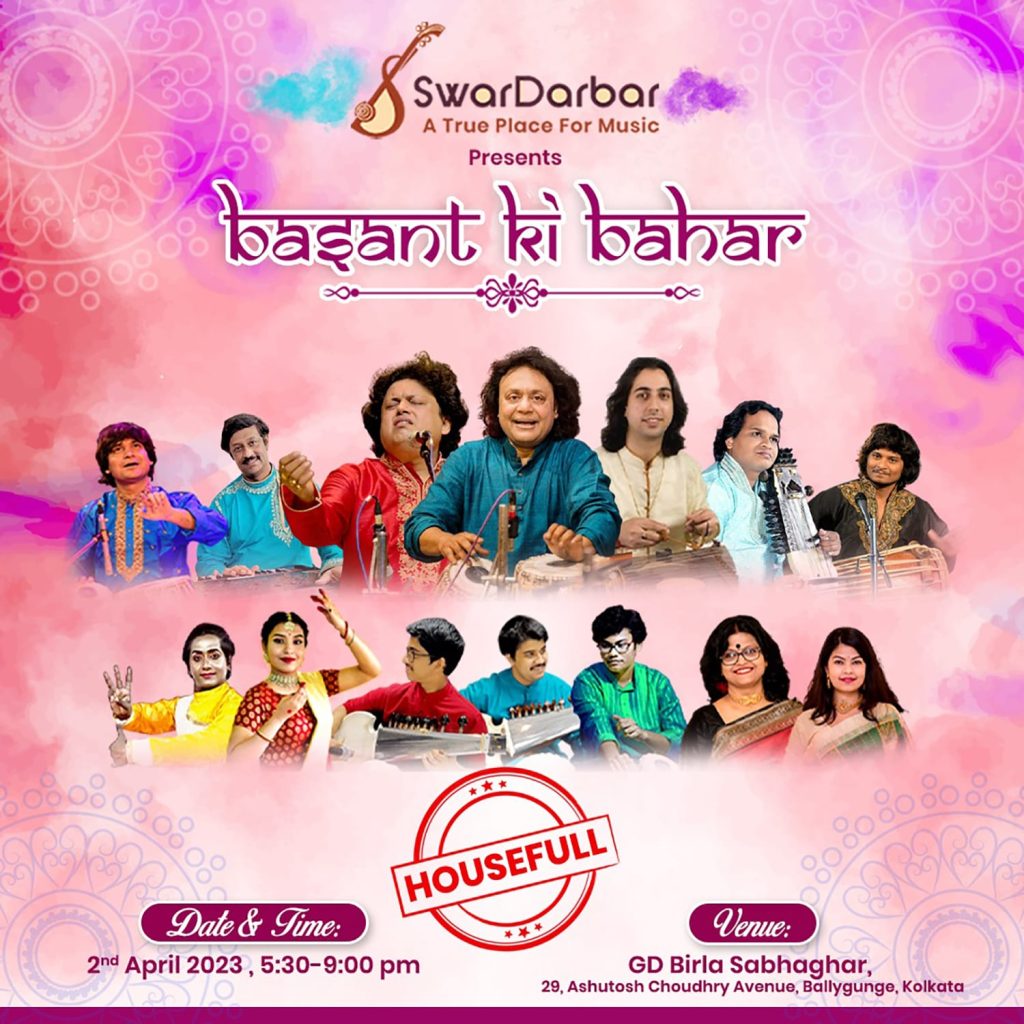 29 March 2023
BASANT KI BAHAR
SwarDarbar – A true place for music, presents 'Basant Ki Bahar' at GD Birla Sabhaghar, Kolkata on Sunday/ 2 April 2023 from 5:30 PM to 9:00 PM.
SwarDarbar celebrates the beauty of spring – Basant Ki Bahar featuring renowned artists with their exquisite performance of Indian Classical music and Kathak dance.
PROGRAMMES
KATHAK DANCE:  TANDRA SARBAJNA AND ANISH KOLY 
Ms Marcia Miller (New York), President of SwarDarbar will present her views on the mission and vision of the organisation, SwarDarbar aftter the performance of Kathak.
TABLA LAHARA /
IRABAN JHA/ARCHISHMAN SINHA ROY/ ANCHIT MAJHI/ ARKA GHOSH & HARMONIUM: SAJAL DAS
SAROD /
ARKA ROY & SHOUNAK ROY / TABLA: HRITHIK MONDAL
VOCAL /
SANDIP BHATTACHARJEE
TABLA: PT. TANMOY BOSE / HARMONIUM: GAURAB CHATTERJEE / SARANGI: SARWAR HUSSAIN
SANTOOR /
ABHAY RUSTUM SOPORI
TABLA: SOUMEN NANDI / PAKHAWAJ: RISHI SHANKAR UPADHYAY
THE HOSTS FOR THE DAY WILL BE SONALI CHATTOPADHYAY AND PRATITI MANDAL
SwarDarbar, Inc., was inaugurated in 2019 as a not-for-profit Organization and founded in USA by eminent vocalist Shri Sandip Bhattacharjee , Susmita Chakraborty and Ms Marcia Miller (New York) and in India , registered as a non-profit Trust, to preserve and advance in all of its exquisite perfection, the classical vocal artistry of India by presenting performances of pure authenticity, to current appreciators and new audiences and by offering opportunities to learn from and apprentice with masters of their respective vocal lineages.
The organisation focuses on authentic Gurukul training for students of all ages and fosters tradition and culture, offering cultural exchange among the nations also.