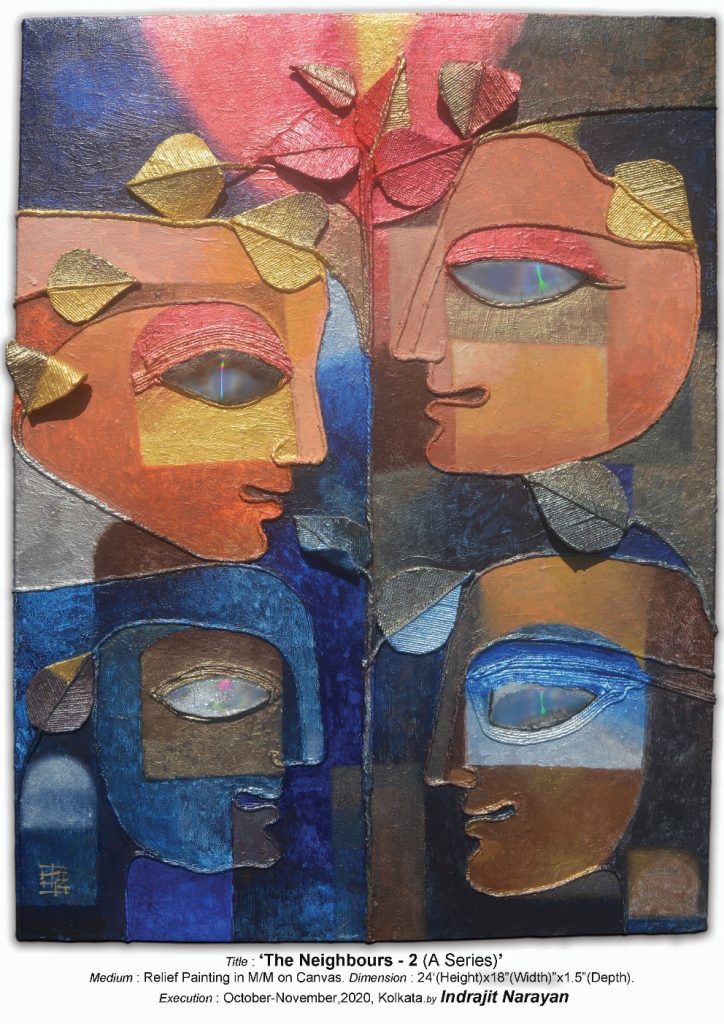 ARTIST INDRAJIT NARAYAN
"I prefer to work mostly in two media – one is my self – Innovated Relief – painting in Mixed Media and the other is ink. In addition to this, I sometimes venture in Mixed media 3D creative also," says renowned multi-faced artist, Indrajit Narayan.
Artist Indrajit Narayan is a full-time artist working in ink, crayon, pastel, acrylic, oils and mixed-media.
Since 1998 he has started experimenting in the creation of 'Relief Paintings', involving mixed media techniques.
He has associated as a part- time consultant art teacher to Bridge & Vidyanjali & Garden High International Schools, Kolkata, affiliated to the University of Cambridge International Examinations(CAIE) with GCE, IGCSE, AS & A Levels and EDEXCEL Curriculum since 2004, 2009 & 2015 respectively.
"As a normal human being, I feel, we all need to perceive the humane emotions from the environmental and social ambiences we live within. These emotions simulate certain feelings within us, which ooze out through different means of expressions," says the renowned artist Indrajit Narayan.
"The environmental atrocities inflicted by over ambitious humans on nature and the social imbalance prevailing around us are my prime sources of inspiration for my works. I try to express my feelings, related mostly to these aspects and also some allied emotions through my creativity.
My works are mostly expressions in stylised conglomerate of real forms, mostly based on human figuratives with special emphasis on stylised portraiture, set in stimulated architectural and/or natural surroundings," says the artist.
He studied Bachelor in Visual Arts (BVA) with specialization in Painting from Rabindra Bharati University, Jorasanko, Kolkata.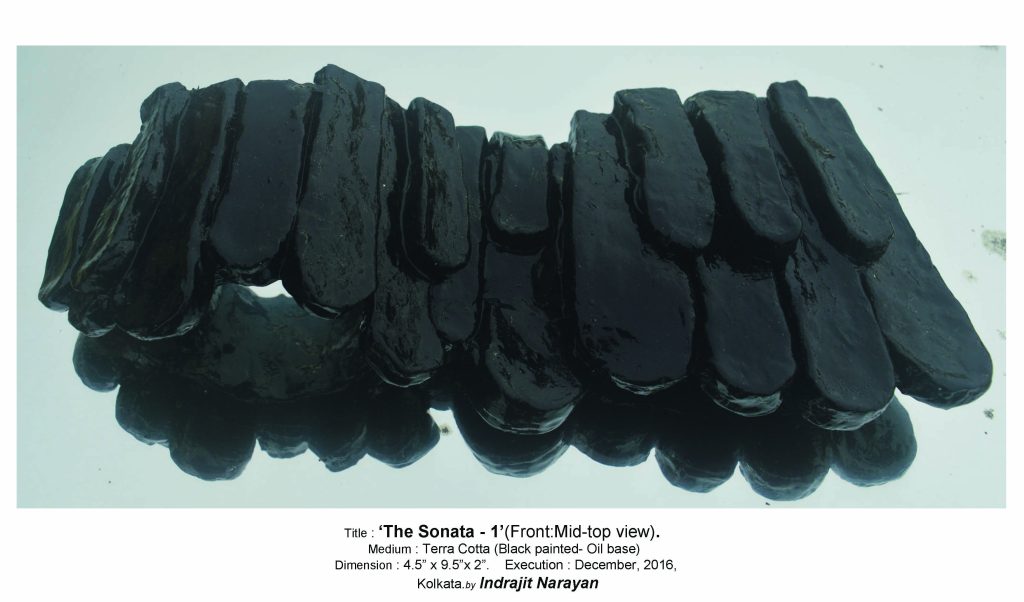 Artist Indrajit Narayan has conducted many Exhibitions and workshops in India and abroad. He started his exhibitions in 1986 at Bajaj Art Gallery, Mumbai and conducted 156 Group Exhibitions and 7 Solo Shows so far.
Recently he has participated as an invitee at 1 st 'North-East Kala Mela' organised by State Art Gallery and Assam State Museum, Guwahati, Assam during 19 – 22 January 2023; Invitee participant at 'International Art Exhibition & Sultan Fair 2022 in Memory of 98th Birth Anniversary of World famous artist of Bangladesh, S. M. Sultan organised by District Administration & S. M. Sultan Foundation at Narail, Bangladesh during 7 – 20 January 2023 and 3rd International Exhibition of Contemporary Art titled 'Maitri Chitrabhash' organised by Sarbabharatiya Sangeet o Sanskriti Parishad', Kolkata and 'Prachya Sangha', Jashore, Bangladesh during 9 – 12 February 2023.
During 25-28 October2022, he participated in the 2nd International Exhibition of Contemporary Art' titled 'Bond & Beyond' organised by Sarbabharatiya Sangeet o Sanskriti Parishad', Kolkata at the Nehru Centre, Indian Embassy, London.
His artworks adorn many galleries including private collections in Kolkata, New Delhi, Mumbai and Shantiniketan in West Bengal, Y.W.C.A., Canberra, Australia; Osaka, Tokyo, Sagamihara in Japan; Seoul in South Korea; Amsterdam in the Netherlands; Rostrevor in Northern Ireland; New York, U.S.A; Cuba and Hauptretsse, Switzerland.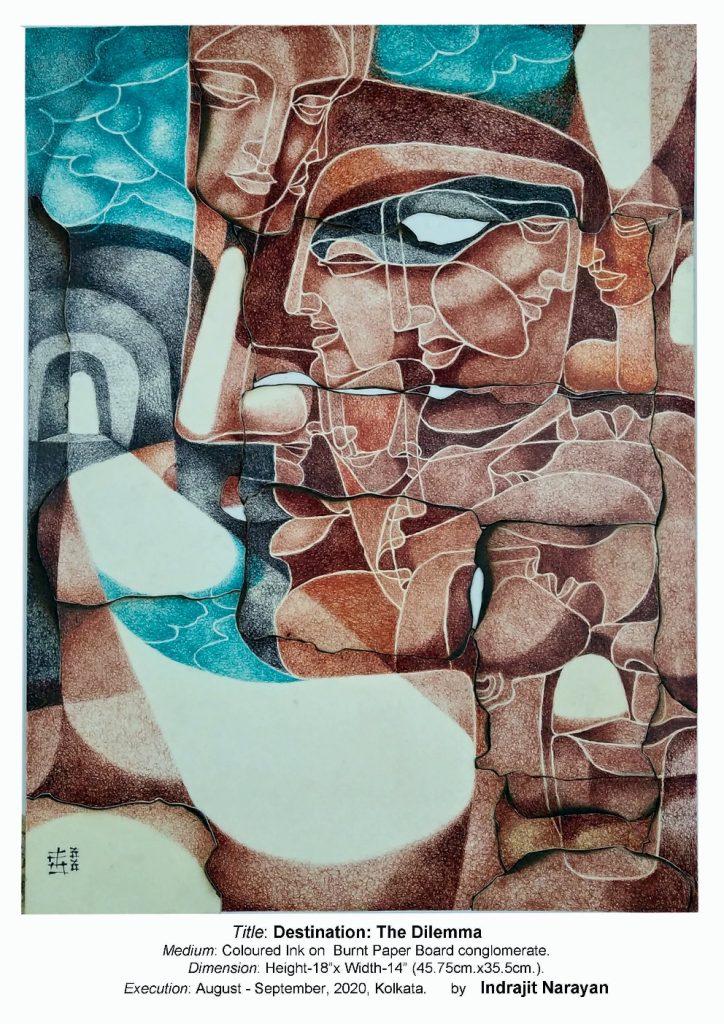 Artist Indrajit Narayan has received many awards including Lalit Kala Akademi Award (New Delhi) in the Mixed Media Section for the self-innovated relief-painting titled 'Agonies Supressed', exhibited at the 'West Bengal State Nritya, Sangeet, Natak, Drishyakala Akademi Annual Exhibition', Rabindra Bharati University,Kolkata; 'Award for Excellence' in International Painting Challenge 2009 organized by Consulate of Russian Federation & Shimul Music Circle, Gorky Sadan, Kolkata; 'Sarbabharatiya Sangeet-O-Sanskriti Parishad Award' in Painting ( Mixed Media) titled 'The Ambience' in the 6th Annual Exhibition of Contemporary Art organized by the Sarbabharatiya Sangeet o Sanskriti Parishad at the Lalit Kala Akademi, New Delhi in May 2015; 'ILEAD Award for Excellence 2022', conferred by ILEAD University for excellence in teaching Art & Design and 'Sarbabharatiya Award 2023' conferred by the Sarbabharatiya Sangeet o Sanskriti Parishad for contribution in Art in their 45th Convocation on 17 February 2023.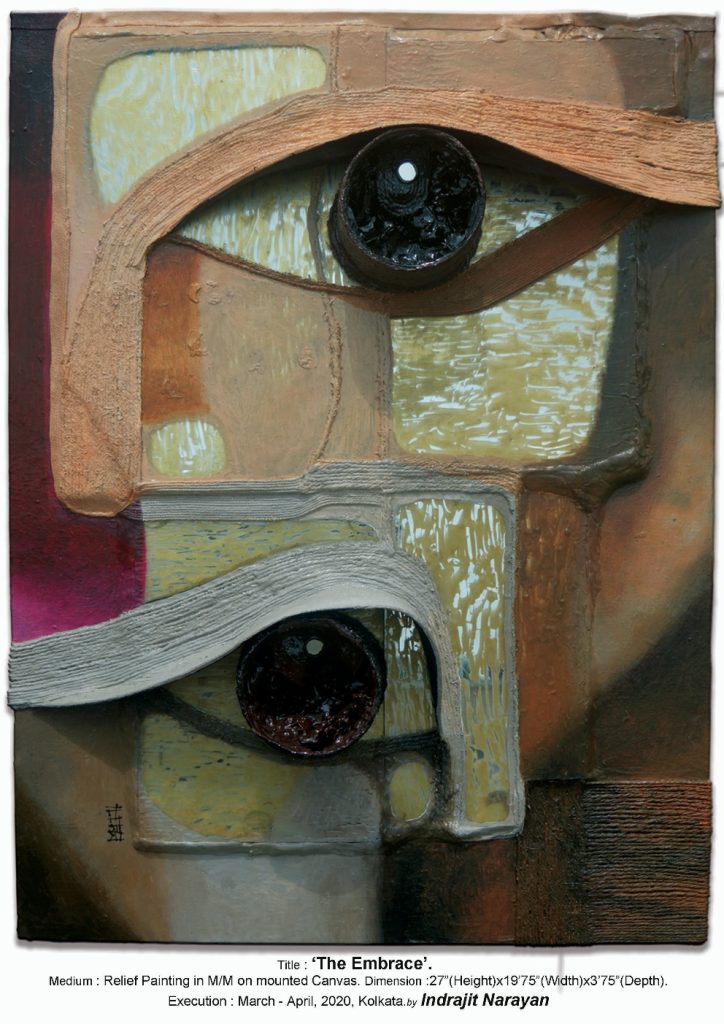 Artist Indrajit Narayan has executed many Stage Craft designs, Illustrations, designing jobs for publications and various Durga Puja Theme Designings.
He is very much interested in Music and making documentary films.
Documentary 'A Silent Journey of Rhythm' made on Manipuri Nritya Guru Devjani Chaliha was first screened in May 2017.
'Aagaami Prithibi kaan pete shono' (Listen- the Future World) on the life and works of Legendary Musical Personality of Bengal, Late Sri. Hemanta Mukhopadhyay was first screened in September 2022.
Also 'Lust for Light' on the life and works of Legendary Light Designer of Bengal, Late Sri. Kanishka Sen was first screened in September 2022.
'Sanskritir Sopaan Beye' (Step by Step) on the four decades of Cultural Journey by SSSP, Kolkata is scheduled to be screened on 13 March 2023.