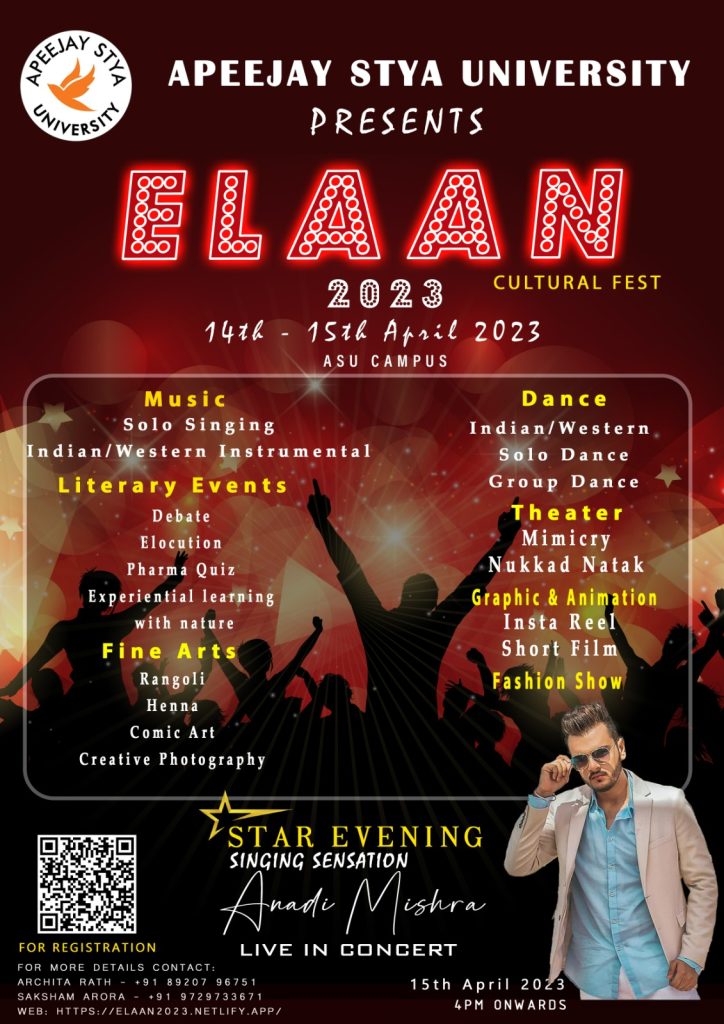 8 April 2023
APEEJAY STYA UNIVERSITY'S ANNUAL CULTURAL FEST – ELAAN 2023
APEEJAY STYA UNIVERSITY, SOHNA, GURUGRAM PRESENTS IT'S ANNUAL CULTURAL FEST – ELAAN 2023.
THE HIGHLIGHT OF THIS YEAR'S FESTIVAL IS THE LIVE PERFORMANCE BY
THE TALENTED POP SINGER, ANADI MISHRA
STAR EVENING
ANADI  MISHRA
LIVE IN CONCERT  ON 15 APRIL 2023 AT 4 .00 PM ONWARDS
The Annual Cultural Fest – 'ELAAN 2023, Inter-University Cultural Extravaganza' with an array of fun-filled events for everyone, a wide- range of competitions and performances like Music, Dance, Theater, Fashion Show and many more -scheduled on 14 & 15 April 2023 at the University Campus.
ELAAN 2023, the inter-university festival aims to provide a platform to the students to showcase their talent and creativity.
The students from other institutions are also invited to participate in the events and attend the festival.
"This year's festival is expected to be bigger and better than ever before, with huge participation of students from various universities," says the press note issued by the ASU, Gurugram.
To learn more about the events, competitions and to register, students can visit https://elaan2023.netlify.app/ students can also visit university website: https://university.apeejay.edu/ or contact the festival's coordinator Dr. Sonam Raheja at dr.sonam@asu.apeejay.edu. Registration link for events: https://forms.gle/fwWLkYfSoaw21YpA6