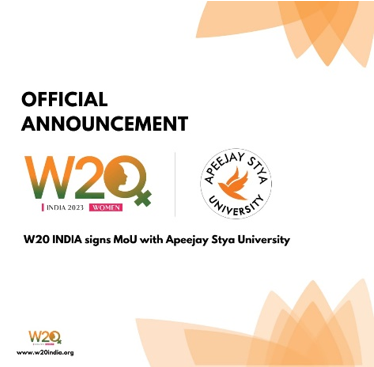 30 March 2023
Women 20 (W20) has signed a Memorandum of Understanding (MoU) with Apeejay Stya University (ASU) as a Knowledge Partner
The MoU was signed between Women 20 (W20) and Apeejay Stya University (ASU) for the purpose of knowledge partnership and aims to work towards the advancement of the cause of all women across the G20 nations. W20 and ASU intend to host sessions, meetings, seminars and round table discussions in conformity with the W20 guidelines to promote gender equality and organise or participate in the events, both online and offline.
Dr. Neha Berlia, Pro-Chancellor, Apeejay Stya University will be the torch bearer and is part of the Task Force on Skill and Education in W20 Forum.
"I am delighted to be part of the W20 Forum that aims to create an environment and ecosystem for women in India to thrive, transcend and transform. Apeejay Stya University (ASU) is proud to be associated with the W20 forum as a knowledge partner and we aspire to create positive change in society on an individual and collective level through gender sensitisation and community service activities," said Dr. Neha Berlia, Pro-Chancellor, Apeejay Stya University.
W20 is the official G20 engagement group focused on gender equity with the vision to create a world of equity, where every woman lives with dignity and aimed at reducing the gender gap in labour force participation by 25 per cent by the year 2025.
The 1st Inception Meet held in Aurangabad, Maharashtra stressed its primary objective for ensuring gender considerations that are mainstreamed into G20 discussions and five priority areas such as 'Grassroots leadership, Entrepreneurship, Bridging the Gender Digital Divide, Education & Skill Development and Climate Change' were focused for 'gender inclusive growth'.
The 18th G20 Heads of State and Government Summit will take place on 9th-10th September 2023 in New Delhi with a declaration of the G20 leaders' commitments towards the priorities discussed and agreed upon in the upcoming International Meet Jaipur (13-14 April), W20-Mahabalipuram (15-16 June) Summit and also in ministerial as well as working group meetings.
"Apeejay Stya University (ASU), Gurugram, is a seat of global learning that offers rich opportunities for innovative teaching-learning, creativity and research across disciplines. It aims to bring about transformation of society through value-based education, man-making and nation-building by blending the dual identities of a technology and research-based university with a Liberal Arts institution," says Dr. Neha Berlia.
"Established by the Apeejay Stya Education Foundation in the state of Haryana, ASU provides students not only 'education for living and livelihood' but also 'education for life' and empowers learners with a fundamental foundation in leadership and professional skills to face the challenges of the new liberalised global economy," she added.
ASU is recognised by the University Grants Commission (UGC).