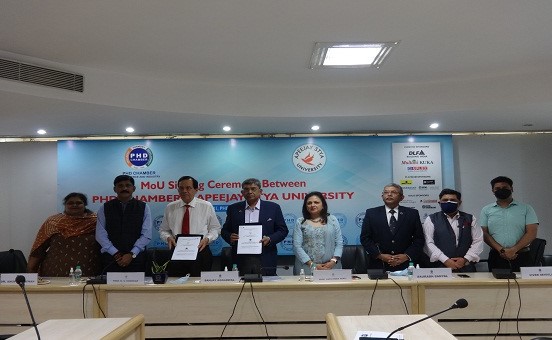 12 June 2023
APEEJAY STYA UNIVERSITY (ASU) SIGNED MOU WITH PHD CHAMBER OF COMMERCE AND INDUSTRY (PHDCCI)
Apeejay Stya University (ASU), Gurugram signed a Memorandum of Understanding (MoU) with PHD Chamber of Commerce and Industry (PHDCCI), an apex industry chamber in India to foster closer ties between academia and industry.
This partnership marks a significant step towards bridging the gap and enabling students to interact and collaborate between academia, industry, government officials and others through various workshops and events.
The continuous engagement will further foster the exchange of ideas and encourage innovation. This tie-up will also offer opportunities to the faculty to interact with industry stalwarts and understand the industrial requirements. The faculty in-turn will impart those skills to the students and make them industry-ready.
The knowledge dissemination through workshops, conclave and seminars will benefit the students and enhance their skills and knowledge.
"We are thrilled to collaborate with PHDCCI to promote industry-academic collaboration. This partnership will provide our students with opportunities to interact with industry experts, enhance their practical skills and gain a deeper understanding of the industry landscape. We believe that this collaboration will significantly contribute to our students' employability and success in their future careers," says Dr Neha Berlia, Co-Founder and Pro-Chancellor, Apeejay Stya University.
"This partnership represents a valuable opportunity to bridge the gap between academia and industry. By collaborating closely with Apeejay Stya University, we aim to equip students with the necessary skills and knowledge to excel in the rapidly evolving business environment. We are confident that this partnership will lead to innovative solutions and contribute to the overall growth and development of the industry," says Saket Dalmia, President, PHDCCI.
Today the industry faces an acute shortage of skilled workforce. As the job requirements are changing rapidly due to technological advancements, students are to be intensively well trained as per industry requirement. This collaboration will empower students to gain industry-relevant skills and create a talent pool that meets the evolving needs of the job market.
This partnership would facilitate a formal collaboration between industry and academia to develop skills and deeper understanding of the industry.