A FIESTA OF FIFTY YEARS OF INDO-BANGLADESH RELATION (PART I)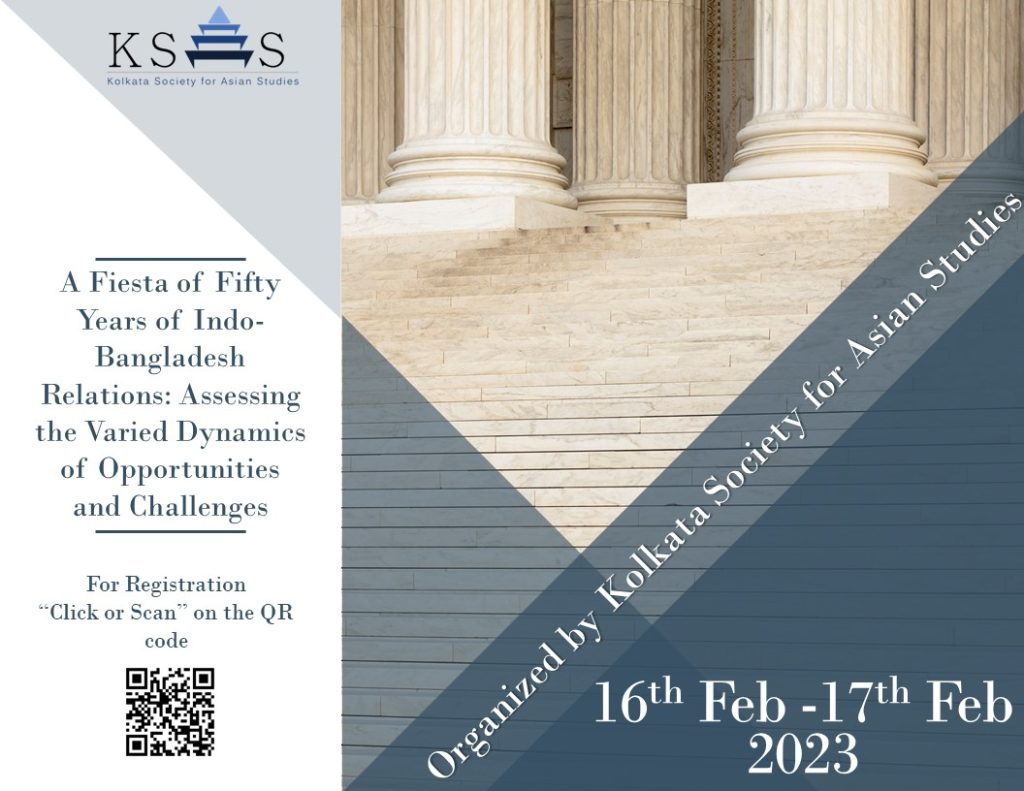 19 FEBRUARY 2023
INTERNATIONAL WEBINAR ON –
A FIESTA OF FIFTY YEARS OF INDO-BANGLADESH RELATIONS (PART I)
ASSESSING THE VARIED DYNAMICS OF OPPORTUNITIES AND CHALLENGES
Kolkata Society for Asian Studies, an organisation founded for the developmental activities of the Asian communities and societies, organised a Webinar on 'A Fiesta of Fifty Years of Indo-Bangladesh relations' on 16th and 17th February 2023. The five decade-long relationship and trust between the two growing nations enables a regional platform that provides a varied dynamics of opportunities and challenges.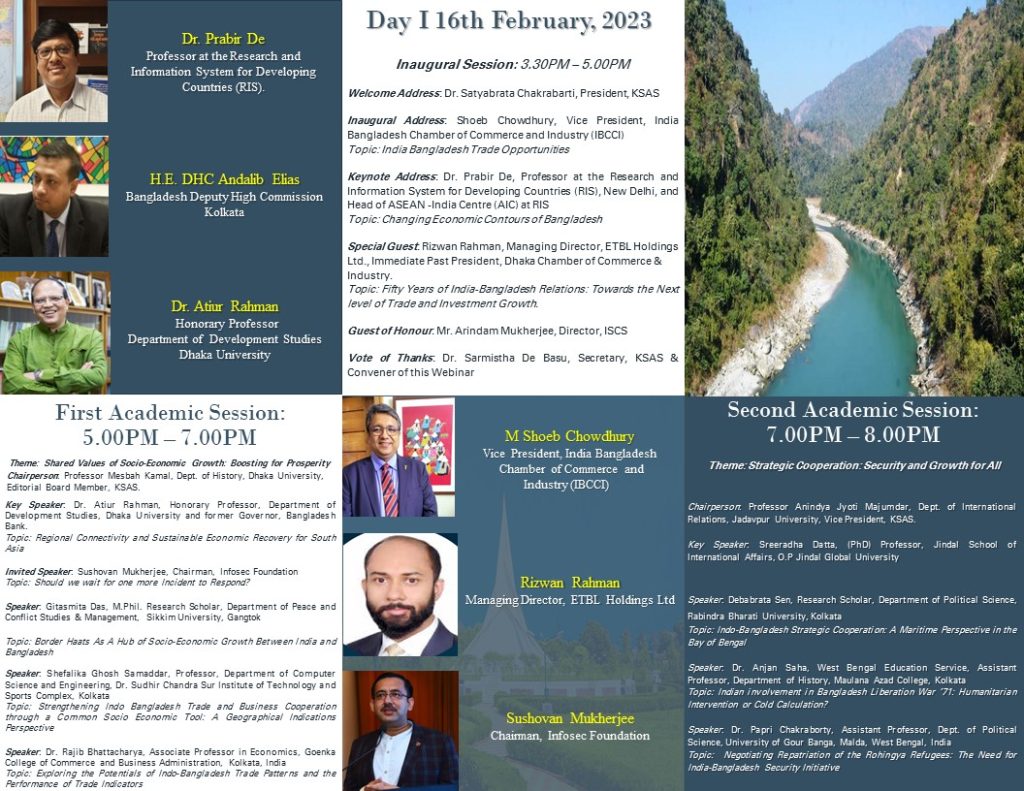 "An in-depth study of Indo-Bangladesh relationship, whose genesis lay in War of Liberation 1971, reveals the glaring fact that in spite of several obstacles the governments of both the countries adopted all the required forward looking strategies to foster a brighter shared future. Though India wholeheartedly supported Bangladesh throughout the nine month long war of liberation from Pakistani exploitation as well as recognised the new born Bangladesh as an independent and sovereign country on 6th December 1971, and on other hand the founding father of Bangladesh Sheikh Mujibur Rahman set forth the bedrock of mutual ties based upon geopolitical fact as well as secular national spirit, the bilateral relationship faced several hurdles," the concept note released for the Webinar discusses in detail of the historic formation of the Bangladesh.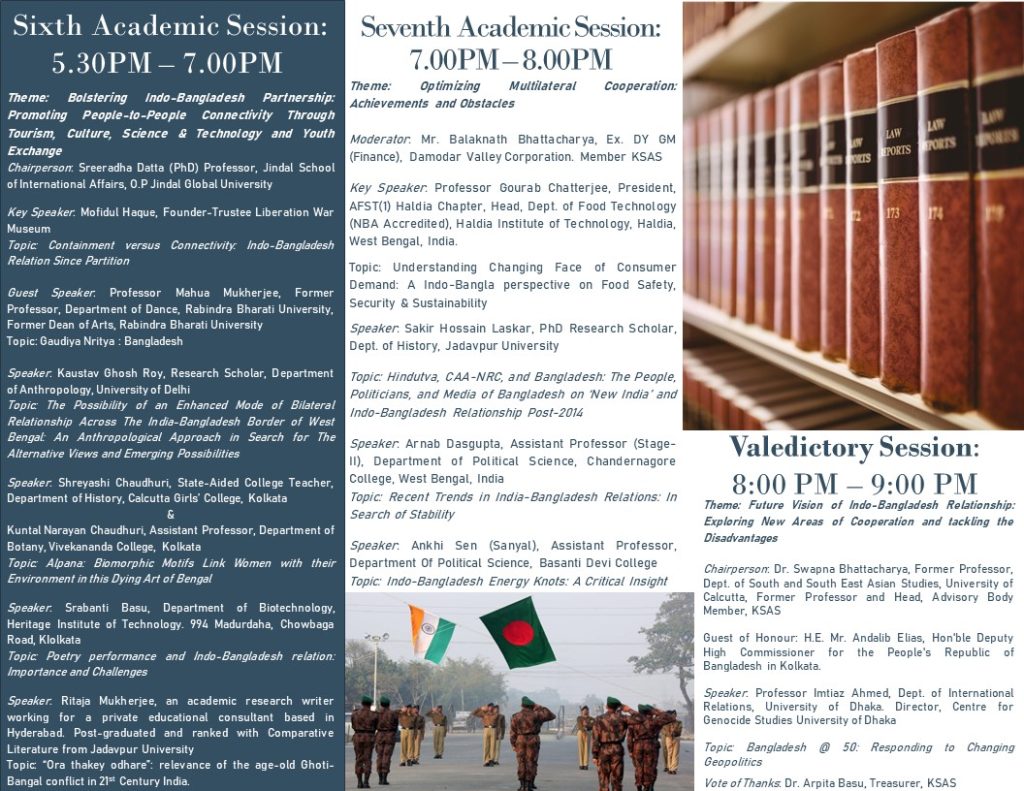 On 16 February 2023, the inaugural session started with the welcome address by Dr. Satyabrata Chakrabarti, President of KSAS, followed by the inaugural address of Shoeb Chowdhury, Vice President, India Bangladesh Chamber of Commerce and Industry (IBCCI).
"A remarkable growth in two-way trade between India and Bangladesh has resulted in robust growth of the economies in the region. India has become Bangladesh's largest trading partner in South Asia. Compared with their strength, much potential exists for developing trade and economic relations between the two countries. The harsh economic impact of Covid 19 pandemic and the economic turmoil caused by the Russia-Ukraine War have hammered the entire world with inflation, price hike and geopolitical uncertainty. Under these circumstances, strengthening ties between neighbouring countries has become more vital than ever before. For this reason India and Bangladesh intend to further consolidate their commercial bonds," Shoeb Chowdhury, esteemed media entrepreneur and Chairman, Editorial Board of renowned English daily The Asian Age said in his inaugural address.
Dr. Atiur Rahman, Honorary Professor, Department of Development Studies, Dhaka University and former Governor, Bangladesh Bank stressed the need to reinstate infrastructural connectivity, particularly the rail links, in the sub-region Bangladesh, India, Bhutan and Nepal and for a sustainable economic recovery for South Asia.
"Besides political constraints, tariff and non-tariff barriers, and bureaucratic hurdles, poor quality of infrastructure has made the cost of connectivity astronomically high. The only way forward is the development of supportive and compatible infrastructures with forward and backward linkages to enhance seamless connectivity for easier and greater trade. This is badly needed for sustainable recovery from the economic turmoil which all the countries of the sub-region are going through now".
Exploring the Potentials of Indo-Bangladesh Trade Patterns and the Performance of Trade Indicators, Dr. Rajib Bhattacharyya, Associate Professor in Economics, Goenka College of Commerce and Business Administration, Kolkata said:
"Among these sets of seven nations viz. Bangladesh, Nepal, Bhutan are included in Desk-I and the remaining viz. Afghanistan, Maldives, Pakistan and Sri Lanka are included in Desk II in the Ministry of Commerce and Industry's (Govt. of India) South Asian Territorial division. An in- depth analysis of the recent bi-lateral trade statistics between India and the other seven South Asian countries clearly reveals the strength and potentiality of Indo-Bangladesh trade is more than any other trading partners".
Dr. Prabir De, Professor at the Research and Information System for Developing Countries (RIS), New Delhi and Head of ASEAN-India Centre (AIC) presented the keynote address on the topic 'Changing Economic Contours of Bangladesh'.
"With US$ 1 trillion economic size, Bangladesh is aimed to become a higher income country in 2041. Skilled human capital, digital power, foreign investment, coastal access, etc. are among the drivers of Bangladesh's future growth. Besides stable political leadership, Bangladesh is engaged in infrastructure development in order to boost trade and economic growth, "Dr. Prabir De, discussed the economic transformation of Bangladesh since its independence in 1971 and an overview of the country's future.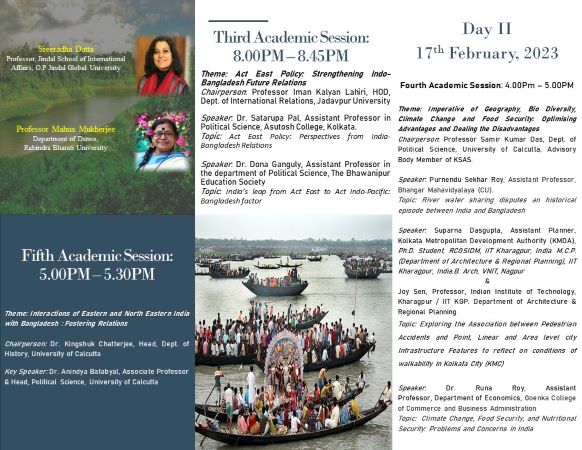 Gitismita Das, M.Phil. Research Scholar, Department of Peace and Conflict Studies and Management, Sikkim University presented in detail on the weekly 'Border Haats' as a hub of Socio-Economic growth situated in the zero line or no man's land in the international border that amplify socio-cultural assimilation and economic growth in between two neighbour countries.
Debabrata Sen, Research Scholar, Department of Political Science, Rabindra Bharati University, Kolkata discussed India's maritime security as a major power and how the Indian Navy and India's strategic policymakers formulated strategies and policies from the perspective of cooperation with Bangladesh.
"Regardless of the diplomatic or any other military strategic interests behind the arrival of the USS Enterprise Aircraft Carrier in the Bay of Bengal during Bangladesh Liberation War in 1971, it can be said that this incident influenced the formulation of future geopolitical and strategic policies in the Bay of Bengal and India's overall military and strategic outlook", he reminded .
"There has been no other instance in history where a third country shed blood for another country's freedom. This certainly cemented the relationship between both and laid the ground for strong linkages that eventually covered a broad spectrum, but not before going through many trials and tribulations. The turnaround between India and Bangladesh happened after the signing of the Joint Communiqué in 2010. This opened up the vistas of bilateral cooperation, leading to bilateral and subsequently a regional collaboration in many areas. Alongside, the global attention on the Indo-Pacific that has also drawn in a larger Indian strategic presence and its growing partnership with Bangladesh and the other regional players has opened us avenues for regional cooperation with much larger possibility of maximising the regional potential through growth and development for all," Sreeradha Datta, a non-resident Senior Fellow with Institute of South Asian Studies, National University of Singapore and now at Jindal School of International Affairs, O.P Jindal Global University shared her view on regional cooperation in the two-day International Webinar.
(Many eminent Scholars participated in the International Webinar and the highlights of the discussions will continue)