23 July 2023 /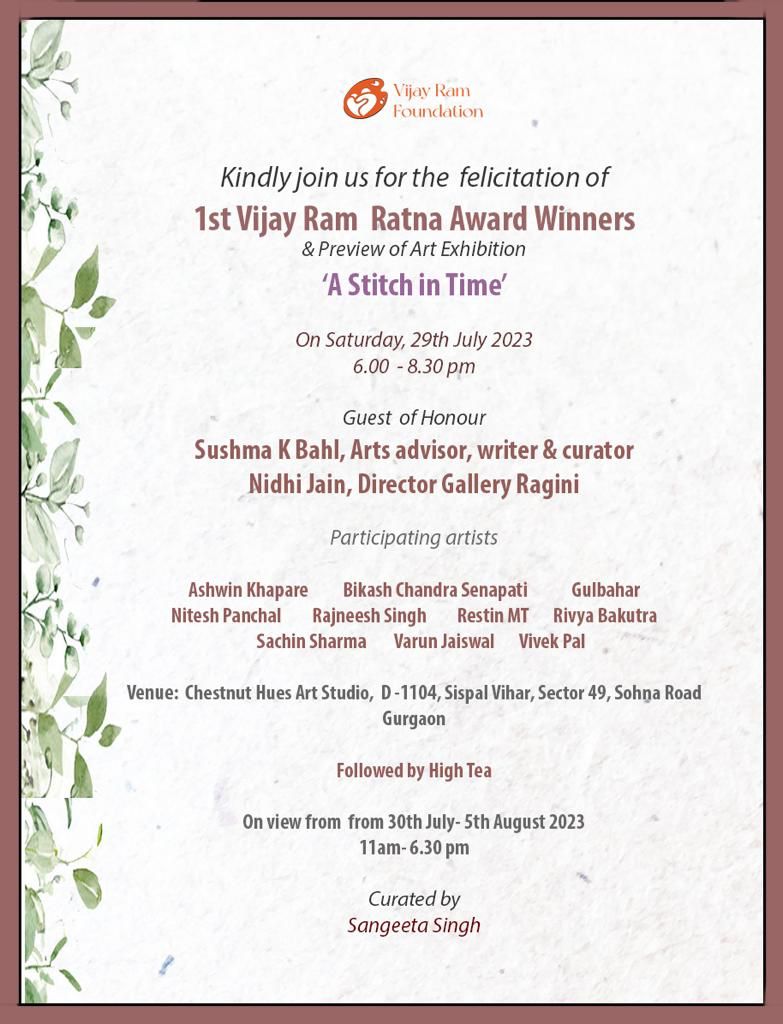 FELICITATION OF 1ST VIJAY RAM RATNA AWARD 2023 WINNERS & ART SHOW- A STITCH IN TIME
AT CHESTNUT HUES ART STUDIO/ D-1104 SISPAL VIHAR/ SECTOR 49/ SOHNA ROAD/ GURGAON
CHIEF GUESTS: SUSHMA K BAHL, ART ADVISOR AND CURATOR & NIDHI JAIN, DIRECTOR GALLERY RAGINI
FELICITATION OF 1ST VIJAY RAM RATNA AWARD 2023 WINNERS & PREVIEW OF ART EXHIBITION- A STITCH IN TIME ON SATURDAY,  29 JULY 2023 FROM 6PM ONWARDS
Vijay Ram Foundation organises an Art Exhibition – 'A Stitch in Time' from 30 July till 5 August 2023 at Chestnut Hues Art Studio, D-1104, Sispal Vihar, Sector 49, Sohna Road, Gurgaon (11am till 6.30 pm).
ARTISTS: ASHWIN KHAPARE/ BIKASH CHANDRA SENAPATI/ GULBAHAR/ NITESH PANCHAL/ RAJNEESH SINGH/ RESTIN MT/ RIVYA BAKUTRA/ SACHIN SHARMA/ VARUN JAISWAL/ VIVEK PAL/
"The Vijay Ram Foundation, founded in honour of my late parents, Lt Col RPS Raghuvanshi and Vijay Raghuvanshi, is dedicated to fostering warmth and encouragement within the art community and supporting emerging artists between the ages of 20 and 35. It is with great pleasure that we announce the participation of over 150 artists in the foundation contest, showcasing their exceptional artworks," says artist Sangeeta Singh, founder of the Vijay Ram Foundation.
"After careful deliberation, a distinguished jury consisting of renowned artists Sangeeta Gupta, Dharmendra Rathore and Vimmi Indra, prominent figures within the art fraternity has selected ten outstanding works for exhibition at the Chestnut Hues Art Studio in Gurgaon. The names of participating artists are Ashwin Khapare, Bikash Chandra Senapati, Gulbahar, Nitesh Panchal, Rajneesh Singh, Restin MT, Rivya Bakutra, Sachin Sharma, Varun Jaiswal, Vivek Pal. The artists Vivek Pal, Varun Jaiswal and Gulbahar will be awarded Rs 50,000, Rs 30,000, and Rs 20,000, respectively" she added.
"We are honoured to have esteemed Arts adviser, writer and curator Sushma K Bahl, and Nidhi Jain, the Director of Gallery Ragini, as the Chief guests for the event. Their expertise and insights will undoubtedly enrich the experience for both the participating artists and art enthusiasts. We extend our heartfelt gratitude to all the artists who have participated in the contest, as well as our esteemed jury for their discerning eye and expertise. Together, let us celebrate the talent and creativity of these emerging artists, and embrace the profound messages conveyed through their artworks, says Sangeeta Singh, founder of the Vijay Ram Foundation.
VENUE/ CHESTNUT HUES ART STUDIO/ D-1104 SISPAL VIHAR/ SECTOR 49/ SOHNA ROAD/ GURGAON/