11 April 2023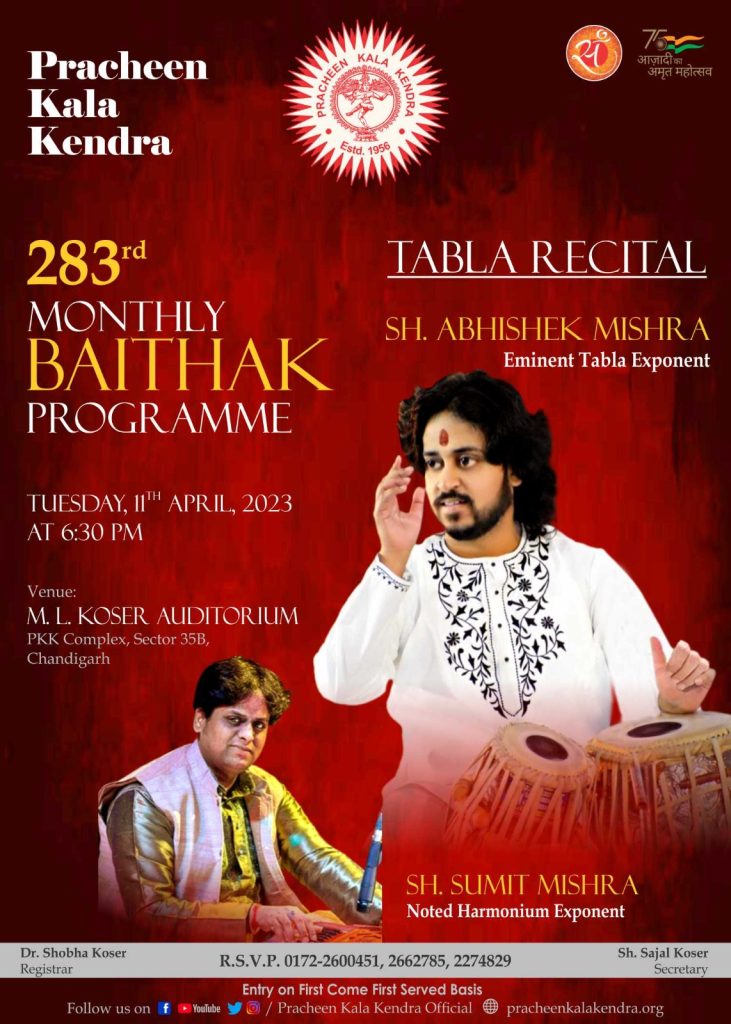 283rd MONTHLY BAITHAK PROGRAMME
Pracheen Kala Kendra presents 283rd monthly Baithak Program on Tuesday/ 11 April 2023 (6.30 PM) at ML KOSER AUDITORIUM, PKK Complex, Sector 35B, Chandigarh.
PERFORMANCE BY EMINENT TABLA EXPONENT ABHISHEK MISHRA
ACCOMPANIED BY HARMONIUM EXPONENT SUMIT MISHRA
ON 11 APRIL AT 6.30 PM
Pracheen Kala Kendra recently did a collaboration of creativity and the epitome of art and culture of India, signing on the MOU between Pracheen Kala Kendra and The Banyan Tree School, providing evening classes for music, and performing arts to the students – is an essential step towards preserving and passing onto the next generation, love and yearning for Indian classical music!
Paracheen Kala Kendra founded in 1956, one of the oldest, premier and prestigious organizations of the country dedicated to promotion, preservation and dissemination of Indian Classical arts.
At present , Pracheen Kala Kendra is a well-known institution imparting quality education and training under ancient Gurukul parampara in the subjects of Indian Classical Music including Carnatic Music (Vocal & Instrumental), Classical Dances (Kathak, Bharatnatyam, Odissi Dance, etc.) and Fine Arts (Painting) and conducting examinations in the field of performing and visual arts for the last 60 years.