20 October 2023
WORKSHOP ON DIFFERENT TECHNIQUES FOR UP-CYCLING THE PRODUCTS – KNOTTING AND WEAVING
Renowned multidisciplinary Techspressionist  artist Malavika Mandal  Andrew  who practices mixed-media, digital collage, digital art, tapestry and other fiber arts conducts an Off-line and Online Workshop – KNOTTING AND WEAVING at Mumbai starting on 21 October 2023 till 25 November 2023. 
"Learn the art of Macrame and Hand Weaving where there is no need for any loom or tools. It is used as an art therapy activity as it can be very calming, soothing to the body, mind and spirit thus have therapeutic benefits. Many use it as a meditation technique or just an expression of creativity," says Malavika Mandal Andrew, famous artist from Mumbai.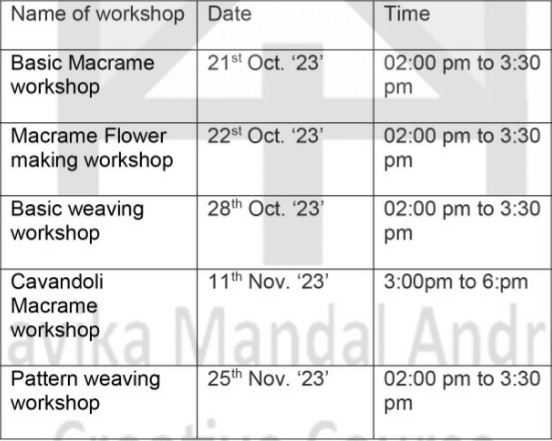 "Creativity has a power to reduce stress and it creates a creative identity/ status in the society/world. Creativity has no age limit. It can be used for making accessories or surface ornamentation," she added.
MALAVIKA MANDAL ANDREW'S CREATIVE COURSE has been designed in such a way that the participant can use the experience of the workshop at any time of their life and can work at home on their own. Any new product or sample can be developed independently without depending on others.
VENUE: BLOCK A/ FLAT No 69/ CGS COLONY/ WADALA (W)/ MUMBAI – 400 031