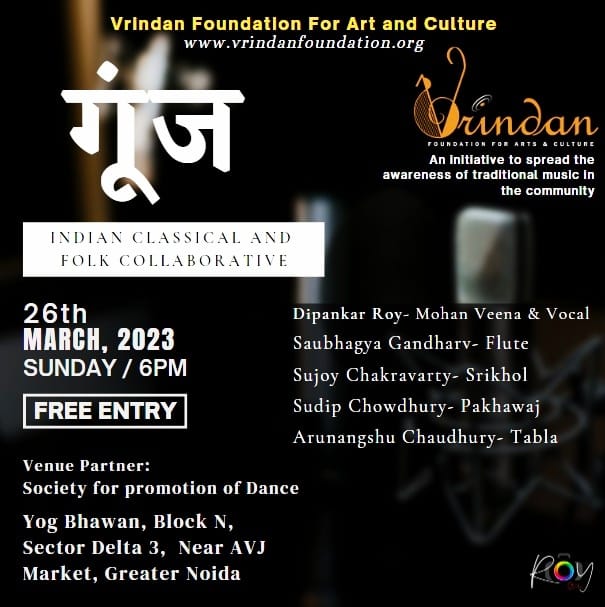 24 March 2023
VRINDAN FOUNDATION'S UNIQUE PROGRAMMES – GUNJ & IMPULSE
GUNJ – The concept of presenting sophistication of Indian Classical Music mingled with raw and pure form of Indian Folk and Thumri music gives this show a different dimension.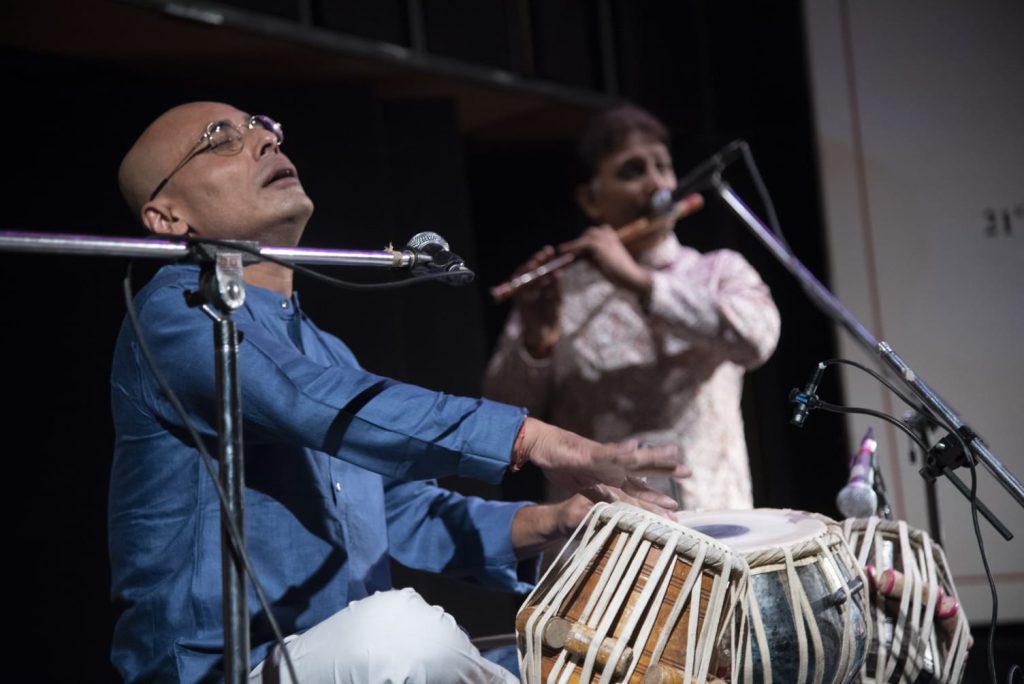 Vrindan Foundation organies the unique concert at Yog Bhawan, Greater Noida under the moonlight on 26 March 2023 (6.00 PM)
GUNJ signifies many aspects of social awareness and portraits through traditional music in a beautiful natural ambience.
The vibrations of Flute, Mohanveena, Tabla, Pakhawaj, Mridang/ Srikhol create a divine aura in this open air concert.
The event has been supported by Society for promotion of Dance, Greater Noida by providing this amazing venue.
VENUE/
YOG BHAWAN/ BLOCK N/SECTOR DELTA 3/ NEAR AVJ MARKET/GREATER NOIDA/
ARTISTS/
ARUNANGSHU CHAUDHURY/ DIPANKER ROY/ SAUBHAGYA GANDHARV/ SUJOY CHAKRAVARTY/ SUDIP CHODHURY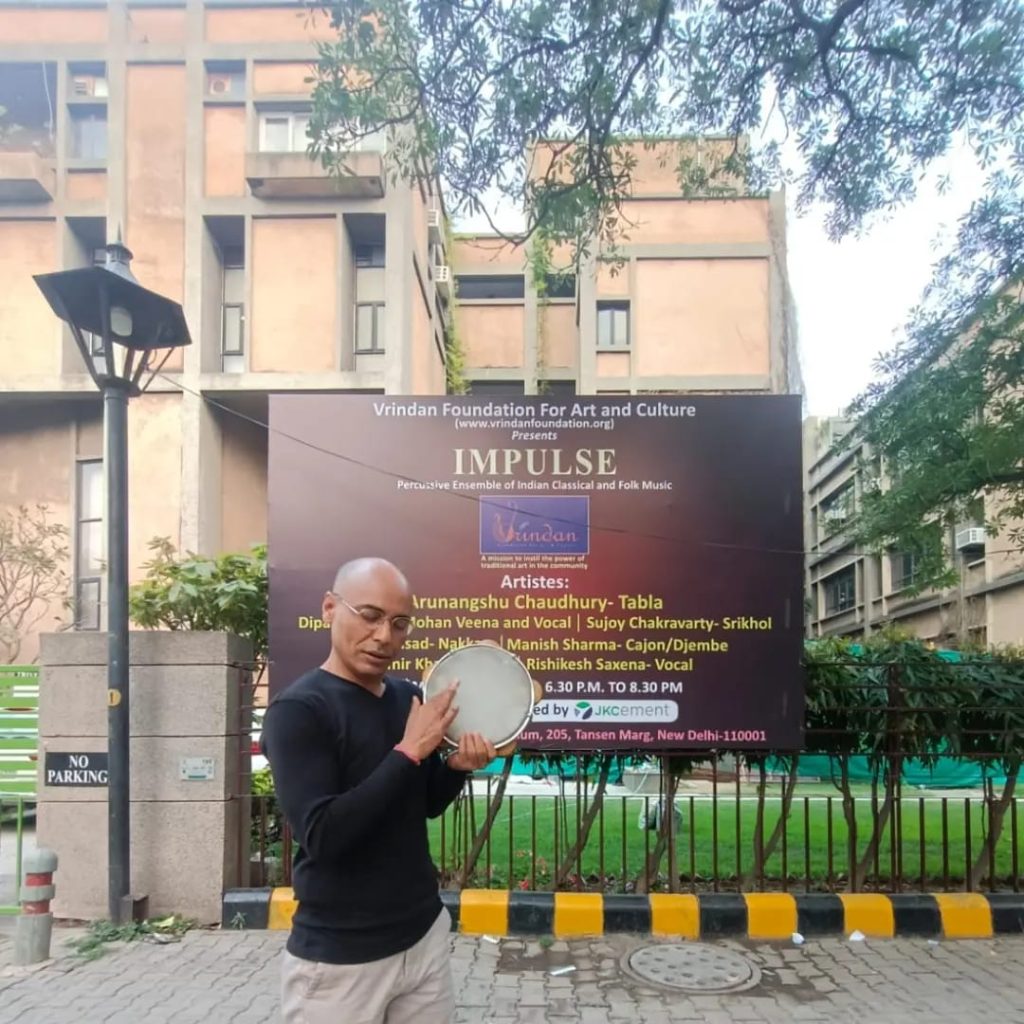 Vrindan Foundation also presents
IMPULSE – a Percussive Ensemble of Indian and Folk Music at Triveni Kala Sangam on 30 March 2023. 
"With a mission to instil the power of traditional art in the community through this endeavour has been generously supported by JK Cement Limited. Sant Kabir Das ji Doha, age old Thumri/Kajri/Dadra and Bandish of Ragas on Mohan Veena, Sarangi and Vocal textures with multi world percussion soundscape of Nakkara, Tabla, Srikhol, Cajon, Djembe and frame drum represents multi -cultural heritage and history of this county," says the renowned artist Arunagshu Chaudhury, the founder of Vrindan Foundation for Art and Culture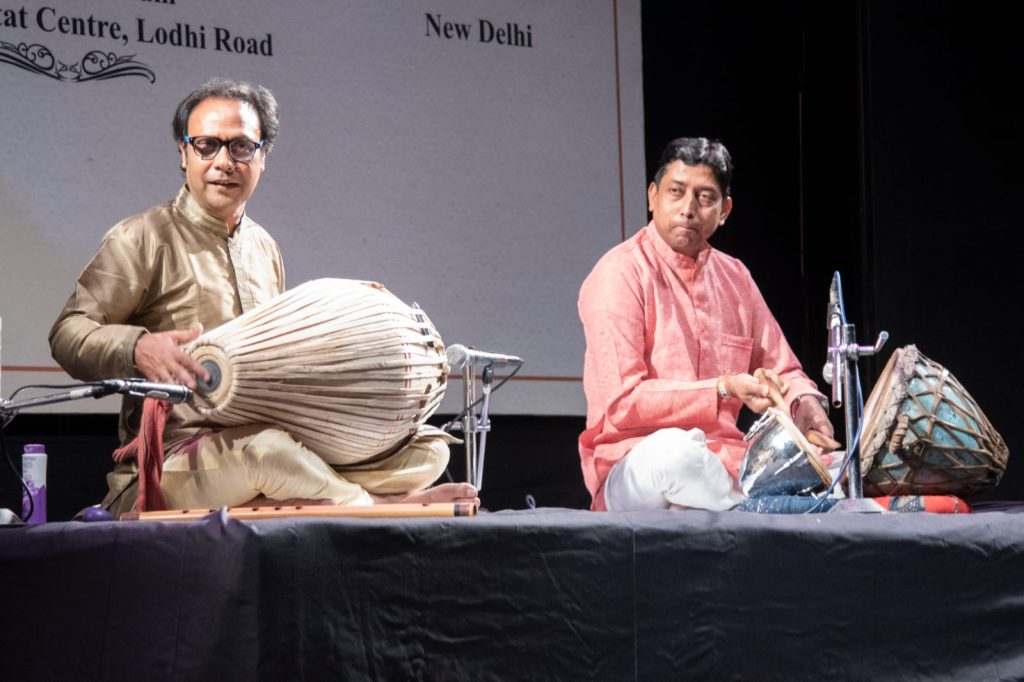 ARTISTS
ARUNANGSHU CHAUDHURY/ DIPANKER ROY/ SUJOY CHAKRAVARTY/ MANI PRASAD/ MANISH SHARMA/ AMIR KHAN/ RISHIKESH SAXENA/
VENUE
TRIVENI KALA SANGAM AUDITORIUM/ 205/ TANSEN MARG/ NEW DELHI-1