8 November 2023
VIRTUAL EXHIBITION
2nd Biennale: International Collaborative Art Space Exhibition
Curated by KIRTI CHANDAK & MALAVIKA MANDAL ANDREW
&
Young Artist Collaborative Techspressionist Art Exhibition
Curated by MALAVIKA MANDAL ANDREW
"In mathematics, space is defined as a boundless, three-dimensional continuum where objects can have relative positions, directions and size or in a general way, it can be defined as an interval of time. But, we are curious, what does space mean to you?
Expand on your definition of Space as an artist in collaboration with two other artists, at our second International Collaborative Biennale. Collaborate with other artists to create art, objects and artifacts representing space in your life," says the renowned artist Malavika Mandal Andrew on her Second International Collaborative Art Biennale, in collaboration with Tasmai, a Centre for Art and Culture, Pondicherry to be held from 9 November 2023 till 24 November 2023, live on —collaborativeartspace.com and kunstmatrix.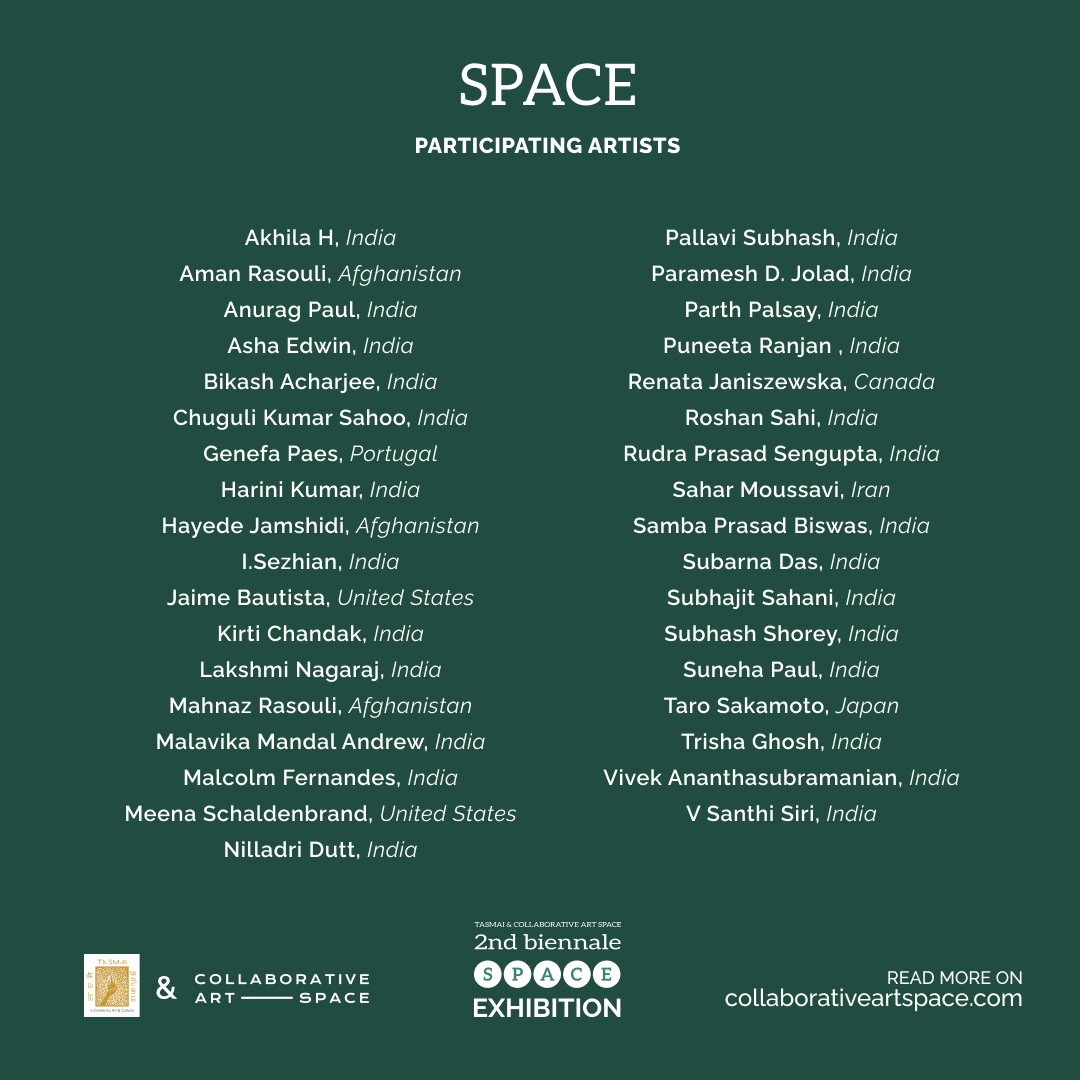 Many renowned artists from India and abroad including Taro Sakamoto (Japan), Sahar Moussavi (Iran), Renata Janiszewska (Canada), Meena Schaldenbrand (US), Mahnaz Rasouli (Afghanistan), Jaime Bautista (US), Hayede Jamshidi (Afghanistan), Genefa Paes (Portugal) and Aman Rasouli (Afghanistan) are participating in this unique Collaborative Art Exhibition.
In the Opening & Walk-Through Session on 9 November 2023 @ 6.30 PM (IST), eminent artist Colin Goldberg, who first coined the term "Techspressionism" as a title for a Solo Exhibition in 2011, later celebrated the movement all over the world will be live on Zoom.  Renata Janiszewska, eminent Techspressionist artist who paints on electronic canvas  will also be live on Zoom.
"This year too, three artists from vastly from different backgrounds come together to create three different physical or digital artworks, in any medium, celebrating the spirit of creative collaboration, says the renowned artist Malavika Mandal Andrew, the first artist from India to be listed in the Techspressionist Visual Artist Index.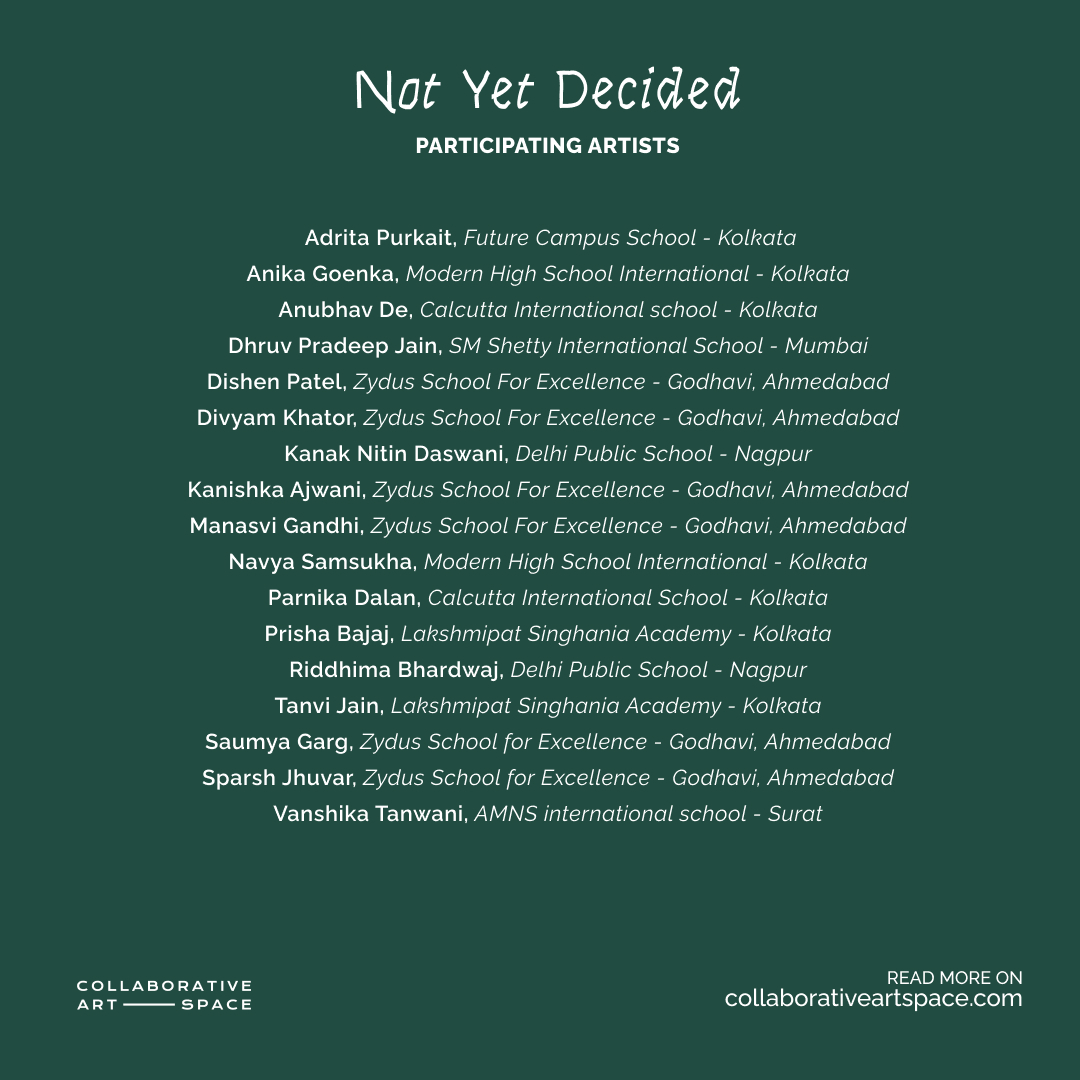 Collaborative Art Space also presents the third edition of inter-School Techspressionist / Digital Collaborative Art Project & Exhibition for young artists. Here two young artists between ages 14 – 18, from different Schools/ Junior Colleges/ Colleges worked together to create two artworks on the theme of 'not yet decided'.
Earlier, many national and International artists participated and created 66 artworks on the idea of 'pandemic memories –experiences related to lockdown 2020-2021.
The VIRTUAL  EXHIBITION spreads global reality and creativity that allows freedom and communications beyond nations interweaving mixed art practices and beliefs.
Collaborative Art Space, is the brainchild of the renowned Techspressionist artist Malavika Mandal Andrew, who uses collaboration as a tool to foster artistic growth and creativity, connecting artists to create collaborative artworks in various mediums.
Malavika Mandal Andrew, the multidisciplinary artist who practices mixed-media, digital collage, digital art, tapestry and other fiber arts, was awarded the National Scholarship by the Ministry of Human Resources Development, Government of India and ' Pollock Krasner Foundation Grant'. She studied Bachelors of Fine Art in Textile Designing and Masters of Fine Art in Textile and Tapestry from Vishwa Bharati University, Santiniketan.