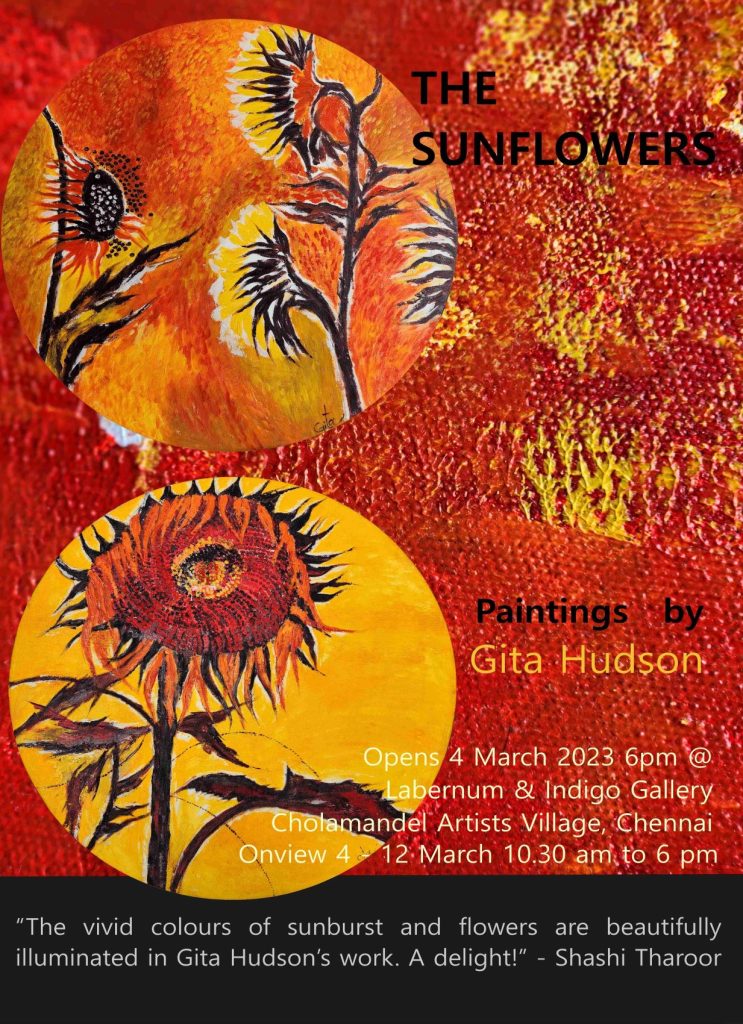 THE SUNFLOWERS – GITA HUDSON'S VIBRANT PAINTINGS
"The vivid colours of sunburst and flowers are beautifully illuminated in Gita Hudson's work. A delight!" – Shashi Tharoor
Renowned artist Gita Hudson presents a Solo Show –THE SUNFLOWERS at Laburnum and Indigo galleries in Cholamandal artists village, Chennai from 4 March 2023 till 12 March 2023.
"This series took almost a year to finish and there are 20 works in oil, macro photos of my palette and metal relief panels," says Gita Hudson, renowned artist, filmmaker and curator.
"Sunflowers have inspired many artists across time and space. In her current exhibition, Chennai-based artist Gita embarks on a journey that brings her close to the life and spirit of these flowers," says the famous art historian and curator, Vaishnavi Ramanathan.
Artist Gita Hudson was trained in Art with a Master's degree in Psychology.
As a Curator for Dakshinachitra, a heritage museum in Chennai, she has organised several national and International Art exhibitions.
Highly influenced by temple art and culture, her Paintings are semi-abstract and also was inspired by the rich tradition of Indian murals.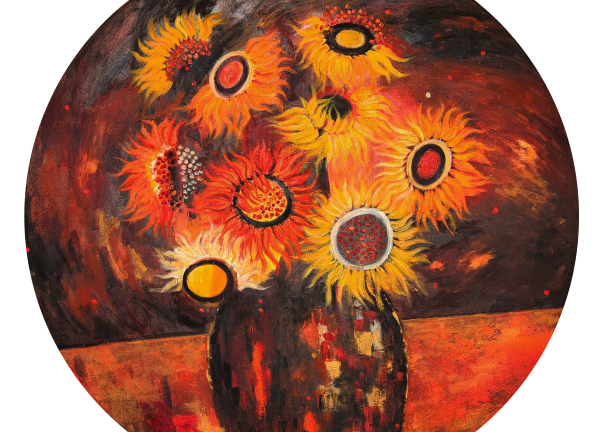 "Known for her abstracts and paintings inspired by Indian murals, She began her painting career by creating floral paintings. She has now returned to the same theme in order to experience the sheer pleasure of painting and working with colours," said Vaishnavi Ramanathan.
"In her current series, she revels in the colour and vibrance of sunflowers capturing it with her signature crimson and yellow shades. Characteristic visual elements seen in her other works also surface in these paintings. There is a sense of exploration in her work as she works with familiar visual elements while adapting them to the present theme. Similarly, she uses different media, Oils and metal relief, to create varied visual impact. Bold and vivid, Gita's sunflowers reflect the inherent joyousness of life," shares the famous Art Curator Vaishnavi Ramanathan.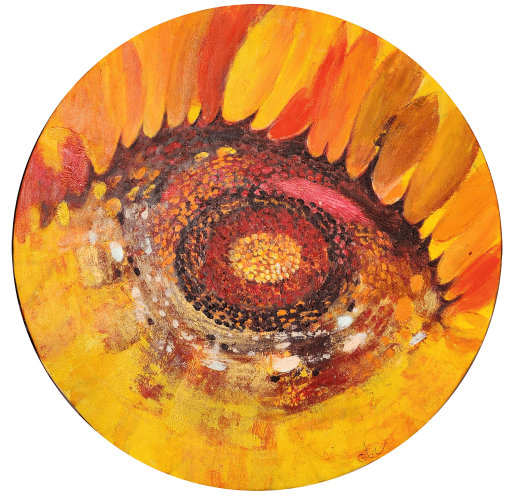 Gita Hudson has conducted more than 20 Solo exhibitions and 50 group exhibitions. She has been part of many art seminars and art camps in India and abroad. She has participated in many shows including in London, South Africa, South Korea and at the Gandhi Memorial Centre in Washington DC.
Gita Hudson believes filmmaking as an extension of fine arts and documented famed contemporary Indian artists including eminent artists Prafulla Mohanti, Yusuf Arakkal, Achuthan Kudallur, C.Douglas and some of the senior painters who defined the Madras Art movement. Her documentaries have been screened in many film festivals.