4 October 2023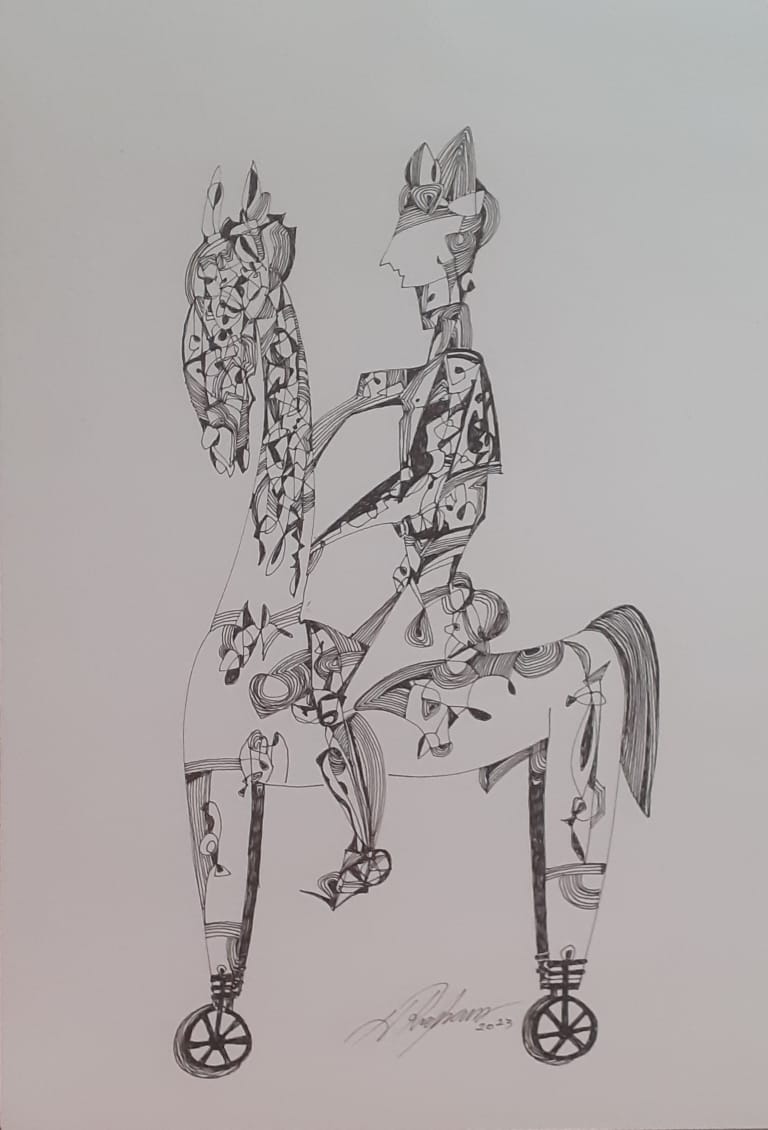 THE LINE BETWEEN DREAMING & AWAKENING
EXHIBITION OF DRAWINGS BY RENOWNED PAINTER, SCULPTOR AND ART DIRECTOR RAGHAVAN. N
INAUGURATION OF THE SHOW ON 4 OCTOBER 2023 @ 6.00 PM
VENUE: TASMAI, PONDICHERRY
Presented by KIRTI CHANDAK, Artist, Founder TASMAI, a Centre for Art and Culture, Pondicherry. The Show will be continued till 10 October 2023.
"Drawings drawn by the children carry the early and innocent state. When I do pen and ink lines for my series of 'Soul collector' I experience a meditative state that guides me to connect to the consciousness. What emerges then is the dream state that awakens in my heart, which reveals what I want to express," renowned artist Raghavan N shares his views on his drawings to be presented at Pondicherry today.
"The Soul Collector is a seeker of his journey after the Souls leave the body. It is a treasure for her and her duty is to guide the Souls for the next life in a new body," he added.
Artist Raghavan born in 1952, is a multifaceted painter, sculptor and art director with a keen meditation practice of over 30 years. He lives and works in Cholamandal Artist Village and Auroville. He is an alumni of Madras Government College of Arts and Crafts Chennai, Tamil Nadu.
He has exhibited his unique works around the world. He was invited by the universities like Pennsylvania State University, USA; Willow Academy of Art in Seattle, USA and at St. Peters Cultural Art Centre, Missouri, USA to present lectures in arts, many times.
Renowned artist Raghavan conducted many Solo and Group shows in India and abroad. He has participated in various art camps like painting, ceramic and graphic art camps across India.
He is a proud owner of multiple awards such as an Annual Exhibition Award by State Lalit Kala Akademi,Tamilnadu; Regional Exhibition Award by Lalit Kala Akademi Regional Centre for two consecutive years; participated in the National exhibition of Art, New Delhi and Technology Nirvana – Adobe Photoshop Award for Digital Painting. His art works were collected across the world including many private and public collections in India and abroad.
Artist Raghavan has worked as an art director for many Indian Feature Films and more than 600 Ad Films. He also worked with well-known film director Mani Ratnam, Cinematographer P. C. Sreeram, director P Jayendra, director Vasanth and many more.
He has art directed multiple national and international festivals including Apna Utsav (Festival of India), National Cultural Festival, Government of India, New Delhi; Co-Art Director for International Cultural Films, USA and Co-Art Director for Missouri Television Centre, USA. His artworks have been published in the 'Yoga Chakra', on the first India Yoga Day.
Artist Raghavan was a Trustee for HOINA (Home of Indian Nation), a registered Trust in India and non-profit organisation in the US, providing a home to children in need who were rescued, cared for and raised to develop productive, responsible  and caring members  of the society. He has conducted many art workshops for the children of HOINA. He is still an advisor for HOINA.