9 October 2023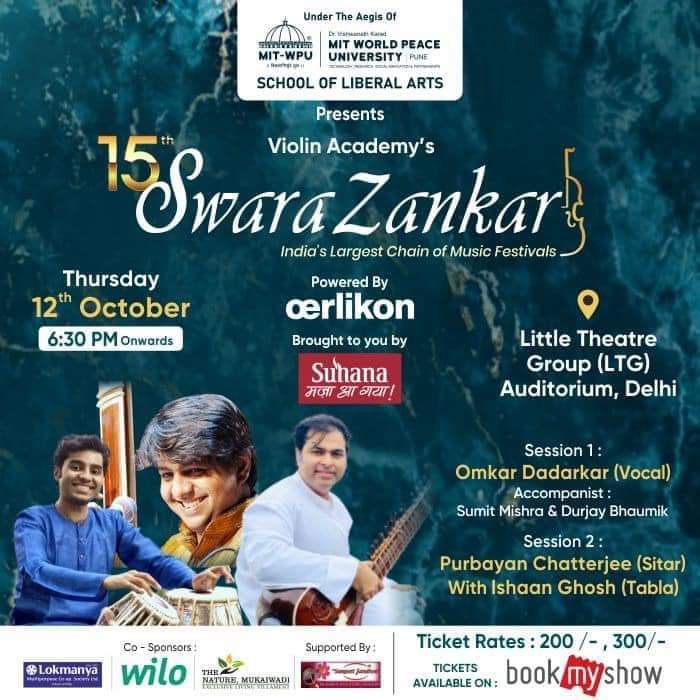 SWARA ZANKAR
SANGEET SANDHYA in collaboration with VIOLIN ACADEMY presents SWARA ZANKAR at Little Theatre Group (LTG), adjacent to Kamani Auditorium, Copernicus Marg, Mandi House, New Delhi on Thursday, 12 October 2023 at 6:30 PM.
PROGRAMMES
Session 1: OMKAR DADARKAR (VOCAL) accompanied by SUMIT MISHRA & DURJAY BHAUMIK
Session 2: PURBAYAN CHATTERJE (SITAR) with ISHAAN GHOSH (TABLA)
"Exceptionally brilliant vocalist and my personal favorite, Omkar Dadarkar, who fondly calls me Didi, will commence the concert with the amazing accompaniment of dexterous Durjay Bhaumik on the Tabla and spectacular Sumit Mishra on the Harmonium. Phenomenal Sitar player, our pride Purbayan Chatterjee and young Tabla sensation, Ishaan Ghosh will conclude the charismatic concert with their scintillating performance," says Vidushi Dr. Nabanita Chowdhary, renowned Hindustani Classical vocalist and founder, Sangeet Sandhya, New Delhi.
Vidushi Dr. Nabanita Chowdhary along with other artists founded 'Sangeet Sandhya', 23 years ago to create awareness  and appreciation of Indian classical music, conducting enumerable music events participating eminent and young talents in Delhi NCR and other parts of India.