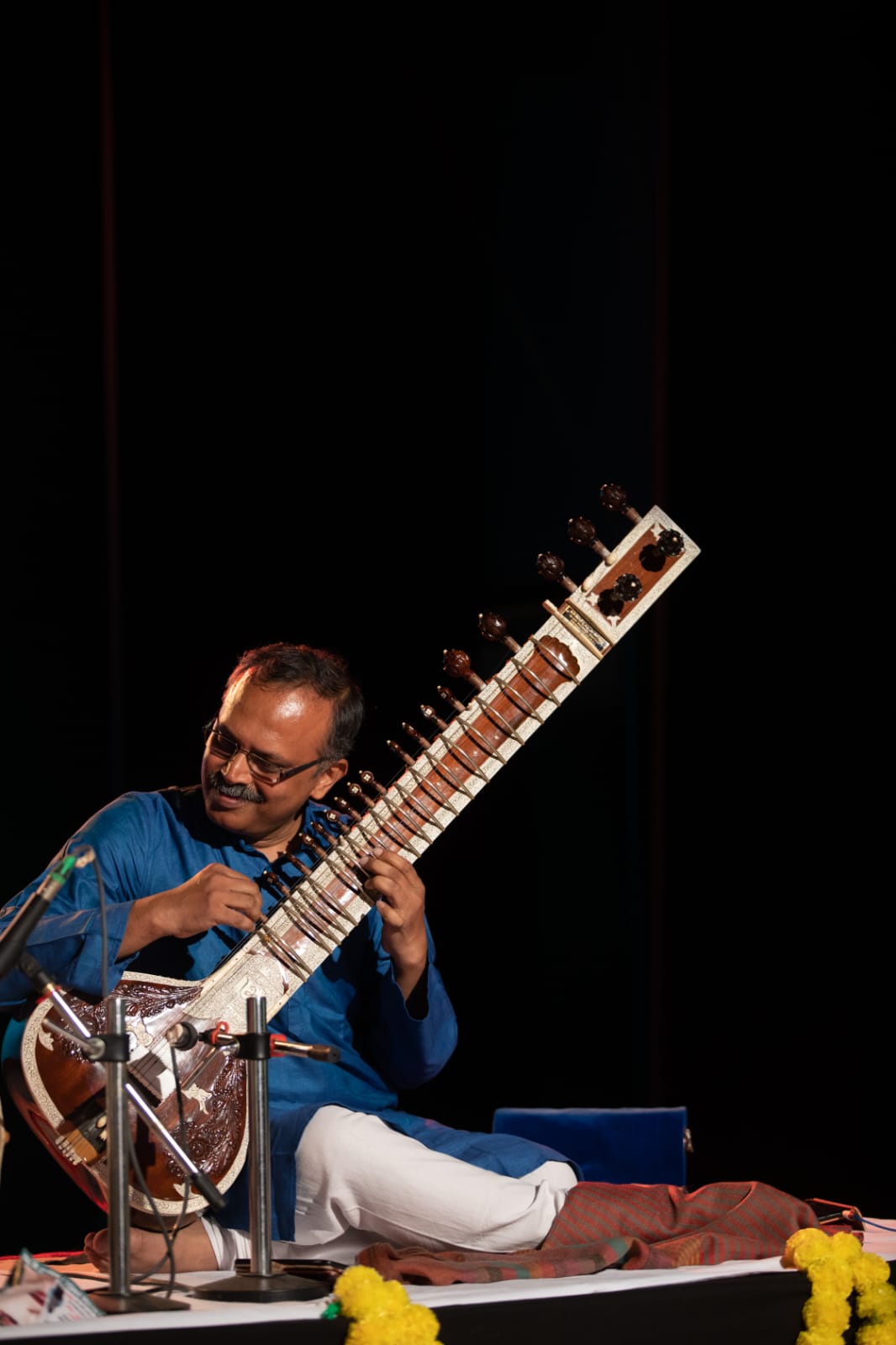 29 July 2023 /
SITAR MAESTRO SUBRATA DE TALKS ABOUT MUSIC AND THE MOST POPULAR NEXT GENERATION VIRTUAL WORLDS 'METAVERSE'
Renowned Musician Shri Subrata De is a highly acclaimed hindustani classical and devotional vocalist. He represents Bishnupur Gharana of Hindustani Classical Music.
Shri Subrata De comes from a family where music is considered worship. His father, Shri Bhutnath De is a Hindustani vocalist, who at the age of 80, still continues to teach music enthusiasts in Jamshedpur. Subrata De began learning Sitar from Shri Amarjeet Singh at a tender age of 7 and later studied under the tutelage of Shri Bauri Bandhu Sethi of Bhuvaneswar. He also received guidance from renowned musician Shri Manilal Nag of the Bishnupur Gharana, where he mastered the Dhrupad, Gayaki, Tankaari, Alaapang, Gatkaari styles and established himself as an accomplished Sitar artist of the country.
Shree Subrata De has been a cultural ambassador to many countries and is a panelist of the Indian Council for Cultural Relations. Graded artist of AIR, Subrata De founded Swaranjali, an organisation dedicated to the promotion of art and artists. He also has various albums to his credit. Meditation, Ganga, and Panchatatwa are among his known compositions. He has created new raagas like Lata, Ataal, Shikhashree, Jogiya Ranjani , Jawahar, BhupMalap, Subhas and more.
Shri Subrata De is a well-known name in Sitar and he is actively involved in steering various institutions of Hindustani Classical Music in the roles of educator and facilitator.
The renowned Sitarist Subrata De, founder of Swaranjali, an organisation founded for the promotion of Indian music and for the budding artists, talks about Music and the most popular next generation virtual worlds 'Metaverse'.
What is music in the metaverse in simple terms?
In the metaverse, music from the real world will migrate to the virtual world where we can shop, create and build our own music, while anyone in the world at any time can experience music at their ease without physical travelling.
How will this be a change for musicians?
Musicians can take their art form beyond his/her reach anywhere in the world and fans can have the full experience of a live performance without the need for physical presence. Artists can connect with their followers through various activities such as virtual concerts, merchandise sales and other app-integrated activities. Artists sell their digital tunes and items because they encourage the use of metaverse as a market to better control and trade their art. Artists can monetize their music directly through their fans, there is no third party involvement .
Can you share about digital property rights and what it means to the musicians?
It is a copyright law that has proven to be a bedrock tool when it comes to protecting Intellectual Property in a digital environment. Owners have the right (within reason) to do what they will with their content including monetizing it. Violations may be subjected to severe economic penalties. For a musician he/she retains the copyright, but the buyer holds a digitally signed copy of the music that can be limited or even a 1 of 1 edition. The buyer has the right to sell it. Those kinds of sales can make sense for artists no matter how big their fan base is.
What kind of technology powers this platform?
Technologies that power the metaverse platform — artificial intelligence (AI), Internet of Things (IoT), Augmented Reality (AR), Virtual Reality (VR), 3D modelling, Spatial and edge computing.
Metaverse concerts seem to be popular- what is the business potential of the same?
The metaverse has great potential for becoming a second world — a new space for new and existing revenue streams and methods for monetizing aspects of the music industry. This can include the following:
Streaming music experiences
Concerts that can be 'attended' virtually
Parties where the host can hire a DJ and invite friends from across the globe
Decorations that can include Non-Fungible Tokens (NFTs) for a virtual home in the metaverse
The idea of the metaverse is to combine two existing technologies — that of a digital second life and virtual reality. This will allow users to live a complete second life of their creation online. Your avatar will interact with others in the metaverse. There are potentially many more possibilities for the role of music and its monetization within the metaverse as it evolves.
What kind of money can musicians make in NFT music marketplaces? How do these vary over streaming services?
For musicians, it represents a song or an audio file that is in high-quality formats like MP3, WAV and OGA.  Popularity of NFTs has exploded even in the music industry. Big music brands and personalities are getting on the NFT.
Auctions and sales offer musicians an exciting opportunity to monetize their music or art piece. NFTs have played an important role in musician's careers during pandemic times when their income had come to a stop. NFTs made it possible for musicians to reach out to a global audience all by themselves. A musician can stream his music on platforms like Spotify, YouTube and more. To use these platforms the musicians need to pay a monthly subscription fee to the platform. However, it takes almost 3 months for the music artist to start being paid for the audio streaming. NFTs promises to change this by allowing music artists to list their NFTs on a marketplace where they can directly engage with their fans and take home all the sales generated by their music files. In addition to this, the artists can always earn royalties from future sales. Furthermore, the music artists who sell their music as NFTs will not face any copyright issues as blockchain maintains the records immutably.
Why are major labels and artists jumping in on the trend?
The advantages of concerts hosted in a virtual world where artists can perform anywhere across the globe and fans attend via VR headset from the comforts of their own home have a significant role in popularising Virtual concerts.
The advantages of concerts hosted in a virtual world where artists can perform anywhere across the globe and fans attend via VR headset from the comforts of their own home have a significant role in popularising Virtual concerts. Attendees can still interact with other concert goers in the shared virtual space. Recently, the major record label Warner Music partnered with The Sandbox to create a virtual performance venue within the metaverse. It was huge. A very renowned company is making a platform where there will be a concert hall and a musical theme park where it can host a variety of big-name artists in metaverse concerts. As the metaverse expands, more and more artists and record labels are likely to jump on board.
How are people/audiences responding to the music metaverse?
Depends on the individual's choice. There is a portion of people who want real life experience of music, who want to indulge in the real and current emotion of the artist with the piece of work he/she is playing /singing/dancing and that group is huge till date .
There definitely is another group of people who like to dance with virtual world concerts. So I guess this scenario will keep continuing till the coming few decades before completely sinking into virtual concerts.
Is the music metaverse limited to artists who have the teams and the budgets to design a whole new world for their fans to explore?
It's good to have a team or resources but it's not a mandatory requirement. One can start with zero and make many zeros after 1 by putting in his own labour and dedication. If his/her work is worth it , he/she will definitely get a fan following . All you need is a good infrastructure, marketing, quality studio recording, very good internet connection and of course your hard work. But it also depends on the popularity and brand image of the artist.