15 October 2023 /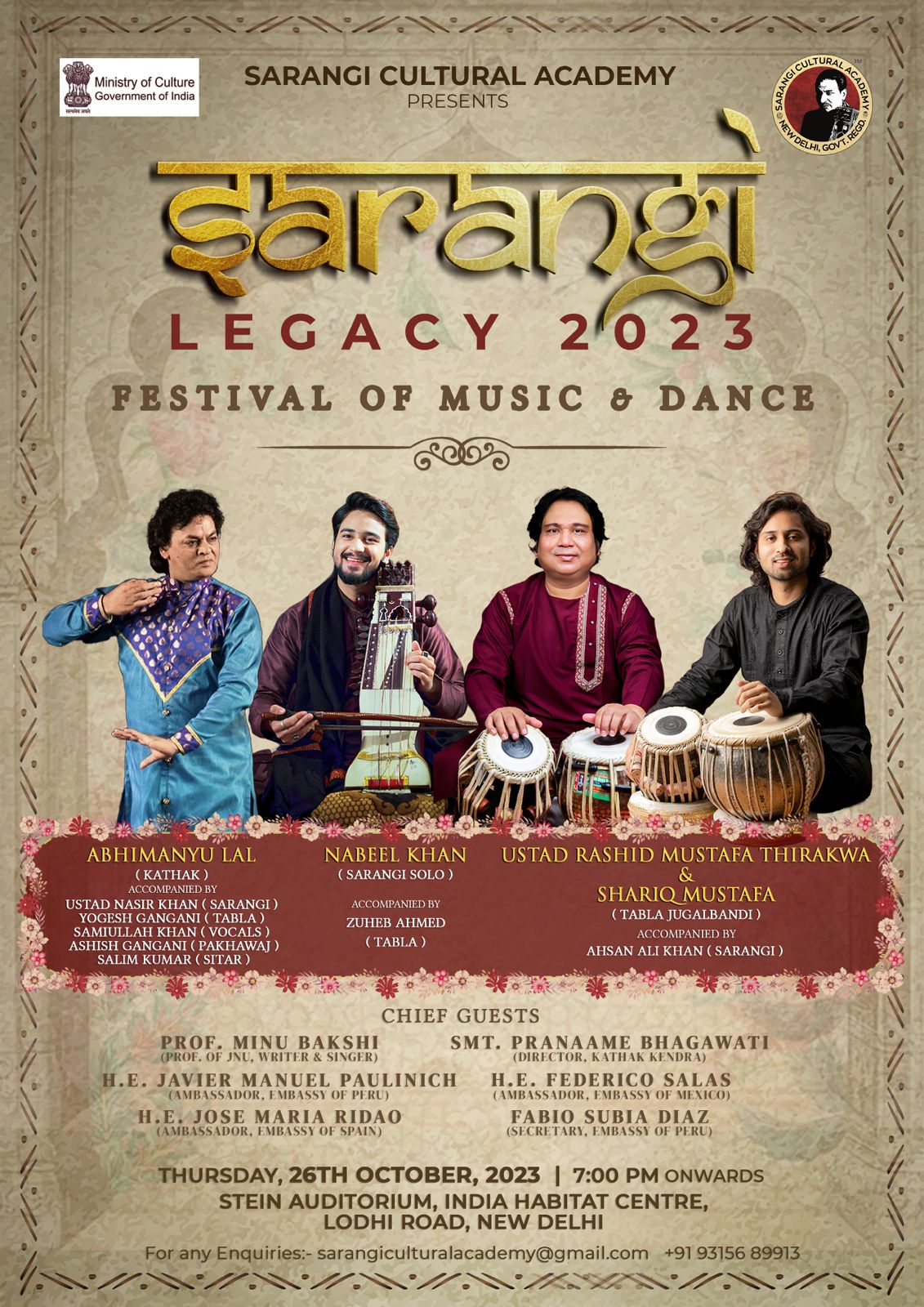 SARANGI LEGACY 2023 – Tribute to the legendary Sarangi Maestro Padma Bhushan Ustad Sabri Khan
Sarangi Cultural Academy presents SARANGI LEGACY 2023 – a spectacular extravaganza of Music and Dance at Stein Auditorium, India Habitat Centre, Lodhi Road, New Delhi on 26 October 2023 from 7.00 PM onwards.
CHIEF GUESTS
PROF. MINU BAKSHI (Prof. of JNU, writer and singer)
SMT. PRANAAME BHAGAWATI (Director, Kathak Kendra)
H.E. JAVIER MANUEL PAULINICH (Ambassador, Embassy of Peru)
H.E. FEDERICO SALAS (Ambassador, Embassy of Mexico)
H.E. JOSE MARIA RIDAO (Ambassador, Embassy of Spain)
FABIO SUBIA DIAZ (Secretary, Embassy of Peru)
USTAD AMJAD ALI KHAN (Sarod Maestro)
PANDIT RAJENDRA GANGANI (Kathak Maestro)
PANDIT RAM NARAYAN (Sarangi Maestro)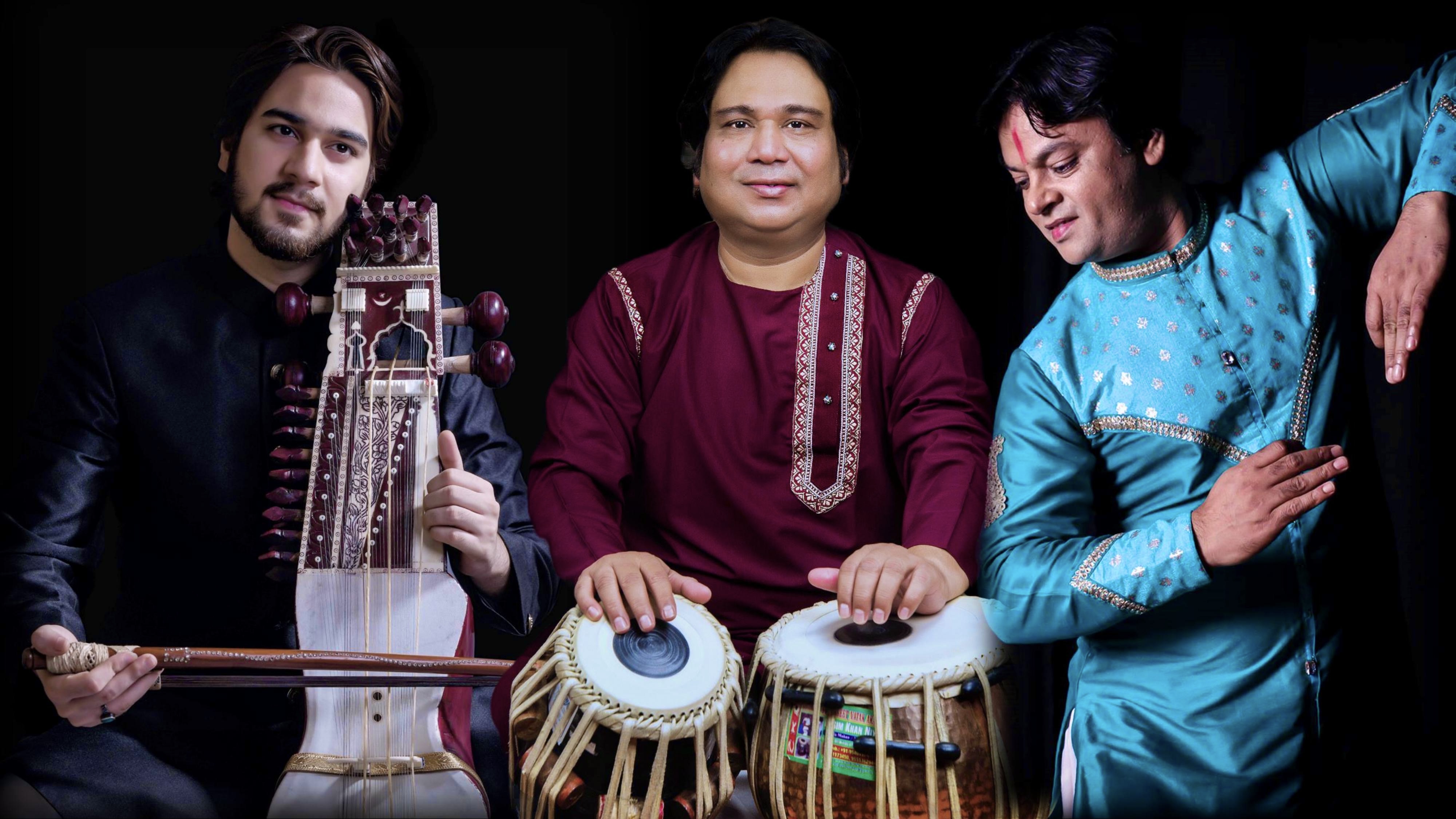 PERFORMERS
The event will feature captivating performances by talented artists
NABEEL KHAN (Sarangi Solo) accompanied by ZUHEB AHMED (Tabla) / ABHIMANYU LAL (Kathak) accompanied by USTAD NASIR KHAN (Sarangi), YOGESH GANGANI (Tabla), SAMIULLAH KHAN (Vocals), ASHISH GANGANI (Pakhawaj), SALIM KUMAR (Sitar) / USTAD RASHID MUSTAFA THIRAKWA & SHARIQ MUSTAFA (Tabla Jugalbandi) accompanied by AHSAN ALI KHAN (Sarangi) /
Renowned world's youngest Sarangi player Nabeel Khan is the grandson of the legendary Sarangi Maestro Padma Bhushan Ustad Sabri Khan Saheb and the son of renowned Sarangi artist Ustad Nasir Khan. He is the eighth generation of Sarangi artists in his family and is a well-known singer, writer and composer. He has performed in many countries including UAE, Italy, Denmark, Norway, France, Netherlands, Russia, Sri Lanka, the UK and many more.
Renowned Kathak artist Abhimanyu Lal, son and disciple of Guru and SNA Awardee Smt. Geetanjali Lal, is recognized as one of the most accomplished Kathak dancers. He is an empanelled artist of 'Outstanding' category of Indian Council for Cultural Relations (ICCR) and is also an 'A' graded artist of Doordarshan. He has performed at many prestigious festivals in India and abroad.
Renowned Tabla artist Rashid Mustafa is empanelled in the Indian Council for Cultural Relations (ICCR) and was honoured many awards including the Thirakwa Award and Crystal Award from Yehudi Menuhin in Davos, Switzerland. He received early training in tabla under his father Mohammad Jan Thirakwa and then under the tutelage of his uncle Ustaad Ahmed Jan Thirakwa.
Renowned artist Shariq Mustafa is the fifth generation Tabla player of the Thirakwa lineage and hails from the Farukhabad gharana. He studied the complex and varied legacies of Tabla from his father and late grandfather, Rashid Mustafa Thirakwa and Ahmed Jan Thirakwa.
"Music is the best medicine for our world's misery. Music brings people together without barriers, and Sarangi Cultural Academy has been founded to empower young people to fill our world with the spirit of hope. Its core aim is to inspire the young minds towards awareness of the need to learn especially Indian Classical music in today's overwhelming world. The academy also aims to equip children with less resourceful backgrounds with proper training and skill support in fulfilling their musical ambitions. The goal is to promote Indian classical music and Sarangi all over the world including sufi, folk and different types of music," says Shabnam Khan, General Secretary, Sarangi Cultural Academy.
"The brainchild of renowned Sarangi artist Ustad Nasir Khan, who leads the academy along with his son Nabeel Khan, the youngest established Sarangi artist in the world, Sarangi Cultural Academy is a tribute to the legendary Sarangi maestro Padma Bhushan Ustad Sabri Khan Sahab. Nabeel Khan has been inspiring young enthusiasts through social media, creating 'Let's Learn Sarangi' videos on YouTube, making the enchanting world of Sarangi accessible to all, regardless of geographical boundaries," she added.
SARANGI CULTURAL ACADEMY
Sarangi Cultural Academy, New Delhi was founded for the promotion of the Indian classical instrument Sarangi, along with Indian arts and culture. Over the past few years, the Academy has organized numerous concerts and workshops, both online and offline, to spread the heritage of Hindustani Classical music. The proactive approach has ignited a passion for Classical music across all age groups worldwide in less than a decade.
Sarangi Cultural Academy, the world's only Sarangi academy, is thrilled to announce SARANGI LEGACY 2023 – a spectacular festival of music and dance that continues to enrich the tradition and promoting the unique and enchanting Indian Classical instrument, Sarangi.
"Sarangi is too soulful and an important instrument for it to slip into oblivion. The aim of Sarangi Cultural Academy is therefore to spread awareness about Sarangi along with Indian Classical Music across the world and our legacy series is a prime example of such" — Nabeel Khan, Indian Classical Sarangi Artist.
VENUE: STEIN AUDITORIUM/ INDIA HABITAT CENTRE/ LODHI ROAD/ NEW DELHI