7 December 2023 /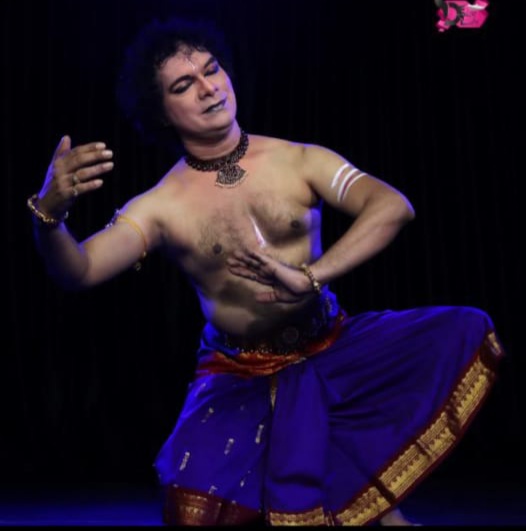 RENOWNED DANCER, TEACHER AND CHOREOGRAPHER G. RATHEESH BABU
Renowned artist Ratheesh Babu is a highly acclaimed dancer, who continues to be totally involved in the art as a teacher and a performer.
A graceful and gifted dancer, Ratheesh Babu is a classicist in the field of Bharatnatyam, Kuchipudi and Mohiniattam as a dancer, teacher and choreographer.
Natya Choodamani, Nritya Kala Bharathi Dr. Shri G. Ratheesh Babu, a disciple of Kalaimamani Padmashri Adayar K. Laxman (Bharatanatyam), Chennai and Mrs. Anupama Mohan (Kuchipudi), Kerala, is a highly acclaimed and renowned dancer, who has displayed his immense talent by performing in all major festivals in India and abroad.
He is an empanelled artist of ICCR, Ministry of culture, Government of India.
Ratheesh Babu was introduced to the world of Indian Classical Dance at the age of five under the tutelage of Guru Kalanilayam Krishnan Kutty, Kerala and he learned his first steps in Mohiniyattam. Then he moved ahead and learned the intricacies of Bharatanatyam and Kuchippudi dance form under the able guidance of Smt. Amritam Gopinath, Aryakalanilayam, Ms.Barnona Basu, Mumbai and Ms. Anupama Mohan, Kerala. He specialised in Bharatnatyam under the guidance of Kalaimamani Padmashri Shri Adayar K. Laxman, Chennai. Also he practiced Carnatic music under the tutelage of Shree Trissur T Unnikrishnan, IKSVV, Khairagarh.
He has won several prestigious awards from Government as well as renowned Cultural Organisations.
Renowned artist Ratheesh Babu holds the prestigious titles of Natya Choodamani, Nritya Kala Bharathi and Guru Samman Life Time Achievement Award by Sanskar Bharati. He received many prestigious awards including Nritya Vaibhava Award by Akhil Bhartiya Sanskrutik Sangh, Lifetime Achievement Award by Himachal Tourism & All India Artist Association, Rashtriya Samaikya Bharat Gaurav Satkar by Madras Telugu Academy, Balraj Sahni National Award by All India Artist Association, Bharat Nritya Gaurav Samman, National award Rashtra Ratna By Anthara Sangeeth Vidyalaya, Nrithya Retna Award by Utkal yuva sanskrutik sangh, Nrithya Vigyan award from Kalanilayam, Rashtriya Nrithya Kalopasana Award from True India Cultural society, Kala Nipuna Award, Gaurav Puraskar, Nrithya Chatura, Sri Balaji Jyoti Samman, Jayadev Rashtriya Samman, Gopi Krishna National Award from All India Artist Association, Rajhans National Award, Nritya Kala National Award, GC Lagan Award for outstanding performance in the field of dance from All India Artist Association, Mumbai. He was also awarded two doctorates in the field of Indian Classical dance by the University of Global Peace (USA) and Royal Academy of Peace (UK).
His astounding and exquisite dance dazled the audience with his scintillating 1750 plus solo and group shows in India and Abroad.
He is the founder Director of 'NRITHYATHI KALAKSHETRAM', School of Indian Classical Dance, affiliated to Indira Kala Sangeet Vishwavidyalaya, Khairagarh; Pracheen Kala Kendra Chandigarh and All India Dancers Association (AIDA).
He also conducts workshops and imparts training through Nrithyathi's Learning Centers located at Raipur, Bhilai, Durg, Nagpur, Bhopal, Pune, Kannur, Vizag and Bangalore.