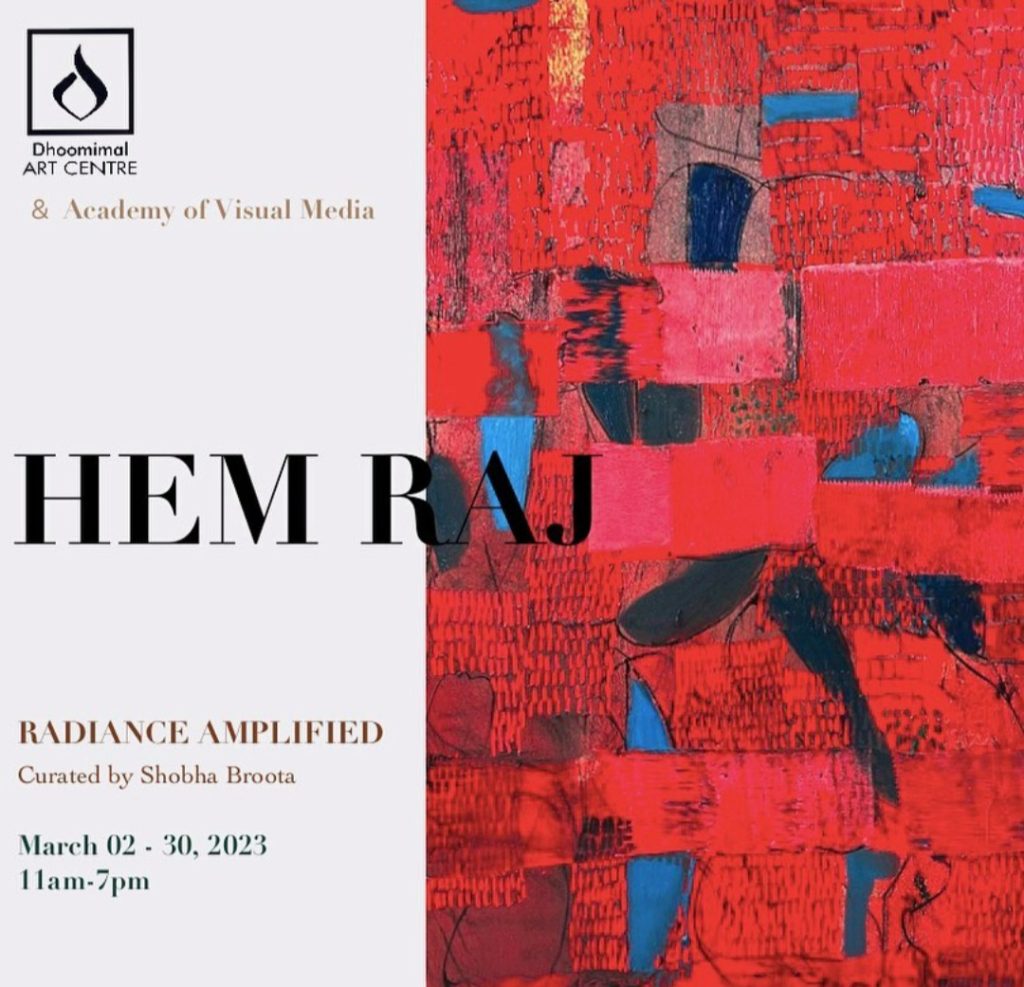 18 March 2023
MOHIT JAIN & AOVM in association with DHOOMIMAL ART CENTRE present 'Radiance Amplified' – a Group Exhibition by eminent artists, curated by renowned artist Shobha Broota is on show at Dhoomimal Art Centre.
The Exhibition will continue till 30 March 2023 (11 AM – 7 PM / Sunday closed)
CURATOR / SHOBHA BROOTA
The Exhibition was inaugurated by Hon. HWANG ILYONG, Director, Korean Culture Centre, Embassy of Korea).
Renowned Art Critic, author and Curator PRAYAG SHUKLA graced the function as Guest of Honour.
''When I started painting, I used to do figure drawings. Portrait was my subject. My realistic art is very good. But slowly I moved towards abstraction automatically. I didn't make any effort for this. It happened by itself. Like a plant goes on growing. The shoots sprout, the leaves come out, and then the branches go on forming. Then one day that plant becomes a tree. It is loaded with flowers and fruits. It is his 'Destiny'. I didn't try or plan to make an allegorical or abstract drawing. Like I said earlier, it just happened on its own. I see it as the 'growth' of the artist,'' said Hem Raj, the renowned artist of international acclaim.
Artist Hem Raj has showcased his work in prestigious places including Bill Lowe Gallery in America, the Galleria Muller and Plate in Germany. He has received one of the most prestigious awards in the country, the National Award from Lalit Kala Academy.
OTHER RENOWNED ARTISTS PARTICIPATED IN THE SHOW
JAGDISH CHANDER/ JAI ZHAROTIA/ JOHN PHILIPOSE/ KALICHARAN GUPTA/ KEUNYOUNG SONG/ MEENA DEORA/ MINJOO LEE/ NIREN SENGUPTA / PREM SINGH/ RASHMI KHURANA/SK SAHINI/ SANTOSH KUMAR VERMA/ SHOBHA BROOTA/ SHOVIN BHATTACHARJEE/ VINAY SHARMA/
VENUE
DHOOMIMAL ART CENTRE/ A 8 CONNAUGHT PLACE/ INNER CIRCLE/ LEVEL I & II/ NEW DELHI