8 October 2023 /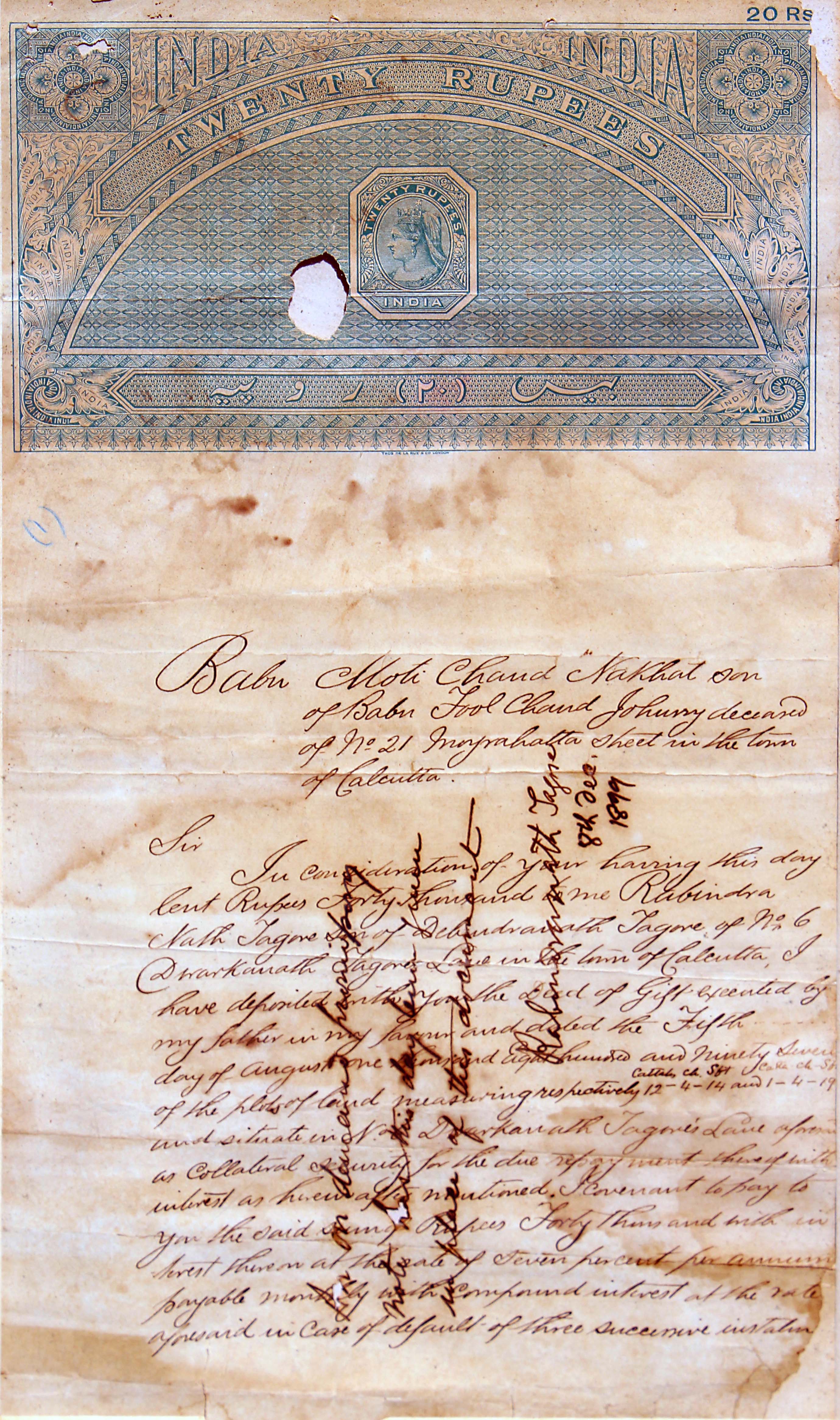 QUILLS OF AGES
QUILLS OF AGES – an exclusive exhibition showcasing letters, legal documents, inland letters and telegrams of the Tagore family
Art Konsult presents an exclusive exhibition showcasing letters, legal documents, inland letters and telegrams of Rabindranath Tagore's family at Visual Arts Gallery, Indian Habitat Centre, Lodhi Road, New Delhi. The Exhibition is on show till 11 October 2023. Timings: 10:30 a.m. to 7:00 p.m.
DESIGNED AND CURATED BY: Lolita Dutta 
CHIEF GUEST
Ashok Vajpeyi, eminent poet, essayist, Managing and life trustee of the Raza Foundation.
GUEST OF HONOUR
K.S. Radhakrishnan, eminent Sculptor.
Quills of Ages – an exclusive exhibition showcasing letters, legal documents, inland letters and telegrams of the Tagore family from Dwarkanath Tagore, Debendranath Tagore and Rabindranath Tagore is on show at New Delhi. Letters from renowned artists including Jamini Roy, Nandalal Bose, Hemen Mazumdar, Bireswar Sen and Asit Halder sharing their ideas with each other are exhibited here. Also letters from Ramananda Chattopadhyay (the editor of Modern Reviews) to Maitreyee Devi, who were both very closely related to Rabindranath Tagore are displayed in the show.
"All these letters are from the 19th – mid-20th century. This show exhibits very unique letters of approximately 200 numbers for the first time in India. This exhibition will be of great interest to art historians, students of art history and researchers," says the curator of the show.
DOCUMENTS EXHIBITED IN THE SHOW
SATYAJIT RAY on 20.9.1991 addresses – Sandeshi Bandhugana (brothers)
Satyajit Ray, the internationally renowned filmmaker was also an editor of the famous magazine, Sandesh. In his exchange of correspondence with the readers of the magazine, he expresses that due to illness he could not write in the "Puja" special issue Sandesh, and he promises his readers to be hopeful that he will write as soon as he recovers.
RABINDRANATH TAGORE on 2-3-1908 addresses – Vidhusekhar Shastri (Vidhusekhar Bhattacharya Shastri)
Rabindranath Tagore in his letter addressing Vidhusekhar Bhattacharya Shatri, voices his efforts towards Shantiniketan. He writes about a meeting of the "Paani Granth Committee", for sending the old published books one after the other by counting two ginni every month. He also mentions his interest in attracting Kshitimohan Sen to the school.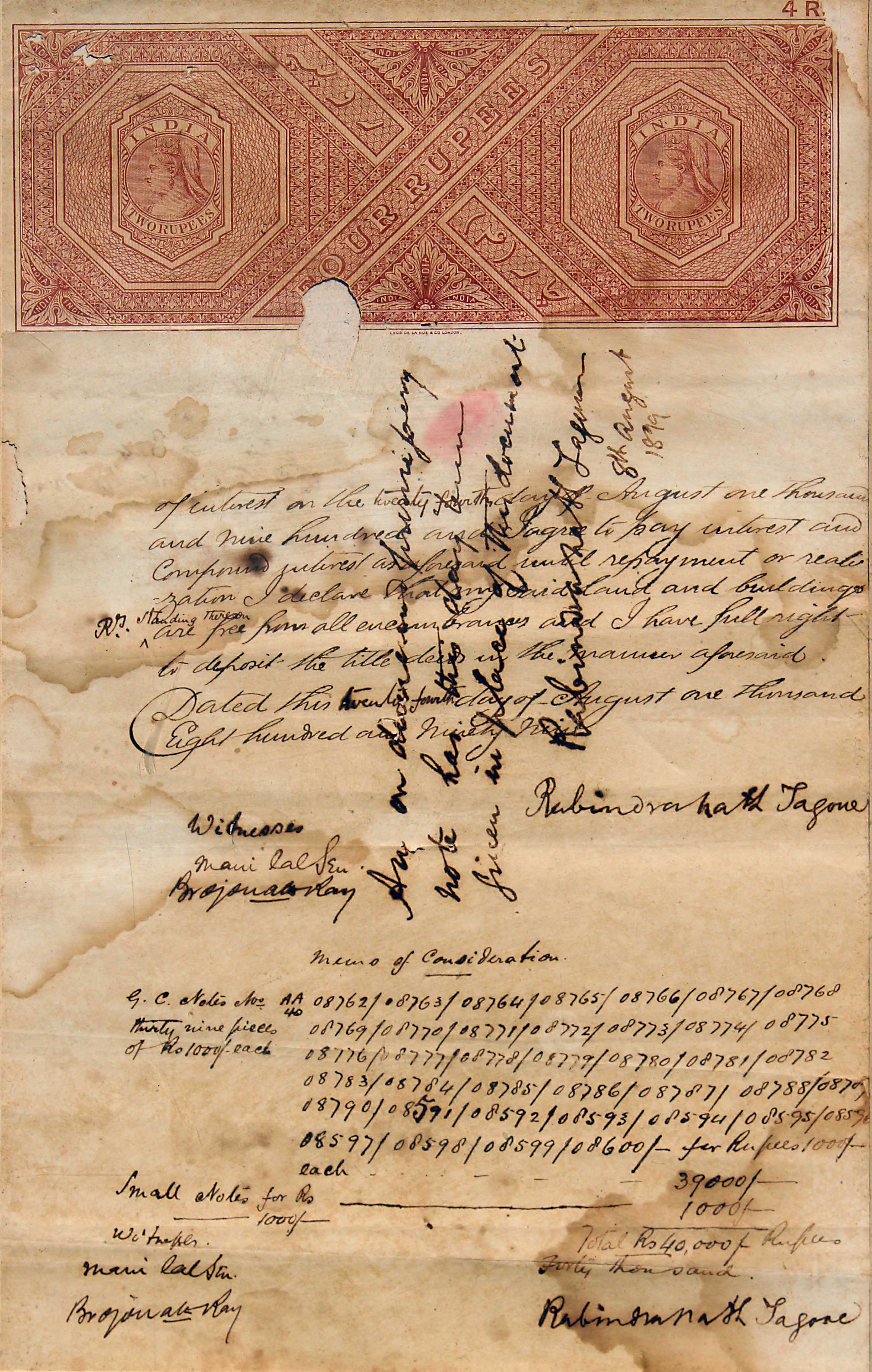 RAMANANDA CHATTOPADHYAY on 30-5-1942 addresses – Maitreyee (Maitreyi Devi)
Ramananda Chattopadhyay, founder and editor of the famous journals, "Prabasi" and "The Modern Review", in his exchange of correspondence with Maitreyi Devi, talks about publishing poems of Rabindranath Tagore. Their letters mention Maitreyi Devi sending Ramananda the proof-read articles for monthly published issues, also tells her that one of her father's poems on monsoon will be published in an issue of "Prabasi".
SUBHASH CHANDRA BOSE on 17-12-29 addresses his mother – Sri Sri Mata Thakurani
Subhash Chandra Bose, in a letter to his mother, writes that his work schedule is completely uncertain and that he is very worried about the elections of B.P.C.C (Bengal Provincial Congress Committee) and A.I.C.C (All India Congress Committee) of Sylhet. He promises to write to her after returning from Delhi.
JAMINI ROY on 19-3-1945 addresses – Das Babu (K.C. Das)
Jamini Roy, an Indian painter best known for combining traditional Indian and Western art styles, in his exchange of correspondence with K. C. Das writes that due to some work, he needs to stay in Bolpur for two more days and that as soon as he returns, he will get back to the commissioned series of Ramayana he was making for Das Babu. K. C. Das was the founder of the widely known Rossogolla, the first Indian dessert to be canned for the global market, and also was the owner of K.C. Das (P) Ltd, an Indian confectionery famous for its sweets and snacks.
ASIT KUMAR HALDAR on 16-12-1939 addresses – Brother Subho (Subho Tagore)
Asit Kumar Haldar, an Indian painter of Bengal school and an assistant of Rabindranath Tagore at Shantiniketan, in his letter to Subho Tagore, nephew of Rabindranath Tagore, writes about his approved leaves, and in a sarcastic tone explains his wife's unwillingness to visit Kolkata and so he was planning to visit Kashi or Jabalpur. Also he provides Asit with information regarding sending 5 of his paintings to him through Prodosh Das Gupta, a freelance sculptor and founder of the Calcutta Group of Painters and Sculptors for an academy exhibition.
BIRESWAR SEN on 13-4-1944 addresses – Subho Babu (Subho Tagore)
Bireswar Sen, a painter influenced by the Bengal School of Art and writer in his exchange of correspondence with Subho Tagore. He was organizing an exhibition of fine arts work and writes in a poetic way to him that the exhibition for artworks in itself feels contended, then why does he feel the need of a write-up explaining about the exhibition.
"The exhibition will have artistically displayed original documents along with a selection of old ink pots and writing implements which epitomizes the concept of the written word, interspersed with some photographs and other subtle elements, like a family tree, quotations and the exhibition will most certainly evoke nostalgia, a throwback to the times when the QUILL wielded mighty powers," the curator shares the details of the unique exhibition.
VENUE: VISUAL ARTS GALLERY/ INDIAN HABITAT CENTRE/ LODHI ROAD/ NEW DELHI