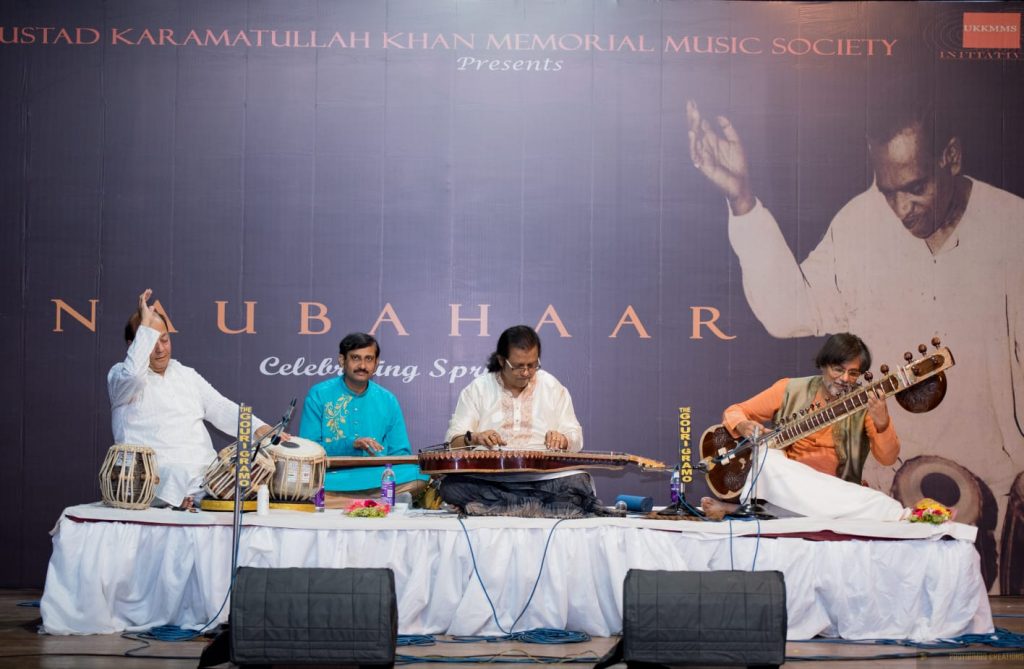 8 April 2023
USTAD KARAMATULLAH KHAN MEMORIAL MUSIC SOCIETY
NAUBAHAAR – A Celebration of Spring- a musical extravaganza
Ustad Karamatullah Khan Memorial Music Society's Naubahaar – 'A Celebration of Spring', a musical extravaganza was held at Gyan Manch, Kolkata on 30 – 31 March 2023.
The two-day event witnessed a musical journey with tradition and truly a mesmerising experience.
The first day of the festival began with an introduction to the UKKMMS by renowned classical vocalist Smt. Gargi Samadar, who also happened to be the compere for both evenings. She then invited Ustad Sabir Khan to share with the audience the concept of "Naubahaar."
The evening's first performance was a vocal recital by Shri Dhananjay Hegde accompanied by Shri Durjay Bhaumik on tabla, Pandit Hiranmay Mitra on Harmonium and Shri Arkaprabha Bhattacharjee on Tanpura.
Dhananjay's performance included Raag Multani with "Bada Khayal" Bandish "Gokul Gaav Ke chore" set in Vilambit Ektaal, followed by a drut bandish set in teentaal.
He concluded his performance with Raag Tilak Kamod and a very famous bandish composed by Pandit Vinay Chandra Moudgalay, "koyaliya bole Ambhuva."
The first day of the festival concluded with a remarkable performance by Pandit Debashish Bhattacharya and Pandit Partha Bose, a chaturangui and sitar Jugalbandi, accompanied by Ustad Sabir Khan on tabla and Shri Babusona Basu on tanpura.
They presented their first piece in Raag Bageshree Alaap jod Jhala and then in teen taal.
This was followed by the evening's last piece, a short dhun in Raag Majh Khamaj set in Dadra Taal.
The second day's performances began with Pandit Koushik Bhattacharya's beautiful bandish in Raag Shyam Kalyan set in Sadra Taal (10 beats time cycle), followed by a drut gat in Teental.
He concluded his performance with Raag Hindol Bahar set in Teentaal madhyalaya and drut.
Pandit Koushik Bhattacharya was accompanied by an excellent tabla maestro and the disciple of Ustad Sabir Khan; Shri Kumud Ranjan Santra while Shri Kamalaksha Mukherjee supported Panditji on Harmonium, accompanied by Shri Shuvajit Paul and Miss Shalini De on tanpura.
The evening's second performance was a Sarod Recital by the present torchbearer of Maihar Gharana, Shri Shiraz Ali Khan, accompanied by Asif Khan on tabla.
Shiraz's performance began with Alaap Jod Jhala in Raag Hem Bihag, followed by a gat in Raag Zila Kafi set in Teentaal.
The grand finale was a vocal sitar jugalbandi by Shri Debapriya Adhikary in vocal and Shri Samanwaya Sarkar on Sitar, accompanied by Pandit Shankar Narayanswamy on Mridangam and Shri Ariff Khan on tabla.
Shri K.G. Prasad accompanied the maestros on taal keeping.
The concept was unique, with no conventional piece present, which kept the audience in excitement.
The second last composition was in Raag Saraswati set in Taal Naubahar (9 and a half beats). This composition was composed by Ustad Sabir khan as a tribute to the late Tabla wizard Ustad Karamatullah Khan Saheb.
The evening ended with a very spellbinding Taal Vadya jugalbandhi by Pandit Shankar Narayanaswamy (mridangam) and Shri Ariff Khan (tabla).
Naubahaar – 'A Celebration of Spring' was an unforgettable event and Ustadji presented to all guest artists, "Roodad-e-Akasa" – an autobiography of Farukhabad Gharana, written by Ustad Sabir Khan.
The book reveals the in-depth history of the millenia-old legacy, Farrukhabad
Ustad Karamatullah Khan Memorial Music Society (UKKMMS), an organization for the promotion, preservation and propagation of Indian music was established in 1980 as a personal endeavor of Ustad Sabir Khan, the son and disciple of Ustad Karamatullah Khan, to keep the name, the tradition and a millennium-old legacy, alive.