4 October 2023/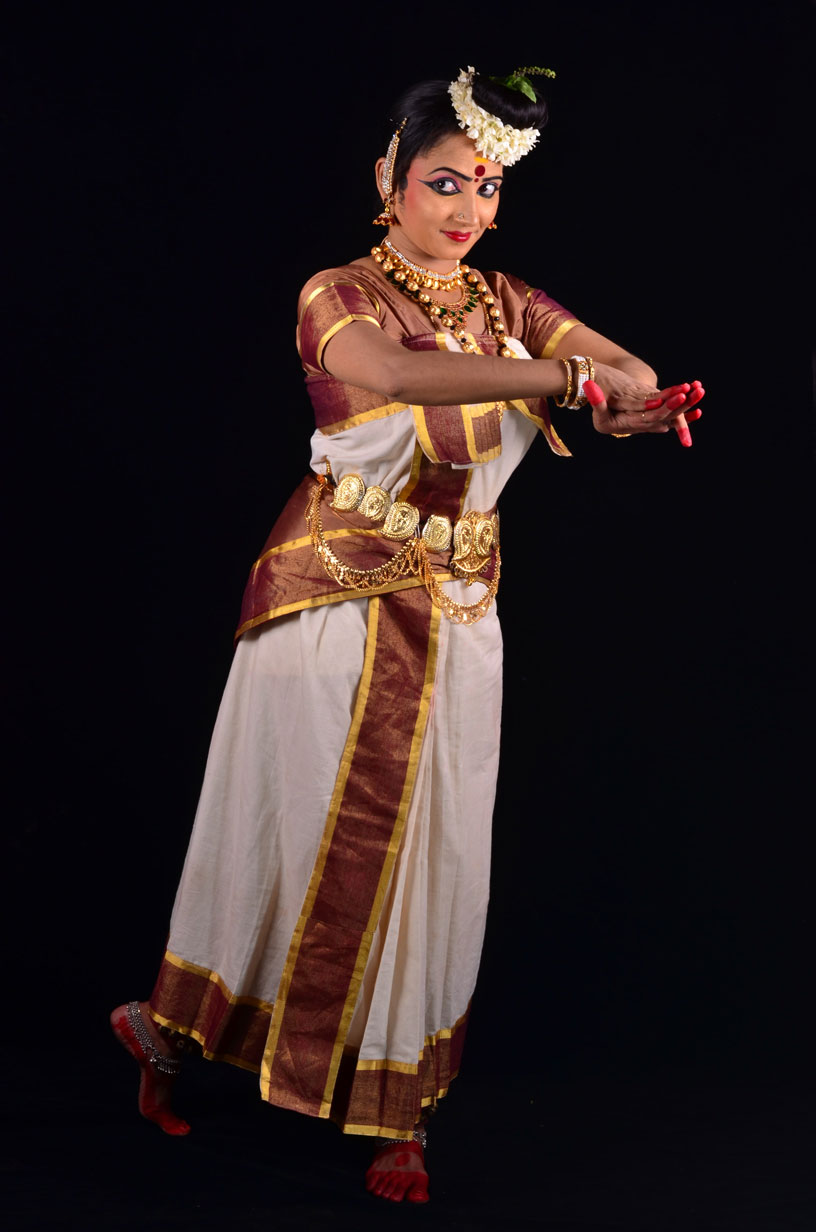 NATANABHOOSHANAM
Dr. GAYATHRI SUBRAMANIAN
Dr. Gayathri Subramanian is a renowned dancer, Choreographer and won Kerala Sangeetha Nataka Akademi award for Kerala Natanam
Born in a family of high traditions of Thanjavur Paintings and crafts, Gayathri Subramanian started learning Bharatanatyam at the age of four from Smt. Jayanthi Menon and renowned choreographer and dancer Guru Sri. Nattuvam Paramasivam. She also learned other forms of dances Kuchupudi, Mohiniyattam, Kerala Natanam, Kathakali, Thiruvathira and other folk dances.
Gayathri Subramanian studied Kerala Natanam from Smt. Bhavani Chellappan, senior disciple of Padmasree Natanakalanidhi Dr. Guru Gopinath, the founder of Kerala Natanam and from Sri. Anchal K. Sivanandan Nair, Head of the Department of Dance, Sri Swathi Thirunal Government Music College, Thiruvananthapuram. Later she learnt Kerala Natanam under the guidance of renowned dancer Smt. Chitra Mohan and Smt. Lekha Thankachi, former HOD of Dance, SST Government Music College, Thiruvananthapuram.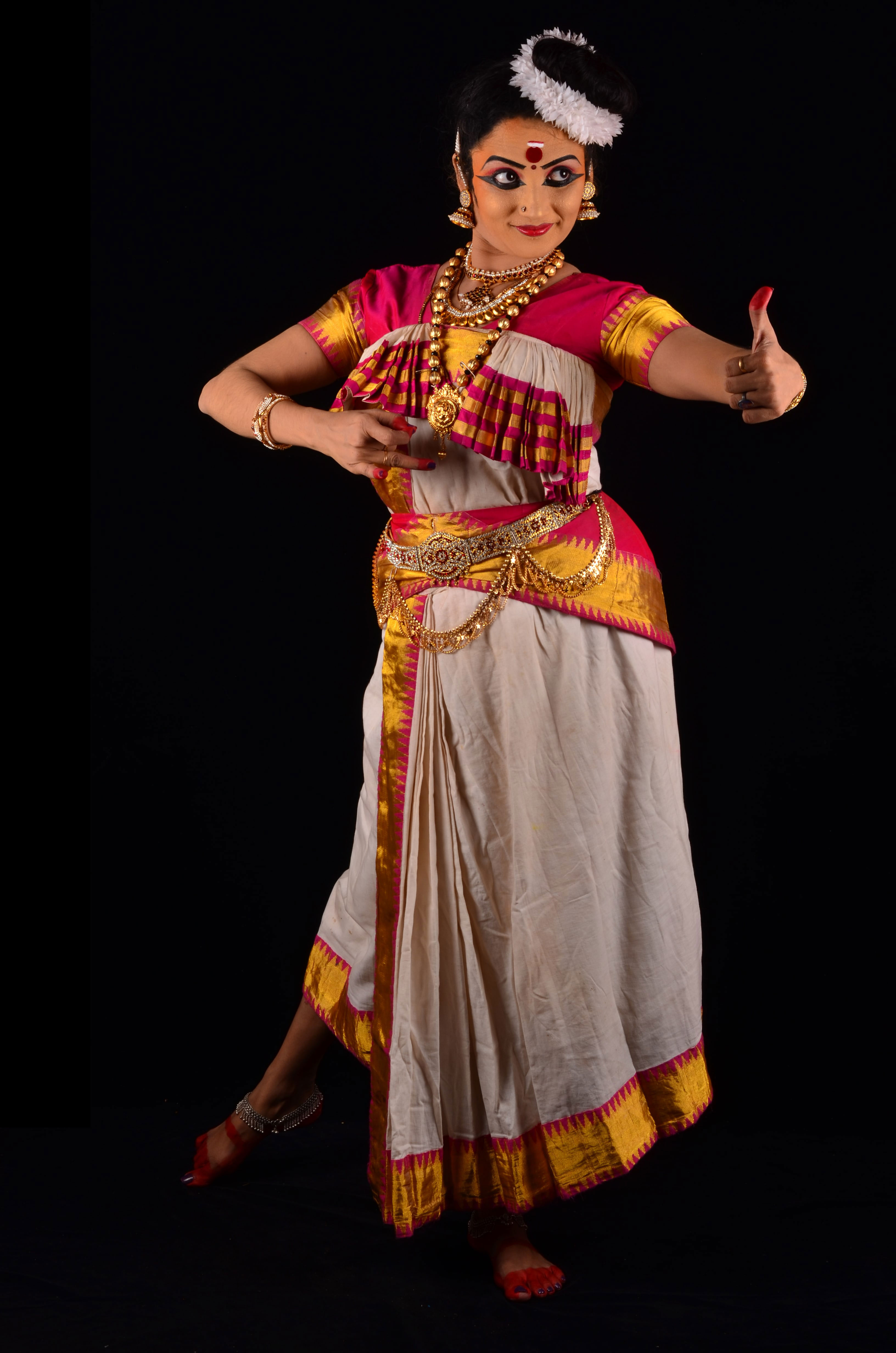 Kerala Natanam, a new style of dance was developed by well-known Kathakali artist Guru Gopinath and his wife Thankamani Gopinath, now recognised as distinct art form evolved from Kathakali, relied mainly on the body movement, gestures and facial expressions of the traditional Kathakali, but significantly deviated from the costumes and facial make ups to suit the attire. A variety of musical instruments were also used for the presentations unlike the traditional Kathakali and Mohiniyattam. As a student of Sri Swathi Thirunal Government Music College, Gayathri Subramanian was surprised to see the mudras and expressions of this distinct art, Kerala Nadanam. The guidance, exposure and knowledge received from the eminent Guru Nattvam Paramasivam from her home town Thanjavur, started to explore more about the new dance form.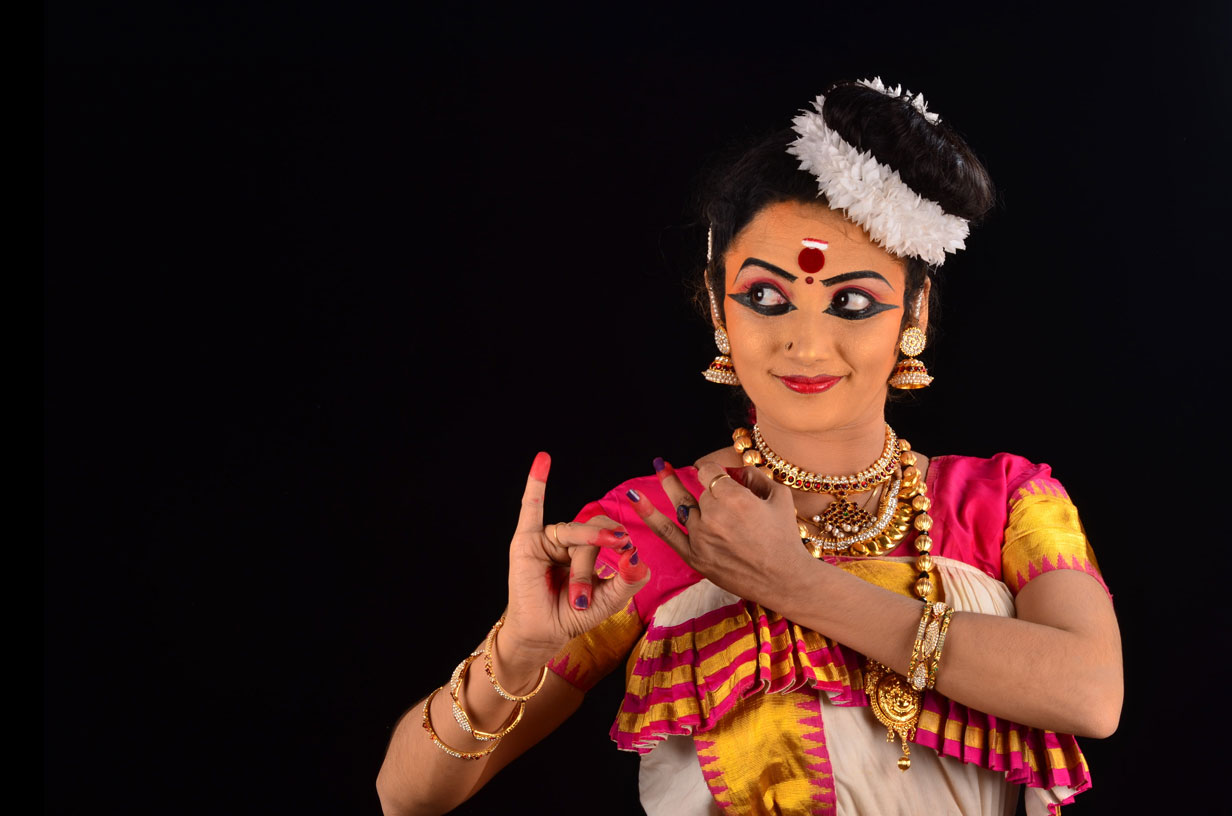 Gayathri Subramanian was honoured 'Nadanabooshanam' from Sri Swathi Thirunal Government Music College, Thiruvananthapuram.
Dr. Gayathri Subramanian has co-authored a book, 'Kerala Natanam – The Enchanting Dance of India', explaining the dance form and its significance in detail. Two more books on Kerala Natanam and Bharatanatyam are now ready for publication soon.
MEMBER OF THE FILM CENSOR BOARD AND NATANAGRAMAM
Dr. Gayathri Subramanian worked as a member of the Film Censor Board for six years. She also worked as a member of the Guru Gopinath Natanagramam, founded for the promotion of various art forms of Kerala like Kerala Natanam, Mohiniyattam and conducts dance festivals, workshops, Seminars and discussions, etc.,
SCHOLARSHIP & AWARDS
Gayathri Subramanian received many awards including Senior Scholarship for dance from Department of Culture, Government of India in 2002; Award for Young artiste from Guru Gopinath Trust Kerala 2002; Award from Sri Sri Ravisankar in the year 2008 for the training given to the participants of the Mega Mohiniyattam Performance; The Guinness Record Show and also performed in the Show, Cultural Book of Records india: Excellence Record in Keralanatanam Classical dance; Kerala Sangeetha Nataka Academy, Government of Kerala Award Winner 2018; The Guru Gopinath Trust Award 'Natyaratna' in 2009; Swathy Vandanam Puraskar by SST Govt. College of Music and Veena Sang, Thiruvananthapuram; Sri Jayadevrashtriya Yuva Pratibha Puraskar by National Culture Mission, Devadasi Nrutya Mandir and Department of Culture, Government of Odisha; CCRT Junior Fellowship, Government of India for Bharatanatyam 2019 and many more.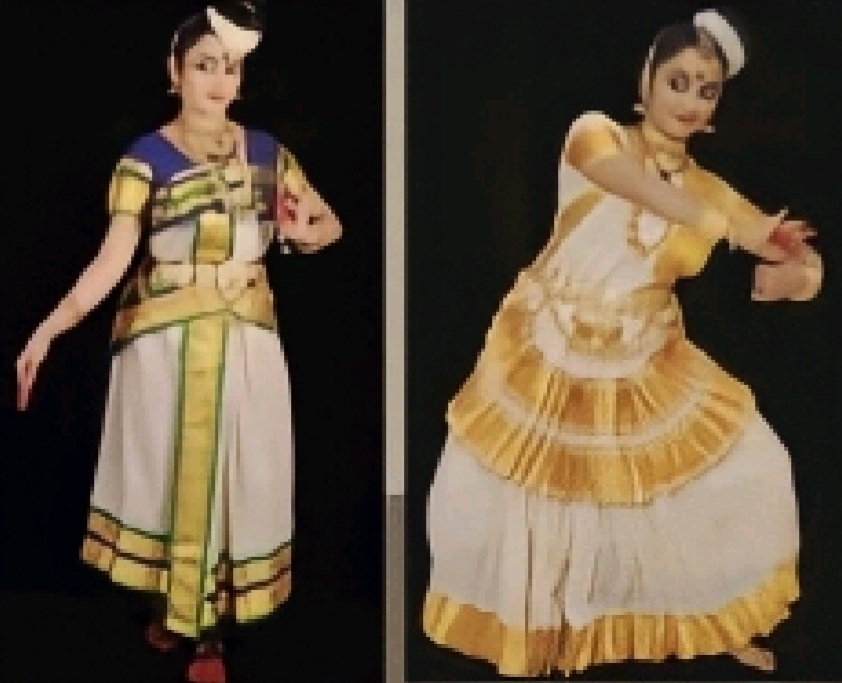 PERFORMANCES
She has performed in many major festivals including Taiwan Indian Festival and International Travel Fair, Taiwan 2009; Guruvayoor Temple Festival; Sree Koodalmanikyam Temple, Irinjalakuda; Tirupati Temple (SVBC-TTD Channel) 2011; Natyolsavam by Gurugopinath Natanagramam; Vadakkunnathan Dance Festival 2011; Barath Fest, Thiruvananthapuram; 200th Birthday celebrations of Swathi Thirunal at Thiruvananthapuram SST College; Keraleeyam Festival at Moscow2012; Naveen Kalakar National Young Dancers Festival 2014 and Qatar Yuvakala Sahithi Festival 2015.
Dr. Gayathri Subramanian has choreographed many dance programmes including 'Natyasamanuayam', a unique mix of Kerala Natanam and Kathakali performed in the traditional music and costume; 'Butterfly Lovers', a chinese story choreographed in Kerala Natanam and "Natyasangamam', a blend of traditional Kerala dance at IITF, Pragathi Maidan, New Delhi in 2010.
SASTRANRITYAM – A NEW DANCE INITIATIVE
"It's the synthesis of Yoga, Kalari and 108 Karanas described in 4th Chapter, 'Tandava Lakshana' of Natya Shastra. In the 'Sastranritya', based on the 108 karanas describing specific leg, hip, body and arm movements accompanied by the mudras and 'sapta tal' of Carnatic and Hindustani music, a new synergy created to form a new style, which was accepted by applause at Thiruvananthapuram and later at Kerala House, New Delhi," Dr. Gayathri Subramanian shared her innovative and vibrant experience of 'Sastranrityam', a new dance form she performed.
'NETRA DANAM MAHADANAM' – A UNIQUE EVENT
'Netra danam Mahadanam', is a unique performance project highlighting the message for eye-donation through a dance performance presenting the story of Gandhari, the main character in Mahabharata in a different way.
"I have done it highlighting Krishna, answering the question raised by Gandhari, 'why Krishna killed all my sons in Dharmayudha? Krishna blames Gandhari for spoiling her sons by keeping her eyes blind-folded all in her life, without caring for them and giving proper parenting. This great message still holds, and in the programme, invited the visually challenged, to sit in the front rows of the stage," she said. Before the audience, the artist herself made a pledge and signed the consent forms offering her eyes and enlightened the audience with her unique gesture to allow many to come out of darkness and step into the world of life full of colours. This unique gesture on stage inspired many in the audience, signed the consent forms and participated in the 'Netra danam Mahadanam' event on that day.
"This unique way of donating the eyes in the dance programme was done not for publicity but as an effective tool in propagating the very idea of donating eyes to others. Many who loved me, my students, their parents and friends offered their eyes on the stage itself, making it a great success," Gayathri Subramanian shared on her unique scintillating experience the dancer and audience witnessed during the dance event, becoming an ambassador creating awareness and motivation to all.
DREAM PROJECT
"We have started the second batch of Kerala Natanam and Mohiniyattam classes for the transgender students. They are very much interested in Kerala Natanam and Bharatanatyam; they are especially interested in Kerala Natanam. The classes started last year, and we are preparing for their 'arangettam' to be held soon," says Dr. Gayathri Subramanian on the innovative project launched by Sri. Ananda Kumar, the founder of Sri Sathya Sai Orphanage Trust- Kerala, the largest NGO in Kerala providing an array of altruistic service to humanity.
"The dance training classes are going on at Kochi, Chennai and Thiruvananthapuram; I am entrusted with Kochi and Thiruvananthapuram Dance Centres now. In Kochi, dance Classes are held in Kerala Natanam and in Trivandrum Centre, Kerala Natanam and Bharatanatyam classes are going on. The students are very much attached and loving these dance forms and expecting their 'arangettam' soon." she added.
This dream Project envisages the empowerment of transgenders through training and securing jobs through art.
Dr. Gayathri Subramanian continues her experiment and research in 'Kerala Natanam' and analyses the philosophy and aesthetics of the traditional dance forms of Bharatanatyam and Kerala Natanam.